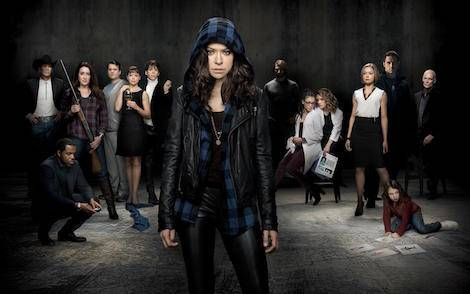 Newsletter 1
Recommendations Based on Your Favourite Clone from Orphan Black
This content contains affiliate links. When you buy through these links, we may earn an affiliate commission.
(Note: This post contains spoilers for seasons 1 and 2 of Orphan Black)
Orphan Black is about to enter its fifth and final season come June 10th. Which means that once the (hopefully) thrill-ride of a season is over, we will be left with a clone-shaped hole in our hearts. Who can, after all, replace our favourite clones?
Well, books – obviously. Here are a few books that you might enjoy, depending on your favourite Orphan Black clone:
If your favourite clone is Sarah, you might enjoy The Girl With The Dragon Tattoo by Stieg Larsson

From the very first episode of Orphan Black, Sarah has been defined by her rebelliousness. Her willingness to break the rules in order to get what she wants. Her entanglement in clone club itself came out of dire selfishness and the abily to protect herself. As the seasons have progressed, Sarah has grown a lot in character – that doesn't mean her rebelliousness has subsided, but her priorities have certainly changed. She's no longer the person who runs away, but the person who sticks around and will do anything and everything in order to save her sisters.
Sarah has a lot in common with Lisabeth Salindar, who is the practical, and clever, computer hacker from The Girl With the Dragon Tattoo. Like Sarah, Lisabeth has a willingness to break the rules in order to get what she wants, unafraid of whatever consequences might come her way. Both Sarah and Lisabeth seem perfectly able to compartmentalise away their emotions in order to look at the practicalities of the task at hand.
If your favourite clone is Cosima, you might enjoy Binti by Nnedi Okorafor

Cosima is a difficult character to pin down, but I do think one of her defining qualities is knowledge. The need for it, the search for it, and the clear connection that she has to it. Her knowledge was not stimulated by the existence of the clone club, but is an integral part of who she is. In the show, this search for knowledge becomes a certain desperation as knowledge is the power that drives all of the different factions within the show – including clone club itself.
Binti is a character with similar motivations. In a world that is quite different from ours, Binti is accepted to Oomza University – which is decidedly the best university in the universe. But when she decides to accept the offer, it means that she must give up her family in the search for knowledge. What Binti shares with Cosima is this ingrained thirst for knowledge, and in many ways, it is both of their saving graces.
If your favourite clone is Helena, you might enjoy Carrie by Stephen King

I'll admit, that this one is a little clichéd. Helena is a character who has been sheltered, lied to, and manipulated for most of her life. It is a result of this life that Helena is the person who she is today – a trained serial killer.
Carrie's life follows a similar trajectory to Helena's, and perhaps it is the life that Helena would have led forever if not for finding Sarah, and coming together with the rest of clone club. Also a victim of religious extremism, Carrie follows the story of a young highschool girl who suddenly comes into psychic powers.
If your favourite clone is Alison, you might enjoy The Murder at the Vicarage by Agatha Christie

Alison is the soccer mom, who lives in the suburbs, hosts monthly potlucks, and performs in musicals. Alison also tortures her husband with a glue gun, murders her neighbour, and has a dead body in her garage. Alison's character, for me, has always been about a certain kind of darkness that lingers in domesticity. Which is why I thought a Miss Marple mystery was perfect for fans of Alison.
Agatha Christie's Miss Marple series focuses on Miss Marple, an elderly woman living in a small town, with some keen detective senses. The Murder at the Vicarage is the first of the Miss Marple books, and follows a strange murder at the local vicarage.
If your favourite clone is Rachel, you might enjoy Gone Girl by Gillian Flynn

I'm going to say it – Rachel kind of terrifies me. Yes, over the course of the last four seasons Rachel has gone from evil pro-clone to helpless victim, to just plain evil. There are so many layers to Rachel, but if you peel them all away, what is left, I believe, is a self-indulgence. Rachel is driven by power, and will do anything and everything to gain that power. She needs to be in control, and will find different ways to manipulate people in order to gain that control. Which is why I think she has a lot in common with Gone Girl's Amy Dunne, who has layers upon layers, and is ultimately a complex, but scary, character.