This content contains affiliate links. When you buy through these links, we may earn an affiliate commission.
It's fall, which means I'm in mourning. More than any season, autumn drives me to my books. It's the sudden, crackling wildness of the outdoors delivering me beneath warm blankets with a strong cup of coffee, the crisp pages of a new book, a smile on my face. But then it happens. I inevitably think about seasons passed and older pages–the books of once-upon-a-time.
Long ago, in quiet houses on tucked-away hills, my bookshelves were wonders. I was an avid and ruthless reader from Day 1 a.k.a. The Poky Little Puppy. I was an expert on and collector of the Berenstain Bears. I bought all the Calvin and Hobbes. I treasured my illustrated fairy tale anthology with the nasty endings intact, I made my first truly festive meal all on my own thanks to Felicity's Cookbook from the American Girls Collection…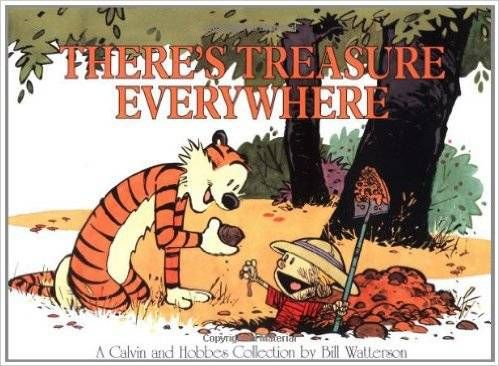 But people move on, they move out, and the problem with growing up in a family of vagabonds and becoming a bit of one yourself is that you're forced to travel light. Through so many moves and odd living situations I managed to lose most of the books I grew up reading, from toddler to teen (and I sold all of my college books for Top Ramen funds). There came a time when I looked around and wondered where all of my books had run off to.
I can't even say why I've become so nostalgic and weepy about the loss. It must happen all the time and to everyone. And I don't even have children to pass them down to. I only know this: the older I get, the more I find I'm chasing myself backwards, tracking a faint path to find some integral part of myself left somewhere along the way, and books have become my breadcrumbs. In life, even when I couldn't speak I was conversing with books. They said something to me, I thought my own ideas, hopes, and fears back, and the me that I was shifted. That shift didn't mean I had become someone else but perhaps I understood some part of myself a little better.
I imagine these historical moments, these microcosms of thought, imprinted on the books I've lost over the course of my life, and if I could just reclaim them maybe I can organize myself into tidy lines on chronologically sorted shelves and say, "Here I am! This is me at last." Even though I know that would not be the end result. Even though this may only be a mid-life crisis come early in the form of books.
I've so far bought a few books I had lost–two that were out of print and one on a whim. I haven't actually read them though. I worry that what will actually happen is I won't recognize what I read and I won't find anything imprinted on those pages. Maybe they'll stare back at me all negative space and dry ink. Would it be such a shock to find that the memory of what I read, distant and ephemeral as it may be, isn't reclaimable? And is it better to leave it alone and focus on the books and thoughts of now–to begin the sorting of the messy, scattered business today and have new conversations?
Maybe. But when I live in my castle with my floor to ceiling shelves and my rolling ladders, I might put in some orders for old times' sake.