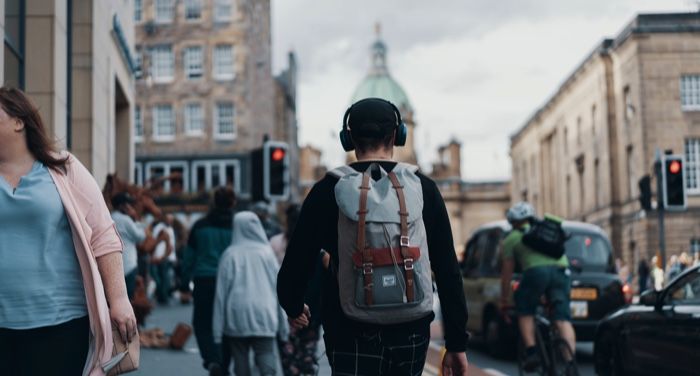 This content contains affiliate links. When you buy through these links, we may earn an affiliate commission.
Young adult audiobooks will always hold a special place in my heart. Audiobooks that centered on teenagers and discussed their unique place in the world helped me feel a little bit better at my own anxiety-ridden teenage life. But performing a young adult audiobook isn't easy; the narrator has to capture a younger voice and create the illusion that they might be teenagers themselves. So I have nothing but never-ending admiration for these audiobook narrators who knock it out of the park again and again. Here are some recent YA audiobooks that will be perfect for you or the teens in your life!
Felix Ever After by Kacen Callender, Narrated by Logan Rozos
In this audiobook, we meet Felix, a Black, queer, transgender teen worried that he may never find love. But when someone posts his dead name and shares photos of Felix pre-transition, he vows to get revenge. What follows is a catfish plan, a quasi-love triangle, and a journey where Felix reexamines his own identity and comes to a better understanding of himself. Logan Rozos perfectly embodies Felix's narrative voice, making this audiobook and incredible all around listening experience.
Cemetery Boys by Aiden Thomas, Narrated by Avi Roque
Yadriel is just a transgender guy trying to live his live his life…and to prove himself as a powerful brujo to his family. But when a ritual goes wrong, he accidentally summons the ghost of Julian Diaz, a guy from school that Yadriel is less than thrilled to see. But before Julian will leave, he insists he has to find out what happened to him. Reluctantly, Yadriel agrees to help. Avi Roque is a spectacular narrator, giving voice to Yadriel with such incredible emotional depth and skill.
The Henna Wars by Book Riot Contributor Adiba Jaigirdar, Narrated by Priya Ayyar
Who doesn't love a teen romance with the enemies to lovers trope? Friends Nishat and Flávia start rival henna businesses, which starts the biggest fight they've ever had. But Nishat can't stop her feelings for Flávia, who sometimes even seems to like her back. But will she be able to express her feelings and still be on good terms with her family? One of my favorite audiobook narrators, Priya Ayyar, makes this delightful romance even better.
Furia by Yamile Saied Méndez, Narrated by Sol Madariaga
At home, Camila is a quiet and dutiful daughter, but on the fútbol field, she is La Furia, one of the best players in the league. Her parents don't know about her secret passion and wouldn't approve if they did. But to continue to play, and maybe one day get a scholarship to a North American university, Camila needs their permission. What's worse, the guy she once loved is back in town full of stories of his fútbol stardom in Italy. Furia is the story of an athlete determined to reach her dreams; she just needs to find the courage to tell her family. Sol Madariaga performs the books with all the attitude of a teenager frustrated with her place in life.
Liz Lighty needs her school's prom queen scholarship to be able to attend the university of her dreams. But when she starts to fall for one of her competitors, Liz thinks she might be a little over her head. Something magical happens when Alaska Jackson narrates this novel. There's something perfect about how her performance pairs with Liz's narrative voice. As soon as I finished the audiobook, I looked up what else Jackson has narrated, and this appears to be her only audiobook to date. I would love to hear more from this narrator!