This content contains affiliate links. When you buy through these links, we may earn an affiliate commission.
I've heard from two sources (Wikipedia and a YouTube user) that the She-Ra toy was first invented in the 1980s to continue successful toy sales of the Masters of the Universe franchise. Well, it worked on me: I grew up watching the 1985 Hasbro cartoon She-Ra: Princess of Power and I owned her action figure. As an '80s kid, She-Ra was one of my favorite female superheroes.
So in 2018, I was thrilled to hear that there was a She-Ra Netflix show, She-Ra and the Princesses of Power. However, my 7-year-old niece and I turned it off after we watched a couple of episodes. I celebrated the (popular) reboot effort, but was not into the super optimistic version. Still, I was now too tech-savvy to enjoy the classic version. How could I celebrate my reemerging She-Ra fandom?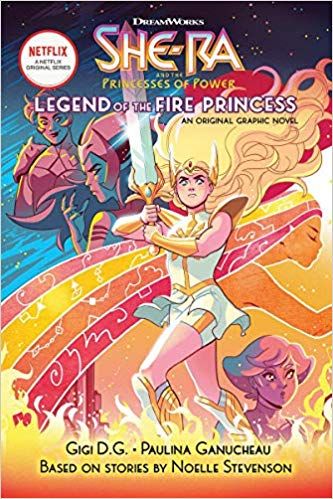 I found out that Scholastic was publishing a She-Ra original graphic novel, She-Ra and the Princesses of Power: Legend of the Fire Princess. Surprisingly, there was only one time before that she had appeared in a standalone comic: a digital one-shot by DC in 2012. This one-time comic by Mike Costa and Drew Johnson tells her darker backstory as captive Princess Adora held hostage by evil Lord Hordack. (It's Chapter 8 in the Masters of the Universe series from DC Entertainment.) Honestly, it is not worth reading. I continued to brush up on She-Ra's comic book herstory while I waited for her Netflix-based graphic novel to release on February 4, 2020.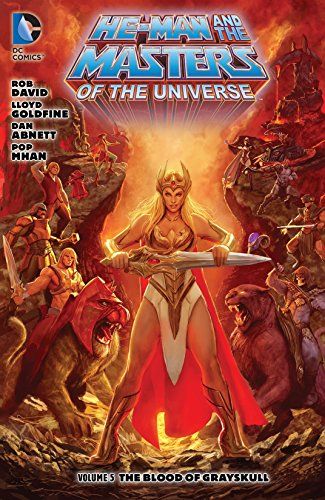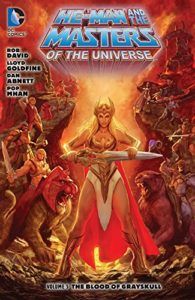 My favorite comic that featured She-Ra was He-Man and the Masters of the Universe (2013–2014) Vol. 5: The Blood of Greyskull, published by DC and wonderfully written by Dan Abnett. I actually got to know She-Ra better in this comic than the 2012 standalone comic, although that one got more press. The Blood of Greyskull offers a darker origin to She-Ra's realization of her power and legacy. There is a scary witch, a haunted island, and a cursed kingdom. Thankfully, it included the traditional She-Ra solo shot with her bellowing her empowered, self-assured phrase, "I have the power!" which gave me major nostalgia. Illustrator Pop Mhan did her justice with a toned physique and no-nonsense mug while she gripped her sword of protection and rode her beautiful unicorn Swiftwind. Thankfully, she was also covered a bit more in her costume than in the original cartoon.
I actually prefer the more grown-up She-Ra to the youthful version in the Netflix cartoon. In this version, she bonds with her brother He-Man (amid some sibling drama) although she kicks ass all on her own many times, compared to the Netflix series where he makes no appearance.
Finally, I felt I was caught up enough on the Masters of the Universe franchise to read the Legend of the Fire Princess. I was immediately drawn in with the camaraderie and character development among She-Ra/Princess Adora's girl squad, including Mermista, Perfuma and Frosta. I don't really remember these other characters in the original She-Ra cartoon, since I was so mesmerized by her confidence and strength. I just remember her and her brother He-Man/Prince Adam front and center.
I like that this new graphic novel, based on the four seasons of the hit Netflix show, really explores her relationships and interactions with other princesses and frenemies. She-Ra is dealing with relatable accusations of betrayal and loneliness. Her and her squad are fallible, whereas in the '80s version she seemed other-worldly and unattainable. Also, the modern She-Ra is more lowkey and comfortable, with a long ponytail and cute bike shorts. Audiences also seem to appreciate the diversity and size-inclusivity of She-Ra's besties Glimmer and Bow. We even get to see the human side of the villains like Catra and stalker Scorpia, whereas in the vintage versions they were one-dimensional baddies.
Honestly, I got a bit annoyed with the dorkiness of She-Ra's crew, but I appreciated their humility and intimacy. My favorite quote in the graphic novel is when Glimmer reassures She-Ra about leaving her old friend Catra behind: "Don't look back. Look where you are now. You've changed. For the better." The new series is about building relationships and self-identity, rather than just beating up baddies, which makes for a well-rounded story that sticks with you.
I enjoyed reading Legend of the Fire Princess because of the great dialogue, humor and suspense, and I look forward to hopefully more in the series. Scholastic divulged that The Legend of the Fire Princess is a completely untold story that has never been featured in the Netflix cartoon. Hopefully upcoming graphic novels will contain more untold stories and surprises, and I will keep you updated once I find out more!
I recommend the graphic novel to all She-Ra fans, whether you are young Gen Z'ers or curmudgeon borderline Millennials like me who can't let go of old-school nostalgia. You will enjoy it either way. I salute Scholastic for finely representing a classic favorite she-ro.