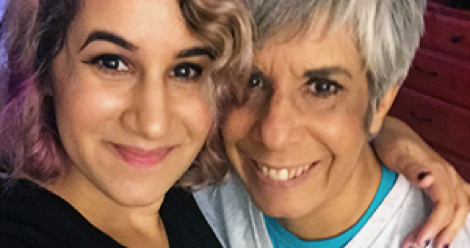 This content contains affiliate links. When you buy through these links, we may earn an affiliate commission.
I feel really fortunate to have a mom that loves to read. She always read to us as children, and she says it's her greatest accomplishment as a mom that all three of her children (me and my two older siblings) are all readers, though to varying extents and genres. My sister likes history and politics, my brother reads a lot of comic books. We all loved Harry Potter. But out of the three of us, I'm the one who reads the most, and who has the closest taste to my mother.
What's great about that is that we share books a lot. Ignoring the anxiety I sometimes get about having a book returned to me with bent pages or a broken spine, it's really nice to be able to share stories that we love with each other. It started when I was in high school, and I took a class on contemporary literature. We read Bel Canto by Ann Patchett, and a whole new world of fiction was opened up to me – suddenly it wasn't just Shakespeare and To Kill a Mockingbird, but newly published books that were just as great. I was so thrilled about Bel Canto that I told my mother she had to read it just so I could talk to her about it, and an informal book club began.
The Golden Compass/His Dark Materials series by Philip Pullman
I read this for my senior thesis in college about how fantasy is used to teach morality to children. Anyone who has read this knows that the His Dark Materials series challenges religion as an establishment, so it was an opposing view for my research and for my church-going Mom. The fantasy element was a big hit.
Neverwhere by Neil Gaiman – We are big Gaiman fans in this family and we've both read pretty much everything he's written, but Neverwhere was the first and still a solid favorite.
After this left me sobbing in the library, I immediately passed it off to Mom. Whether she cried or not, I don't know, but she did encourage me to ask him out to dinner when we met him at a signing.
When Mom was looking for something with a relevant theme or underlying issue for her book club, this was the one I suggested. It is still one of our mutual favorites.
After she finished reading this, she barged into my room to declare her love. And honestly, there is nothing better than having someone love a book just as much as you did.
And the one she didn't:
I will sing the praises of One Hundred Years of Solitude until I die, but Mom thought it was "too weird" and couldn't finish it. This happens sometimes with books we share, so I tend to avoid giving her anything in the Magical Realism/Fabulism realm. But, also, it might have been about the incest. Not good for mom.
But the best thing is that she's willing to try new things, and we're both excited about good stories that we can share. It's proof that books can bring people together.