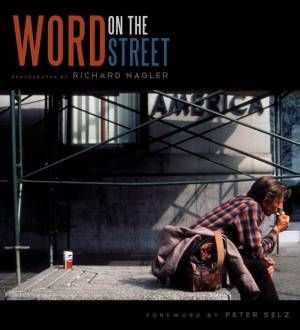 Reading Pathways
Reading (and Viewing) Pathway: The Photography of Richard Nagler
This content contains affiliate links. When you buy through these links, we may earn an affiliate commission.
Richard Nagler is a San Francisco Bay Area photographer whose most recent book of life-imitates-art photos, Looking at Art, the Art of Looking was published earlier this year and was my favorite August read.
I have to go all old school movie reference to say that Looking at Art had me at its cover. And I know that we're not supposed to judge a book like that, but in the case of photography, can we make an exception? Because after reading (yes, reading – I'll get back to that) Looking at Art, I had to have more Nagler.
You read these books of fine-art photography because each photo is a chapter and each book a whole story about the chosen subject. And then there are the introductions, sometimes including commentary or conversations with the author – the part of Nagler's picture books that read like delectable NY Times Sunday articles you savor over coffee. Oakland Rhapsody: The Secret Soul of An American Downtown is narrated by a writer who is became the voice of the city: Ishmael Reed. "Oakland refuses to die," he writes in the preface. The words a prophecy in 1995, after the massive earthquake and city-leveling fire: today Oakland is Brooklyn, the place where the affluent flee as San Francisco dot-coms itself to death and prices everyone else out. Nagler captured a city in decline that, ironically, was actually on the rise as he snapped his shots. The crumbling edifices here- the Fox Theatre, the old flower shop, the entirety of downtown – in 2014, are back and thriving. Oakland is my favorite city in the whole world, and I fell in love with Nagler because his photos show, better than I can write, his love for the city I love.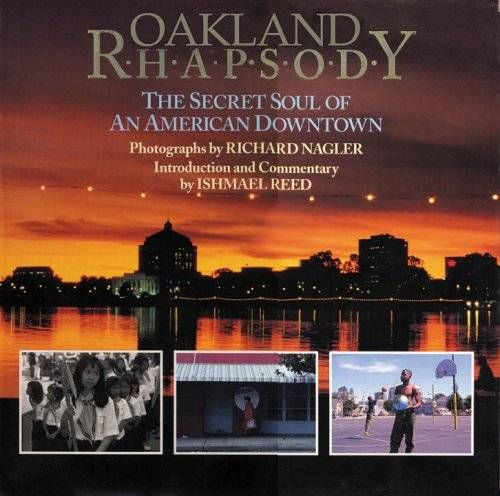 Oakland Rhapsody's cover captures an iconic image of the city: picturesque Lake Merritt, ringed with twinkling lights of gold, an juxtaposition of worlds with a bird sanctuary and library on one end, and on the other, the infamous high rise of Huey P. Newton, co-founder of the Black Panther Party for Self Defense and author of Revolutionary Suicide. The photos are essays, poems, confessionals, manifestos. Each single one is a mini saga waiting to be told. The seen-better-days guy downing a beer can in front of a dilapidated storefront sign reading Herbs & Remedies, and, so small you almost miss it the first time, Drugs. The kids strutting down the sidewalk in front a a mural – of kids strutting down the sidewalk. The Chinese-Mexican-Native-White Vietnamese street fairs, parades, church services, barbershops, basketball courts cowboy gangsta grandmas. This is the city of Oakland, immortalized in all its ever-changing glory.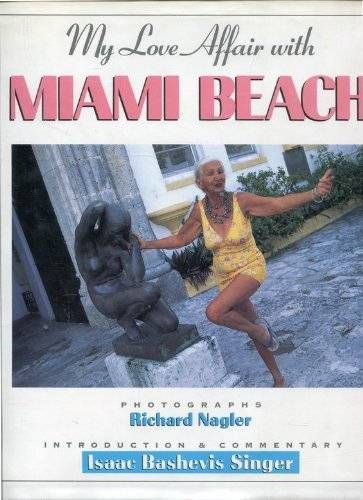 Next up is My Love Affair with Miami Beach, with introductions and commentary by Isaac Bashevis Singer.
I love a good beach – but this is nothing like I've ever seen. This time Nagler's subjects, intimates of the Jewish neighborhood of South Beach, are mostly aware of being photographed, which makes for a happy, happy book of posers. In this beautiful water world, I challenge you to find a picture of someone younger than 55. (Ok, there are a few, mostly children, and one picture of the most unsexy topless woman who, in any other context would probably be drool-worthy. Not here.) I've never visited Miami, except for disastrous hangovers in its airport, but my mental image of it, from this book, is a city of sweet, feisty grandmas in bikinis on clear, sandy beaches. A city overflowing with love. Old ladies loving life, flashing veiny legs while rollers rest in their hair. Lifelong girlfriends lunching, lovers holding age spotted hands, children playing, men with Nazi prison numbers, green on smooth forearms, prayers and yarmulkes on every corner, and the sun, my god the sun. Like every city, there are many parts that make up the whole of Miami. This is one of the best.
Finally, in Word on the Street, preface by Peter Selz: "Richard Nagler has photographed words, but substituted humans." We are word people, so chances are, like me, you'll want to blow up at least one of these photographs wall size to meditate on from time to time.
Because – words. Or more specifically, images of one person, one word. Haunting words, like the barely visible Lord on the wall where the silhouette of a cowboy-hat-wearing urbanite walks. A possible transient, trash bag at her feet, holding onto – as if her life depended on it – the street sign reading Lucky. A young girl in a bathing suit, in the middle of the city, acutely aware of her cuteness, showing off as she passes an Infinity car. A big, blue OXYGEN sign, while below it a security guard smokes. Nagler spent 30 years, seeking around the world, waiting for just the right person to meet that one sign. Selz' introduction thoughtfully includes a brief history of the evolution of modern art's use of things – Americana, pop culture artifacts, logos, the word – from Picasso to Walker Evans to Dennis Hopper. And as a postscript, to wrap it all up is a message on words, by the artist himself.
As we're talking about his books, my recommendation is to pick up copies and experience them for yourselves. But for a sneak peek you can check out Nagler's website, where each photo narrative is set to a soundtrack, and provides a sampling of the whole story.