This content contains affiliate links. When you buy through these links, we may earn an affiliate commission.
Sara Farizan will be speaking at Book Riot Live 2016, November 12 and 13 in New York City.
Sara Farizan has been named one of Book Riot's 10 Rad Female Authors to Read, but if you still haven't read either of her amazing YA books, don't wait a second longer.
Farizan's debut novel, If You Could Be Mine, was a 2014 Lambda Literary Award for LGBT Children's/YA books winner, in addition to making numerous best books of the year lists. Set in Iran, the story follows seventeen-year-old Sahar, who is in love with her best friend Nasrin. Sahar is devastated when Nasrin's arranged marriage is announced, and will do anything to be with her.
Before reading this book, I had no idea that homosexuality is punishable by death in Iran, but being transgender is legal—and gender re-assignment surgery is even sponsored by the state. Sahar begins to explore the gay and transgender community with the intention of transitioning in order to be with Nasrin. As she meets those who have undergone the surgery and learns more about the dangers and discriminations they face, she questions what transitioning will mean for her identity. As Sahar grapples with the future, she has to examine the differences between gender identity and sexual identity, in addition to deciding what sort of daughter she wants to be.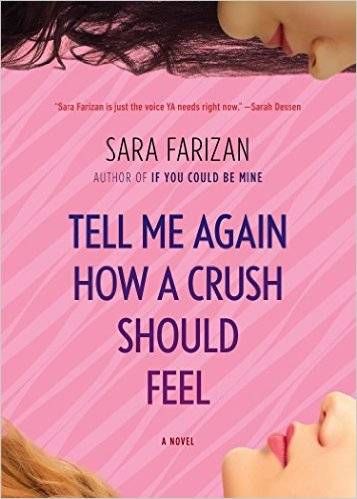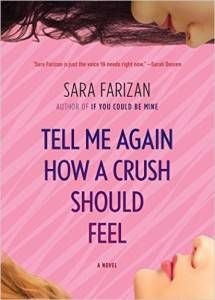 Farizan's second novel, Tell Me Again How a Crush Should Feel, doesn't have the high stakes of If You Could Be Mine, but it's no less intense or emotionally compelling. It follows Leila, a closeted Iranian-American teenager trying to navigate high school while blending in as much as possible. Her plans to keep under the radar are completely thrown when new girl Saskia shows up and takes interest in Leila. Leila finds herself taking risks that could out her to her parents and force her to finally confront a myriad of issues she's been carefully avoiding.
Leila's story addresses family expectations and the secrets we keep from our friends, families, and social groups. The fear of disappointment that Leila struggles with is a strong (and universal) emotion that many LGBT teens can relate to, and Farizan's portrayal of Leila's Persian community allows her to explore a great intersection of sexual, cultural, and class identities.
Farizan's books aren't just about coming out or coming into your sexual identity, but about coming of age in a world that doesn't always feel safe. Although Sahar and Leila are as different as their settings, their stories share similarities that are important for every reader—themes of being true to yourself in every aspect of identity, and opening your eyes to the diversity of the world around you. Farizan's writing is sharp and emotionally resonant, whether she's writing about the danger of persecution in Iran or the drama of high school relationships in Boston. Do yourself a favor and pick up both books!