This content contains affiliate links. When you buy through these links, we may earn an affiliate commission.
All-ages media often shows kids portraits of for future selves: as firefighters, veterinarians, musicians, teachers, athletes. But, too rarely, it doesn't often illuminate who they already are.
Queer-inclusive all-ages media gives kids the language to understand identity, be it theirs or their best friend's. It also breaks from the notion that LGBTQ content is reserved for mature, "adults only" content: zombie apocalypses, crime dramas, tragic Oscar bait, fodder for "Bury Your Gays."
Give the kids (and adults) in your life a future of prismatic possibilities, one with trans warrior women, queer 1960s-era detectives, gay stage builders, and lots of take-charge princesses.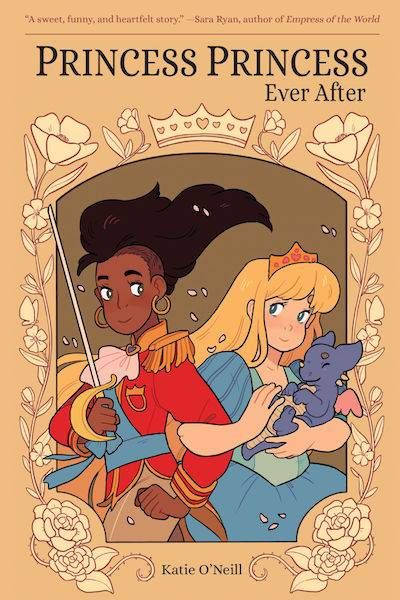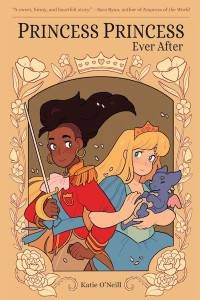 Princess Princess Ever After
by Katie O'Neill
Gallop, don't canter, to your nearest comics shop to rescue a copy of Princess Princess Ever After, which came out (pun intended) yesterday (it's in bookstores on September 23rd!). The Oni Press book collects Katie O'Neill's hit webcomic about a princess who rescues another princess and all the adventures (and romance) that come afterwards.
If there's an entry on this list you've already heard of, it's probably Lumberjanes. This long-running series about a supernatural all-girls summer camp has crossed over with DC Comics' Gotham Academy, won multiple Eisner Awards, and is currently having its story developed into a live-action movie by 20th Century Fox. The book features queer and trans campers, unfettered imagination and friendship, and so many puns.
There are four volumes of Lumberjanes out in print right now, with a fifth slated for a December release.
Space Battle Lunchtime
by Natalie Riess
Ever had a meal that's truly out of this world? No, you haven't (not unless you're an astronaut). But you can read Space Battle Lunchtime, a stellar story about a chef beamed into an intergalactic cooking competition by a talking frog, instead. Every issue is slathered in images of sumptuous space food, and also endearing characters, creative world building, and arresting artwork. It's great for readers with truly voracious imaginations and appetites.
Its first volume comes out this October.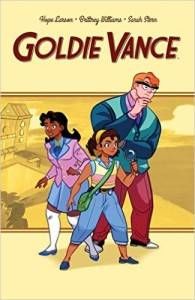 Goldie Vance
by Hope Larson and Brittney Williams
If you're still wounded that CBS failed to pick up its woman-of-color-led Nancy Drew television series, then may I offer some consolation in the form of Goldie Vance. This series — that proved so popular it was upgraded from a miniseries — follows the investigative adventures of Goldie Vance, a teen employee at the Crossed Palms Resort in 1960s Florida. The book's charm rests in its protagonist's relentless chutzpah, diverse cast, and enchanting aesthetic and artwork.
Its first volume also releases in October.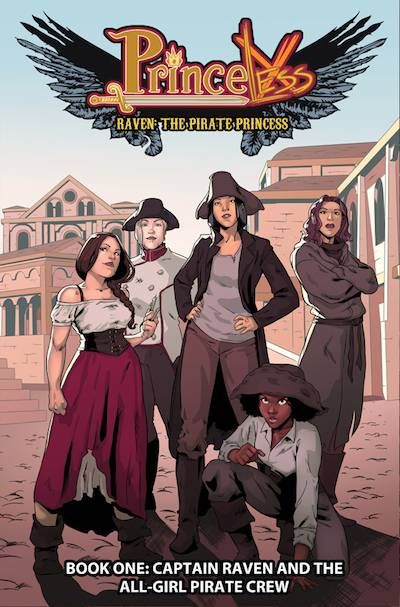 Princeless: Raven: The Pirate Princess
by Jeremy Whitley, Rosy Higgins, and Ted Brandt
Want more queer princesses? Never fear, kind reader, for there's another— and she's a pirate. Raven Xingtao, the aforementioned pirate princess, first appeared as a focal character in the critically-acclaimed all-ages Princeless series. Not long after, Raven took her swashbuckling and seafaring ways to her own series, which has won accolades for its complex female relationships and feminist sense of humor (which outwardly skewers users of "#NotAllMen" and other types of anti-feminist rhetoric). Though the book's still accessible to kids, it does aim for a slightly higher age set than the parent series.
Catch Raven's adventures in the already out third volume of Princeless and first two volumes of Princeless: Raven: The Pirate Princess. Volume three of PRTPR releases in November.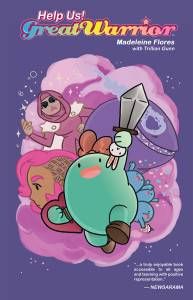 Help Us! Great Warrior
by Madeleine Flores
Be cute, rescue hunks, save the day — repeat tomorrow. This is the itinerary of Great Warrior, the stylish and strong lima bean-shaped protagonist of Madeleine Flores' Help Us! Great Warrior. After a successful feat over on webcomics, Great Warrior ventured out to her own miniseries, alongside her best friend: the (similarly stylish and strong) trans warrior woman Leo. With its razor sharp humor and embrace of the feminine, this collection works hard to challenge preconceived notions of who gets to be a hero.
The collected miniseries is currently available in stores.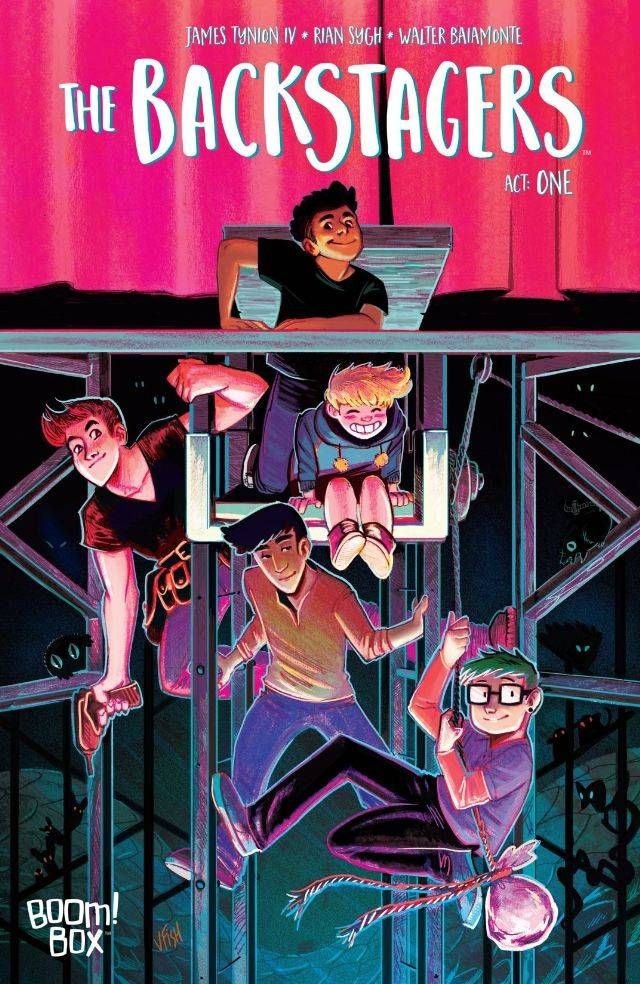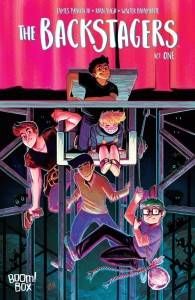 The Backstagers
by James Tynion IV and Rian Sygh
If I may plagiarize myself from yesterday:
"BOOM! Studios' new all-ages miniseries about the fantastical shenanigans of St. Genesius Prep's [an all-boys' high school] theater stage crew serves up a greater variety in (predominantly queer, as interviews indicate) male personality types than companies' entire publishing slates do. Rian Sygh's expressive cartooning renders anxiety sweat, non-stop blushing, and disgusted nostril flares with aplomb. Tynion's clever and considerate script crafts a world that's fun, authentic, and emotionally honest."
Unlike the other entries on this list, The Backstagers is not yet currently collected in book format nor will it be for quite some time. Still, as one of the few all-ages comics with queer male characters (including those who are gay, bisexual, and trans), I felt it deserved a space on stage.