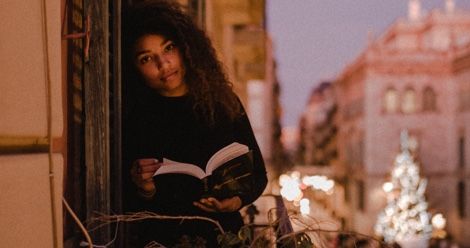 LGBTQ
Reading Queer Characters Of Colour and Understanding Queer Identity
This content contains affiliate links. When you buy through these links, we may earn an affiliate commission.
This post on reading queer characters of color is sponsored by This Book Is Gay by Juno Dawson.
There's a long-running joke that, after "coming out," a lesbian, gay guy, bisexual, or trans person should receive a membership card and instruction manual. THIS IS THAT INSTRUCTION MANUAL. You're welcome.
Inside you'll find the answers to all the questions you ever wanted to ask: from sex to politics, hooking up to stereotypes, coming out and more. This candid, funny, and uncensored exploration of sexuality and what it's like to grow up LGBT also includes real stories from people across the gender and sexual spectrums, not to mention hilarious illustrations.
---
When I was younger, my first avenue to understanding everything was literature. I read in droves, devouring probably more than a quarter of my school library before I had graduated. There were very few books with queer people in my school library. Actually, I remember there being exactly one book with queer characters, which I could not relate to in the slightest.
Maybe it was because at the time I did not identify as queer. Maybe it was because it was a single story and couldn't possibly appeal to a whole host of queer identities. Maybe it was because it was an experience that was in every way different from mine—featuring characters who were culturally, racially, geographically, and even emotionally vastly different from me.
Even at a young age, I was more fortunate than many. When I was in my late teens, I came across a book called Ash by Malinda Lo. It's a fantasy retelling of Cinderella where the main character falls in love with a girl. And maybe it's weird that I connected with this book so much because it's literally a book full of fairies, but what made the book click for me was the way Lo seamlessly introduced the romance between Ash and the Huntress. In Ash's world, being queer didn't seem to carry the same implications and burdens that it did in our world.
Then, came the kicker. When I realised that not only were Ash and Kaisa queer, but so was the author Malinda Lo, who was East Asian. It might sound weird but when you never see a queer person of colour in the media—in books, TV, movies, seemingly in existence—you think they really might not exist. At the time, being queer seemed like something reserved for my white peers, and even they had to struggle with the many-headed ignorance of homophobia on a daily basis. Could an Asian be queer?
The answer is, obviously, yes. But until I could see it for myself—see a queer Asian person of colour writing queer characters and queer stories—this seemed like something impossible to me.
We have Malinda Lo to thank for maybe being one of the first queer YA authors of colour, for making strides by writing queer characters and queer stories in a variety of genres. And she's still going!
Queer literature has come a long way since I was a teen. Though I haven't visited my school library since I graduated (because, well…that would be weird), I hope that the library is more helpful to its current queer students than it ever was to us.
Nowadays, there are more queer authors of colour, characters of colour, and stories. It's certainly easier than it was to find a character, or an experience, you can relate to. Maybe it's even slightly easier to come to terms with your identity. Still, there aren't really enough, and certainly not in enough genres. But here are a few that mean a lot to me:
Featuring a Japanese American protagonist named Sana, It's Not Like It's A Secret is about coming to terms with your identity. Sometimes, It's Not Like It's A Secret felt like a real glimpse into my own troubles with queerness and Asianness. Even though our identities are not exactly the same, Sana wonders about being Asian and queer. She struggles to come up with any queer people in the media who are Asian, and even her friends seem to have trouble accepting that an Asian person could possibly be gay. Something I suspect a lot of queer Asian teens have struggled with.
Set in a world where people are informed of their death on the day of their demise, They Both Die At The End follows Mateo and Rufus on the day they will die. Even though this book ultimately ends tragically (the title doesn't lie), I love that it gives its two Latinx queer characters a sweeping romance. The book might take place in the space of a day, but the love and friendship between the two characters feels like a lifetime.
Not Your Sidekick is a novel filled with superheroes and supervillains that also features a wonderfully developed romance between the protagonist, Jess, and her long-time crush. It has all of the action and adventure of a superhero story, but with a cast of queer characters!
Alex is a Bruja, but she hates magic. She that she will cast a spell to get rid of her powers on her Deathday. Far from getting rid of her powers though, her spell steals her entire family away to Los Lagos. Alex is forced to find a way down to there to save her family. Even though Labyrinth Lost is, at its core, a novel about family, one of the other important aspects of it is Alex's friendship with Rishi, which slowly grows into something more.
This upcoming fantasy novel is set in an Asian-inspired world where everybody is divided into different castes. Each year, the demon king takes nine girls from the paper caste as his consort. Lei is kidnapped from her home and taken away from her family in order to be one of the nine girls. But once she arrives at the palace, she begins to develop feelings for one of her fellow king's consorts, despite this being explicitly forbidden. Girls Of Paper and Fire brilliantly places a romance that is at once intense and immensely sweet at the heart of a fantasy world that is filled with struggle and conflict. In fact, the romance between Lei and her love interest is often the driving force for Lei, and it helps her fight for what's right.