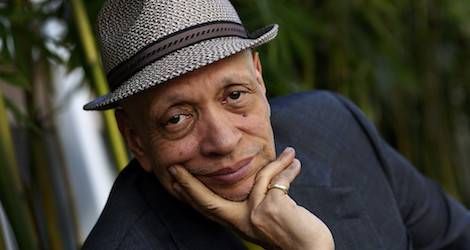 This content contains affiliate links. When you buy through these links, we may earn an affiliate commission.
Walter Mosley will be speaking at Book Riot Live 2016, November 12 and 13 in New York City.
Walter Mosley is an author most well known for his crime fiction, specifically the books featuring hard-boiled detective Ezekiel "Easy" Rawlins. But Mosley has authored over over forty books across various genres since he began writing. Mosley has written crime fiction, afrofuturist science-fiction, nonfiction, and even books on writing advice. Much of his work skirts the line between genres, and even his more literary outings have an ethereal, dreamlike feel to them and often contain slightly speculative elements. Mosley has written every day since he began writing, and sometimes publishes two books a year.
With such a large and prolific body of work, it can be hard to figure out where to start reading Mosley. Fortunately, readers willing to bravely traverse the winding roads leading through his work will find treasure within.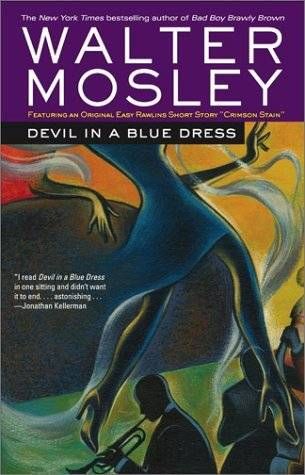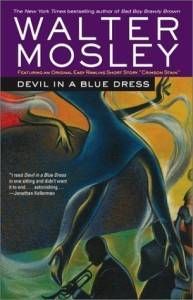 Devil in a Blue Dress is Mosley's first published book, the first of the 14 books that make up the Easy Rawlins mysteries, and is also arguably his most famous. The story, set in the Watts area of Los Angeles in the 1940s, follows Easy Rawlins as he is hired by a mysterious white man to track down a missing woman. Devil in a Blue Dress features all of the crime fiction standards: a hard-boiled hero, a striking damsel, and the book introduces a character that is one of the most compelling figures in contemporary fiction in Raymond "Mouse" Alexander. This book is a thrill ride from beginning to end, and really sets up the political themes that we see throughout Mosley's later work. In Devil in a Blue Dress Mosley gives us a very intentional close examination of race and class, and uses the standards of murder mystery and noir fiction to examine how these sociopolitical forces affect people, communities, and crime.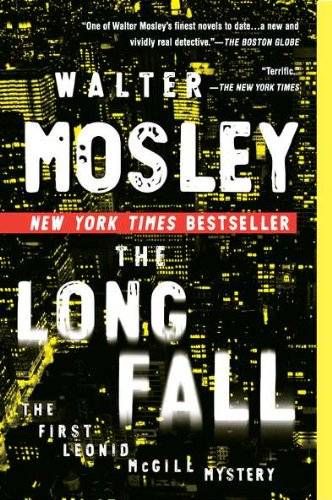 Mosley introduces us to a new and different kind of detective in The Long Fall, the first of the Leonid McGill mysteries. McGill is a private investigator running the streets of contemporary New York City. While the Mosley's sociopolitical examinations ring similar notes of truth in this book, the heroes themselves are different, as are their supporting casts and the types of cases that they are tasked with dealing with are as well. Where Easy is a solitary hero building a his world around him, McGill is a hero trapped inside of a world that he has much disdain for. Both men, though, are driven by their pasts, and hard to knock down. The Long Fall benefits from McGill's interesting histories–ex-convict, boxer, communist parent–and his astute observations of contemporary life through the eyes of a cynic-by-nature. The Long Fall hearkens back to pulp-mysteries of old, but with a definitive new flair.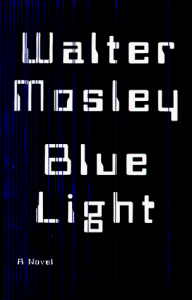 Above, I mentioned Mosley's forays into science fiction. Blue Light is, arguably, his best science-fiction book. Most of Mosley's speculative works read like fables, philosophical musings of life and the essential nature of living as a human that emphasize the power of living altruistically and peacefully above all else. In Blue Light, a…well, a blue light materializes over California and grants select human beings superhuman abilities. Blue Light can be described as having a diverse set of themes–divine intervention, superheroics, transhumanism–but it is ultimately a holistic examination of race, the divine, spirituality, and humankind. That's not to say that there aren't some cool moments. This book features, essentially, people who have superpowers. But the underlying message is that these people are still people, and despite the things that make these people special, we are all of similar stock.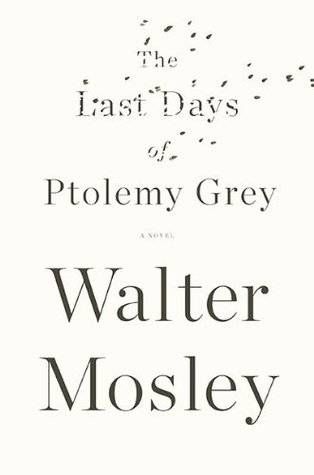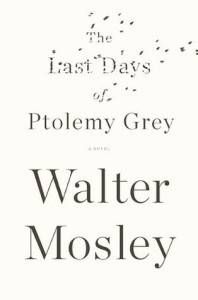 I think that The Last Days of Ptolemy Grey is an unexpected read from Mosley, but I don't like calling it unexpected because it carries so many of Mosley's themes so well. The Last Days of Ptolemy Grey is an examination of age, desire, and the weight of dealing with the loss of knowledge. The story centers on 91 year old Ptolemy Grey, who lives as a recluse in a decrepit apartment in South L.A–an apartment filled with objects that he can't throw away because his failing mind can't determine their significance. He has few remaining family members to care for him in his ailing state, and as the book opens we learn that he has lost one of the last remaining ones worth a damn. A young woman eventually offers to care for him, and it is as this relationship develops that we get to see the depths of Ptolemy's past, his character, and also the dark secrets that haunt him as he lives in a state where his memories are blank gaps. And it is as Ptolemy is rekindled that the speculative element is dropped on us in the form of a Faustian bargain, and we get to see him make a double edged decision that starkly colors the rest of the book. The Last Days of Ptolemy Grey is a great read that does everything that you expect Mosley to do in his books, but much differently than you've seen before.
These books are just a quick glance at the surface of Mosley's extensive catalogue. Once you finish these four, keep going–maybe you'll read all forty plus of his books, which is something even I haven't done. Happy Reading!