This content contains affiliate links. When you buy through these links, we may earn an affiliate commission.
On Monday, Sarah Dessen was named this year's winner of the Margaret A. Edwards Award – an honor that recognizes an author for a body of work that creates an important contribution to young adult literature. In my opinion, it couldn't be more well deserved.
Sometimes, her books are written off as light, beach-reads, and romances. I think the real reason people devalue them is that they are about teenage girls and primarily read by teenage girls – a hugely influential demographic that is frequently trivialized and attacked. Some of Dessen's books are light. Many are set in the fictional North Carolina beach town, Colby. And all contain romances. But they also all feature girls who undergo big changes in their lives, identities, and personalities. Furthermore, they are masterfully written with keen emotional intelligence and empathy.
Am I gushing? I'm probably gushing.
I just think Sarah Dessen sets the standard for excellent contemporary YA. And I'm so so happy that the ALA is recognizing her this year. I, tragically, didn't read any of her books as a teen, but devoured them all in succession in my mid-twenties. If you haven't gotten around to her yet, here are some suggestions on where to start. Although, when I polled my MFA cohort we all agreed there is no bad book to begin with.
This Lullaby begins the summer before eighteen-year-old Remy goes to college. As a result of her musician father leaving when she was just a baby and her mother's many failed marriages, Remy is love denier. She doesn't believe it exists. Dexter, a persistent teenage musician, spends the book trying to prove Remy wrong. Throughout the friend drama and family strain of her mother's approaching fifth wedding Dexter is there for Remy. How do you explain the things you love? I don't know. But I love, love, love this book and think it's a great place to start in Dessen's oeuvre.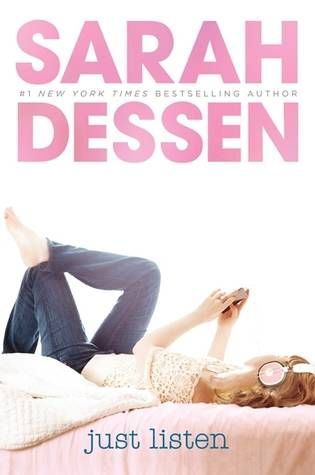 In Just Listen Annabel is a teen model whose life is nothing like the picture-perfect image she portrays in local TV commercials. After a terrible incident at a party, she's lost her popularity and best friends. Her older sister has moved home to deal with an eating disorder, and Annabel doesn't know how to tell the truth about wanting to quit modeling or what happened to her at that party. Enter Owen (my favorite Dessen boy). He's obsessed with music, following the steps from his anger management classes, and honesty. This book, while still very romantic, takes on a lot of serious issues without preaching or feeling clichéd.
Eve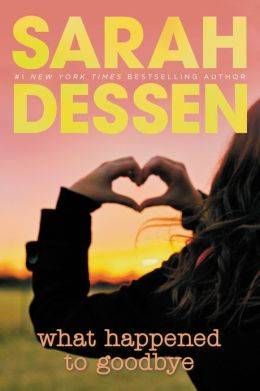 ry time Mclean, from What Happened to Goodbye , moves (two times in the last three years) she invents a new personality. A drama kid. A cheerleader. A student government, teacher's pet. Never herself. As if she knows who that even is. Still, at Lakeview – their fourth move – she forgets about the personas and starts to make real friends for the first time. Also romance! When her Dad decides to move again to open a new restaurant in Hawaii, Mclean needs to decide whether to reinvent herself and go with him or live with the mother who abandoned her. How she makes the decision and begins the process of self-discovery is fascinating to watch and the romance is one of Dessen's most swoon-worthy!
Congratulations again to Sarah Dessen and to everyone who will discover her books for the first time because of this award…or maybe even this article. I certainly wish I could read them over for the first time again. But, baring the invention of a time machine, I'll just have to settle for some celebratory rereading.