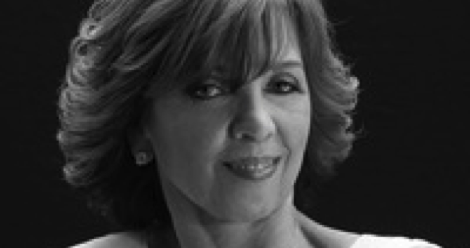 This content contains affiliate links. When you buy through these links, we may earn an affiliate commission.
I'm going to go out on a very sturdy limb and say that this is the hardest reading pathway any Rioter has yet attempted. Nora Roberts has published over 200 books since she started writing in 1981. Since 1999, every new release has hit the New York Times bestseller list, and her books have spent over 198 weeks at #1 on that list. Twenty-seven of her books are bought every minute. While readers think of Stephen King, J. K. Rowling, and James Patterson as mega bestsellers, Nora Roberts belongs in that group, too.
Roberts is famous for her no-nonsense approach to writing, which can be summed up by her commandment, "ass in the chair." In a 2009 New Yorker profile, she said:
"People go, 'Oh, you work six or eight hours a day, oh my God.' 'Well, yeah, how many hours do you work?' 'Well, yeah, but . . .' But nothing. I think this is my job. And I think people who"—she hesitated for a moment—"have more of an artistic bent, they're just not as productive, and their writing is probably not any better than mine at the end of the day."
Roberts publishes romance, which basically means a novel with a central love story and a happy ending. But she has an appeal beyond romance readers, evidenced by the marketing of her books (genre-neutral titles, her name in big letters, covers with objects instead of kissing couples). And many have significant suspense and/or paranormal elements. Then there's the In Death series, written under the pseudonym J. D. Robb. In Death is a futuristic crime series with a central couple — detective Eve and her zillionaire CEO partner Roarke — whose relationship has developed over fifty books and counting.
For Roberts, character is everything. Her characters drive the plot, so she writes strong but flawed heroes and heroines. She weaves compelling webs of relationships around the main protagonists. And she can tell a damn good story, whether it's straight contemporary, family saga, suspense, or paranormal.
So, where should you start? Here are a few suggestions:
"…the rain was a fine thing. She often preferred it to the warm slant of sun and the clear brilliance of cloudless blue skies. The rain was a soft gray curtain, tucking her away from the world."
In Born in Fire, Maggie Concannon is a talented glass artist in the Irish countryside who falls in love with Dublin gallery owner Rogan Sweeney. At first Rogan just wants to bring Maggie's art to his buyers around the world, but he's attracted to her deeply emotional yet guarded personality. Sounds simple, and in a way, in terms of plot, it is. But what a story! Maggie is a stubborn and prickly artist, deeply affected by the tragic death of her father and an emotionally abusive relationship with her mother. Rogan is sophisticated, calm, and in control. The two of them finding their way to one another is all the plot you need. First in the Born In trilogy. For a more recent straight contemporary romance, try Vision in White.
"You did that on purpose."

"Did what on purpose?"

"Wore the don't-touch suit and the sex goddess perfume at the same time just to drive me crazy."

"Listen to the suit, Quinn. Dream about the perfume."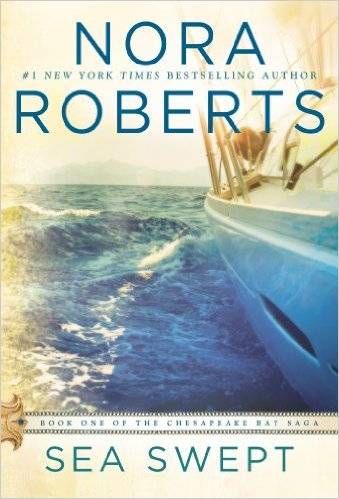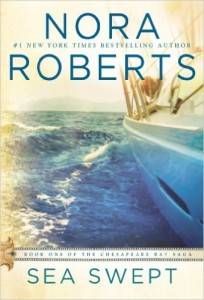 Sea Swept is first in the Chesapeake Bay quartet about brothers who were adopted as troubled youths by Raymond Quinn and his wife, Stella. When Ray dies, the brothers are tasked with caring for Seth, a ten year old who may or may not be Ray's biological son. Social worker Anna Spinelli's job is making sure Seth's best interests are served, even if that means removing him from the Quinn household. Cameron, an international jetsetter, returns home to help care for Seth, reigniting old resentments and rivalries among the brothers. He and Anna are attracted to each other despite the inherent conflict between them. Sea Swept is classic Roberts: family saga, strong characters, and humor.
She counted, slid out. She gripped the gutter as rain lashed against her face. She didn't know if it would hold her, didn't think it mattered. Then she heard the volley of gunfire, and shimmied down like a monkey.
Get help, she told herself, and began to run.
She was less than fifty yards away when the house exploded behind her.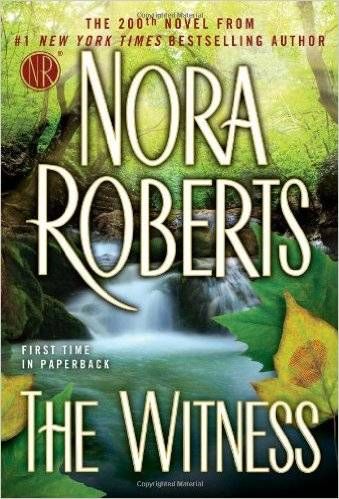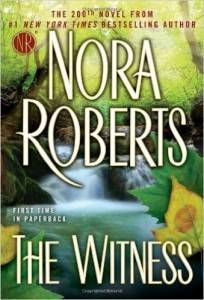 The Witness is classic Nora Roberts suspense … and her 200th book. Teenaged Elizabeth witnesses a murder and becomes the target of the Russian mafia. When the FBI lets her down, she flees to protect herself, emerging twelve years later as Abigail Lowery, a freelance programmer living in isolation on the outskirts of a small town in the Ozarks. Her specialty? Sophisticated security systems. Abigail's fierce privacy intrigues easygoing police chief Brooks Gleason. Brooks is protective, caring and loyal, while Abigail is capable, logical, and deeply suspicious. They have to work out their relationship against the backdrop of her enemies closing in. Terrific balance of romance and suspense.
I didn't include any of Roberts' novels with paranormal elements, but if you'd like to try one of those, I recommend Carolina Moon (Southern Gothic suspense with psychic heroine), or Blue Dahlia.
Happy reading!
Save