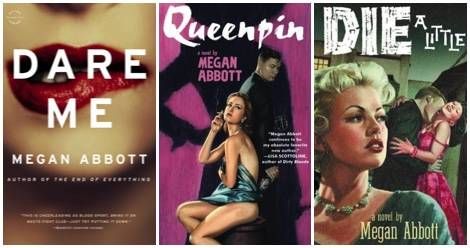 This content contains affiliate links. When you buy through these links, we may earn an affiliate commission.
Megan Abbott has slowly but surely established herself as a reliable writer of suspenseful crime novels that examine the dark side of being a girl and a woman. Abbott herself has described her fascination with the female body and the intensity of friendships, especially among teenage girls. But if you're just learning about her thanks to all the attention on her new book You Will Know Me, centered on the family of a gymnastics prodigy, you may be surprised to discover just how many amazing novels are in store for you once you start going down the Megan Abbott rabbit hole.
So here's how you can get started. Warning: there is a high possibility that you will read 5 or more Abbott novels in a row. Plan accordingly.
Step 1: Dare Me. This is always where I tell people to start with Abbott because it's such a great gateway drug. It goes down so easy, you finish it in a frenzy, and while it's incredibly satisfying it also leaves you wanting more. Just like You Will Know Me invites you into the inner world of elite gymnastics, Dare Me brings you into the dark heart of the tight knit circle that is high school cheerleading. Addy has always been queen bee Beth's best friend and her lieutenant. But when Coach crowns Addy as the head of the team, Beth targets both Coach and Addy to regain her spot. I know it sounds like a movie you've seen a few times already, but it's the spark in the first person voice of Addy, who is not the good girl she seems, that really makes the book ring. The plotting is tight and tense and it will make you remember every frenemy you ever had.
Step 2: Queenpin. If you only know Abbott's more recent work, you may be surprised to find that her earlier novels are pulpy old-school noirs. Abbott is a lover of old school noir novels and films, but her noir is centered on the femme fatale instead of the male gumshoe. Queenpin is set in the height of the Vegas mobster era and our protagonist is an unnamed secretary playing the ingenue role. Her mentor is Gloria Denton, the eponymous Queenpin, is ready to teach everything she knows. But instead of a woman messing everything up, things get heated when a man comes between them. He is, of course, no good. If you like smart, strong, ambitious female characters this is a must read.
Step 3: Here is where it gets tricky. Because you can continue to dive backwards through Abbott's noir novels and then step 3 would be Die a Little, where schoolteacher Lora becomes obsessed with her brother's new wife and begins to investigate who this woman really is.
Or if you loved Abbott's story of the modern teenage girl, you should go straight to The End of Everything. This is possibly my favorite Abbott novel, it keeps her themes of obsession and friendship, but the writing has a dreamy quality that still maintains the sharpness and verve of Dare Me. In this book, Lizzie's best friend Evie disappears, possibly abducted. Lizzie, only 13, is suddenly confronted with violent and sexual realities of the adult world that she isn't prepared for. It also works very well as a twisty crime novel, where Lizzie has her own suspicions about who abducted Evie and starts gathering evidence and inserting herself into the official investigation.
And even after all these books there are so many more! Truly dark and mysterious treasures await you once you begin reading Megan Abbott.