This content contains affiliate links. When you buy through these links, we may earn an affiliate commission.
Recently, novelist Mary Stewart died at the age of 97. I spent my early teen years reading—and then rereading—her novels, which usually took place in exotic locales (Greece, France, England) and featured a young woman hankering for adventure. Along the way, our heroine would collect one or several romantic prospects with mysterious pasts.
Yes, there is a formula, but it's a formula Stewart made her own by backing her novels up with great writing and research. Stewart's books are often defined as romantic suspense, but they aren't, quite. It would be more accurate to call them adventure stories. The romantic elements always take a back seat to the suspense and mystery, and sometimes you don't even know who the heroine's in love with until the very end. What's more important is that the heroine goes through a trial by fire and emerges in the end more liberated—either from familial expectation, personal danger, or self-restraint. And the fact that they're completely escapist, short, and lyrically written make Stewart's books a perfect choice for summer reading (see: summers during my teen years).
Intrigued? Been planning to read a Stewart novel for years? Here's where to start.
The Ivy Tree (1961)

Mary Grey is hanging out next to Hadrian's Wall in Northumberland one day, depressed because her former employer and best friend has just died and stranded her England, when an angry man approaches. He demands to know what she's doing there and threatens to toss her over cliff! WTF? Turns out Mary Grey is nearly identical to his cousin, Annabel, who was due to inherit their grandfather's wealthy estate until she mysteriously disappeared years earlier. Yada yada yada: Connor convinces Mary to pretend to be Annabel so that she can give him the estate once his grandad kicks off. It's the perfect plan that's destined to not work.
I'm a sucker for stories about mistaken identity and doubles, so it's no wonder this is the Stewart novel I've reread the most. In fact, it's probably the most reread book on my shelves. Stewart cleverly keeps the reader guessing as to whether Mary is who she says she is, or if she's actually Annabel. And what happened to Annabel, anyway? Mystery! I also love the romance element in this novel because it's so subtle and well-played.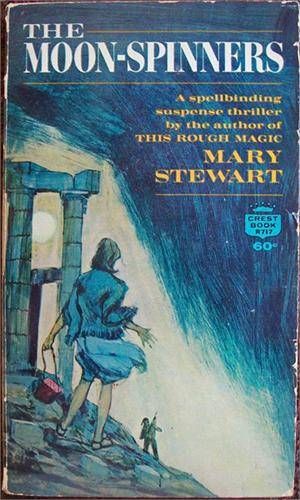 The Moon-Spinners (Mandatory: must be pronounced, "The Mooooooooooooooooooon-Spinners") (1962)
Nicola Ferris is a secretary at the British embassy on Crete. On her day off, she decides to go hiking. Bad decision, or worst decision? Instead of a lovely afternoon enjoying nature, she becomes embroiled in a la cosa nostra-style blood feud between two rival gangs of smugglers.
The Mooooooooooon-Spinners (sorry, really can't help myself) is probably one of Stewart's best books. The story is nonstop, Mark is a total hottie, and the bad guys are truly menacing. Nicola is also a great character—sharp and able to think quickly on her feet. Incidentally, the 1964 movie version of this book starring Hayley Mills is amazing and hilarious. I may or may not own it on DVD and watch it on a regularish basis.
The Crystal Cave (1970)
If romantic suspense isn't your jam, try Stewart's Merlin trilogy (technically a quintet), which starts with The Crystal Cave. Completely different from her earlier books, the Merlin trilogy is a series of fantasy novels that tells the life story of Myrddin Emrys, i.e. Merlin, the illegitimate son of a Welsh princess. The series starts when Merlin is aged six and continues through to the fall of Camelot.
I'll be honest: I never got into the Merlin books. The story never grabbed me, and the portrait Stewart painted of Medieval Britain was surprisingly unromantic. But lots of not-me people have loved the hell out of them, and they're probably the books for which she's most famous. Definitely give The Crystal Cave a shot if you like Arthurian tales or historical fantasy.
Save