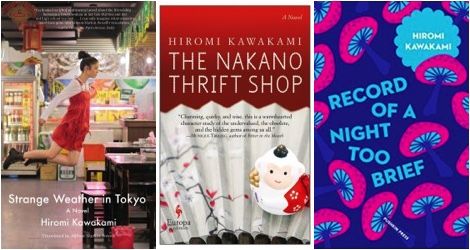 Fiction
Reading Pathways: Hiromi Kawakami Books
This content contains affiliate links. When you buy through these links, we may earn an affiliate commission.
Hiromi Kawakami is an award-winning and bestselling Japanese author known for her contemporary fiction. I was introduced to her recently and immediately fell for her distinct style and interesting female protagonists. Her writing is subtle and provocative—quirky doesn't do it justice but it's immensely strange and appealing and surprisingly sweet. A huge shoutout to the amazing translators listed below—Lucy North, Michael Emmerich, and Allison Markin Powell—who capture the intricacies and depth of her writing, it seems an unimaginable task. Have I peaked your interest but you don't know where to start? Check out this reading pathway and enjoy!
Strange Weather in Tokyo by Hiromi Kawakami, translated by Allison Markin Powell
Shortlisted for the Man Asian Literary Prize and the International Foreign Fiction Prize, Strange Weather in Tokyo is a sweet and poignant story of love and loneliness. Tsukiko is 38, lives alone, works in an office, and is not entirely satisfied with her life when she runs into a former high school teacher, her "sensei," at a bar one night. They talk and over time this "hesitant intimacy" grows into something more. It's a "moving, funny, and immersive tale of modern Japan and old-fashioned romance" while also managing to be this quiet, understated beauty of a book. Strange Weather also has these amazing passages describing Japanese food and drink and the changing seasons in Japan—it would make a great read for anyone traveling to Japan. I think it's also a beautiful introductory book to Kawakami's distinct style.
Manazuru by Hiromi Kawakami, translated by Michael Emmerich
Twelve years have past since Kei's husband disappeared and left her alone with their three-year-old daughter, Momo. Still haunted by the disappearance, Kei keeps returning to the seaside town of Manazuru to remember and connect to something just out of reach. Manazuru is a beautiful and profound story of loss and memory. There's this restless quality to the novel that's utterly gorgeous and—as is usually the case with Kawakami—there's a quirky, unusual element that I wouldn't dare spoil for you! I read it in a beach house in Maine in February overlooking the icy, still waters of the Atlantic Ocean and the Saco River and it was a fitting place to read this subtle, poetic but ultimately powerful novel.
Record of a Night Too Brief is an unforgettable collection that really stands on its own in this list. The stories (three in total) are bizarre and haunting, full of yearning and loss. They have many similarities—young female protagonists, elements of folktale and lore set against contemporary Japan, and this dreamlike, surreal quality—but each is strange and perfect and gets under your skin in its own way. The third story, "A Snake Stepped On," won the prestigious Akutagawa Prize in 1996. If you like the stranger elements in the two previous books on this list this one might be the perfect Kawakami for you!
The Nakano Thrift Shop by Hiromi Kawkami, translated by Allison Markin Powell
The Nakano Thrift Shop is in my mind the perfect ending for a Hiromi Kawakami pathway. It doesn't have the surreal or fantastic elements of some of her other works but instead focuses on this cast of eccentric and endearing characters. It's a "funny, heartwarming story about love, life, and human relationships" told by Hitomi, a young sales clerk at the thrift shop who in love with her coworker, Takeo. The characters—both the people who work at the shop and its unusual customers—are the life blood of the story. They are thoughtfully written—understated, quirky, flawed, and by the end of the novel you care about them so much. And it's also a little longer than her other novels, so you can really sink into this endlessly charming book.