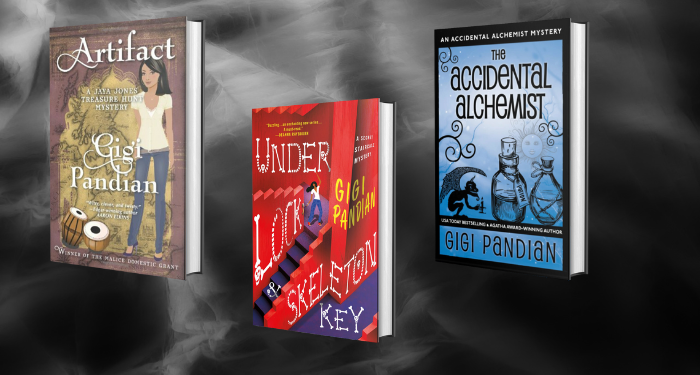 This content contains affiliate links. When you buy through these links, we may earn an affiliate commission.
For fans of murder mysteries and adventure novels, you've got to read the works by Gigi Pandian.
To put it in her own words from my 2022 interview with her: "I feel like what I'm trying to do is bring classic mysteries into the 21st century." Her works draw on classic detective stories, but adds into the stories multicultural characters based on her life. She is the daughter of cultural anthropologists from Southern India and New Mexico, and traveled extensively with her parents as worked on their research.
Pandian is a big fan of locked room mysteries, particularly the Golden age author John Dickson Carr, who not only wrote several locked room mysteries, but philosophized on different types of locked room murder mysteries. She alludes to him in both of her Secret Staircase novels and in at least one of her short stories. She's also a fan of the works of Clayton Rawson, the author behind the Great Merlini, a magician who solved impossible crimes in several novels and short stories, written in the 1930s and 1940s.
Pandian cites how Carr and Elizabeth Peters were really big influences on her work. In the 2022 interview with her, she said, "But with many of the other traditional mysteries I was reading — even though Elizabeth Peters was great (at having a diverse cast in) her Amelia Peabody mysteries — I didn't realize it at the time until I started writing, but none of those main characters look like me and like my family members in my multicultural family. I wanted to create characters that were more representative of me and my own family."
It's the first book in the Secret Staircase series featuring Tempest Raj, a magician in a family of magicians. She's back at her family home, defeated and embarrassed after she nearly died from one of her tricks going wrong. Was it an accident? Or was it part of the family curse that took her own mother away from her? While she figures out her next steps, she helps her father out with the family business named S​​ecret Staircase Construction that makes those long sought after hidden doors and rooms for people. While renovating a home, the construction team finds a body hidden in a space that had been sealed for over 100 years. But the body is recent. So how is this possible? Now she has to get her dad and his crew out of the hot seat and figure out if she was meant to be the body. Bonus — there are recipes from her Indian and Scottish grandparents who live in a treehouse. And she has her own secret rooms and staircases that will make you drool with envy. The second book The Raven Thief just came out as well as a Christmas short story.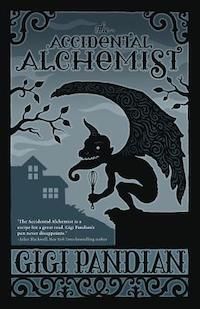 It's the first book of six books (so far) in the Accidental Alchemist series. Plus it won a Lefty Award! Alchemy and murder combined at last. Zoe Faust has just moved to Portland, Oregon to start over. Again, again. While she may seem like a young woman, she's actually 300 years old and an alchemist. But she's trying to leave that world behind by selling antiques and other goods. However, as she unpacks, she discovers there's an unaccounted for gargoyle…who is alive. For now. Dorian Robert-Houdin, the gargoyle, has sought her out because he's slowly turning back into stone. Things go from bad to worse when someone is found dead in her new house. Are the two incidents related? Can she really help Dorian? Will she be able to start a new life here?
It's the first in the six-book Jaya Jones Treasure Hunt Mystery Series that also includes short stories and novellas. And yes, she means treasure hunting. It's never a good thing when your ex sends you unexpected packages. Worse, it might be the figurative key to a lost Indian treasure hidden in Scotland that her ex may have paid his own life for. Armed with this curious object and clues from her ex, she tries to hunt down the treasure, but she has to watch her step. Other bodies are falling, showing that someone will do anything to find that treasure.
For more locked room mysteries, check out this list. If you want more books about magicians, check this list out.