This content contains affiliate links. When you buy through these links, we may earn an affiliate commission.
While there are many reasons to read cozies, it's hardly an accident that so many series are centered on women running their own businesses, often as a second beginning after a failed divorce or relationship. It's fun to get to watch a woman start her own business — set around everything from knitting, grooming, to owning a vinyl record shop. It's like the readers get to see what it is like to strike out on our own, be our own boss, and follow our passions.
Valerie Burns (aka V. M. Burns) is masterful at creating these worlds where we can envision what it is like to run a bookstore or train dogs. She explained that her works allow her to live vicariously through her characters, too. That includes their profession but also their dogs. While she can only have so many dogs in her home, she does the next best thing: she puts them into her books. Her characters either work with dogs or have them as pets. Burns researches different breeds to imagine what it would be like to have Dalmatians or English mastiffs. Her books are moments of sheer joy as we watch her characters figure out their lives. We seriously need more joy in this world.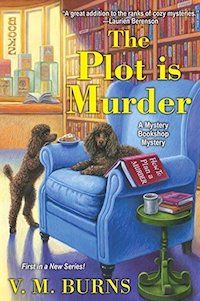 Seriously, who among us hasn't thought of running their own mystery bookshop series? For Samantha Washington, that was her dream with her husband. But when he dies, she decides to go for it and open her bookshop. She also works on her other dream of writing a historic British cozy. While opening a business, writing a book, and grieving her late husband, she had not expected to have to dodge police accusations when a realtor she fought with turns up dead. So now she has to open the store and solve the murder with her rambunctious grandmother and her friends.
Speaking of living vicariously, could someone give Valerie Burns a book deal to write British historical cozy mysteries? Because seriously, we need them in the world!
Book 8, Bookclubbed to Death came out in late December 2022.
When Lillian Echosby's husband of 25 years leaves her for another woman, Lillian sees it as an opportunity, not a catastrophe…eventually. Looking into moving away from the Midwest, she reaches out to an old college bestie, Scarlett "Dixie" Jefferson, who shows dogs all over the U.S. When Dixie shows up with three poodles, Lillian ends up with a new friend, a black toy poodle named Aggie (after Agatha Christie). But her new leash on life is shortened when her husband shows up dead and something is wrong with the dealership he owned. Police suspect her and she has to figure out what her scoundrel of a husband had gotten himself into. For folks who want more dogs in their cozies, there are five books in this series.
In her newest series, Maddy Montgomery thought she just wanted to get married and live luxuriously. But when her wedding goes bust and she receives an inheritance from a great aunt she never met, she decides to go to New Bison, Michigan, to find out about her new wealth and figure out what to do next. There she learns that her great aunt stipulated that Maddy has to work for her inheritance. She must work in her late great aunt's bakery, live in her house, and take care of her English mastiff.
Can Maddy do this all? Or should she just go home to her father, the Navy Admiral, like he wants her to? While she figures out what she can do — including learning to turn on the stove — the mayor winds up dead in the baker, and Maddy's fingerprints are all over the murder weapon. So now Maddy has to figure out how to run a business, live independently, and solve a murder. Best part about it: book 2, Murder is a Piece of Cake is due to come out in June 2023.
Want more cozies? Check out this list of most anticipated cozy mysteries in the first half of 2023.