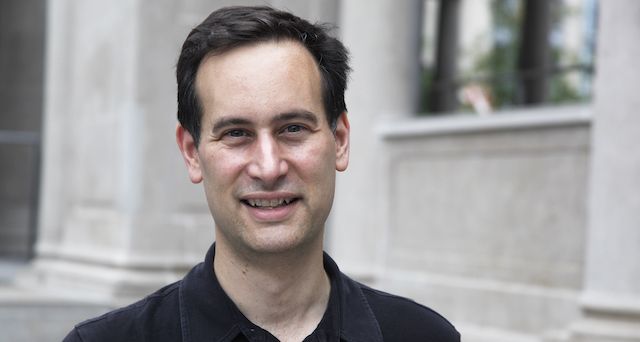 This content contains affiliate links. When you buy through these links, we may earn an affiliate commission.
David Levithan is an American novelist and editor, primarily of young adult books. At just 19 he began working at Scholastic, where he founded the PUSH imprint and is currently editorial director. Levithan's books, almost always led by gay characters, often come under fire by parents and teachers. Homosexuality, like drug use and suicide, tends not to pass through books for young readers unchallenged. Not to worry; his stories, both solo works and collaborations with other YA authors, have found a devoted audience of all ages.
Here is a recommended reading order of some of Levithan's best books. For more queer books for YA readers, check out this article from Book Riot's Sarah Nicholas.
Why not? It's his debut. On paper, Boy Meets Boy sounds as conventional as its title suggests: high school sophomore Paul meets Noah, and a standard romantic plot line ensues. What isn't typical is the book's unrelenting parade of memorable characters and details. The residents of the community the story takes place in are so gay-friendly they've run the Boy Scouts out of town. The high school's star quarterback is also homecoming queen Infinite Darlene, formerly Daryl Heisenberg. Paul knew he was gay since kindergarten but didn't confirm it or put a name on his feelings until catching a glimpse at his report card, where his teacher had written: "PAUL IS DEFINITELY GAY AND HAS VERY GOOD SENSE OF SELF." This is a fantastical world that recalls the movies of Wes Anderson, where the quirk is abundant but grounded, rarely added just for show.
Try a Collaboration
Levithan has gotten a lot of attention for his two-person books written with authors like Rachel Cohn (Dash & Lily's Book of Dares), John Green (Will Grayson, Will Grayson), and Nina LaCour (You Know Me Well). I recommend the first one he wrote: Nick and Norah's Infinite Playlist, written with Cohn. From one chapter to the next, the book switches focus between Nick, a bassist reeling from a bad breakup, and Norah, a concertgoer he asks to pretend to be his girlfriend to avoid embarrassment from his ex. The book is exciting the way stories that take place over a single night typically are, and it nails the excitement-nervousness of striking up a conversation with a potential partner, particularly in the Levithan-written chapters. The movie, starring Michael Cera and Kat Dennings, translates the book's energy to film well.
Were he to retire from writing and only edit other people's work from now on, Levithan could comfortably rest on his authorial laurels based on three books: Boy Meets Boy, the thrilling fantasy Every Day, and Two Boys Kissing. Though not classed as an adult book (Levithan's only novel for that demographic would be The Lover's Dictionary), the last of those three is a noticeably more somber affair than any of the books mentioned in this article. There isn't one story but five sets of characters, followed over a couple of days as some boys navigate new love while others endure agonizing depression. The "main" storyline involves the title characters on a marathon in front of their high school to break the world record for the longest kiss, surrounded by friends, journalists and protestors.
And then there are the narrators. Every action in the book is overseen and commented upon by a chorus of omniscient, dead gay men, all victims of the 1980s and '90s AIDS epidemic. It's tough to overstate how effecting the device is. Creepy? To be sure, at first, but it makes for the most rapturous, achingly beautiful writing of Levithan's career. The collective voice carries decades of pain but ultimately is a life-affirming force, a reminder that as confusing and tough as life often seems, you owe it to the people who love who, and the predecessors on whose shoulders you now stand, to push forward.