This content contains affiliate links. When you buy through these links, we may earn an affiliate commission.
I can't remember the first book of hers I read — the one that made me realize that, for the next 25+ years, I would follow her anywhere — but that's because all of Barbara Kingsolver's books manage to make me feel some kind of way. And for a time there, back when I was in my late teens/early 20s, I was reading as many as I could get my hands on, all in quick succession.
Twenty-five years later, I can't help feeling validated. This past spring, Kingsolver was awarded the Pulitzer Prize for fiction for her most recent novel, Demon Copperhead, and it seems everyone is considering the title for their book clubs and bedside tables.
Demon Copperhead is a doorstopper of a book, a modern retelling of David Copperfield that provides a glimpse of what life is like for those touched by institutional poverty, and by the opioid epidemic, in the mountains of southern Appalachia. In this book, Kingsolver does what she's always done best: She provides a lush, sweeping, engaging narrative that manages to interrogate larger cultural and systemic issues in a way that is not heavy-handed or overbearing.
But that's not even what drew me to her work in the first place. Rather, I've always admired her ability to make me fall in love with places I've never seen. As a stubbornly indoorsy person, her work nevertheless makes me experience a reverence for our natural world that I find difficult to replicate when I'm soaking in my own boob sweat in my backyard.
Kingsolver has published 17 books since 1988, and I have more than half of them on my bookshelf, which made this post extremely difficult to write. (I know this might seem outrageous, but I'm not allowed to say, "Here! Read these 16 books first!") After much deliberation, here are the titles I believe provide an ideal entry point into her work.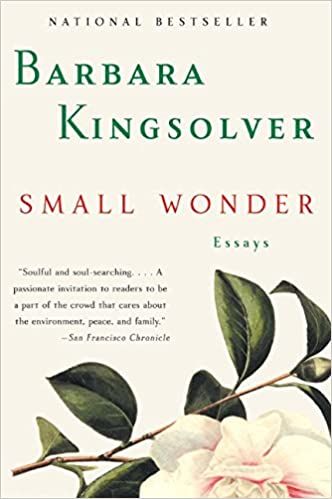 I had a bitch of a time trying to decide between Small Wonder and High Tide in Tucson for this number-one slot. Both titles are personal essay collections that have the most incredible sense of place, and the latter fueled a lifelong preoccupation with Arizona. But when I flipped back through my copies of both, it was Small Wonder (2002) that was filled with dog-eared pages and underlined passages. One such passage: "The sight of a vermilion flycatcher leaves us breathless every time—he's not just a bird, he's a punctuation mark on the air, printed in red ink, read out loud as a gasp." I mean…am I obsessed with this from a writerly standpoint? Maybe. But this group of essays that are meant as "an extended love song to the world we still have" ably introduces readers to the Barbara Kingsolver ethos, one marked by awe and wonder for the world we live in, and a deep awareness of all the ways in which we are failing it.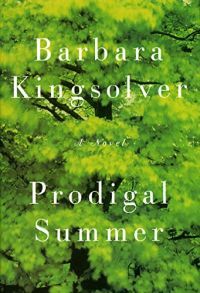 Kingsolver easily moves back and forth between fiction and nonfiction. And while I've long leaned toward a preference for narrative nonfiction, the novel Prodigal Summer (2000) remains my favorite of her books. This multiple-perspective novel bops back and forth between its three main protagonists, each of whom is living in the mountains and farms of southern Appalachia. As we follow along with their loosely connected stories, we are taken on a journey of love, loneliness, and connection — between humans, yes, but also between humans and nature. Again, this is Kingsolver's pet topic (the ways in which we interact with the natural world, for better or for worse), and this particular tale reflects on it so skillfully, while also bringing all of the feels.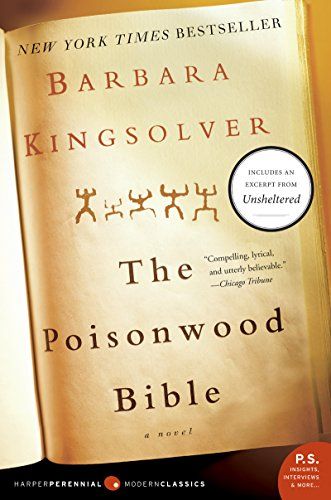 My god, this final slot was even more difficult to fill than the first one. I wanted simply to throw in my other favorite of hers (Animal, Vegetable, Miracle), but since this blog series is supposed to act as an introduction to new-to-you authors, I finally determined that it made more sense to include what felt like the true predecessor to the award-winning Demon Copperhead. As with her most recent book, The Poisonwood Bible (1998) is an epic tale that spans lifetimes and tackles huge topics. It follows a missionary family that moves to postcolonial Africa in 1959, a move that proves to be their undoing. Touching upon colonialism and culpability, the book presents the perspectives of the five family members who followed their patriarch on his flawed mission.
Looking for more recommended books from some of our favorite authors? Check out Book Riot's whole Reading Pathways series. Or for more books to stoke your love affair with the great outdoors, try my post on how an indoorsy reader fell for the outdoors, or check out this list of nonfiction books about nature.