Featured
Reading Pathway: The Mitford Sisters
This content contains affiliate links. When you buy through these links, we may earn an affiliate commission.
It sounds like the start of an old, dubious, joke: a Nazi, a communist, a farmer, a writer, a politician, and a duchess sit down for dinner… But that's what the Mitfords were, or at least those are some of the labels that were attached to the six Mitford sisters who constituted one of England's most powerful literary dynasties.
Nancy, the oldest, was the first to find literary acclaim with a series of novels satirizing the titled gentry and bright young things that surrounded her in post-WWI England. Next came Pam, the farmer and only Mitford sister not to be extensively published. Pam was followed by the notorious Diana Mosley, wife of Oswald Mosley – leader of the English Nazi party. Diana was imprisoned with her husband during the war (partly due to her long standing friendship with Hitler) and upon her release wrote a number of well-received books and newspaper columns.
After Diana there was Unity, arguably the most notorious and least understood Mitford sister. An ardent supporter of Hitler and near-fanatical Nazi; Unity moved to Germany during WWII and attempted suicide when it became clear that Germany and England would not be reconciled. Unity's younger sister, Decca (Jessica), was at the other end of the political spectrum. Declaring herself a committed communist, Decca ran away to fight in the Spanish Civil War and then moved to America where she was monitored by the FBI over her communist connections. She then became the subject of a McCarthy witch hunt, joined the Civil Rights movement and penned a number of wildly successful bestsellers. The youngest Mitford sister was Deborah, who married a Duke and became friends with the English royal family, despite her sisters' political leanings.
Not sure where to begin after that whistle-stop tour? Allow me to make a couple of suggestions, the first of which wasn't actually written by a Mitford sister…
The Mitford Girls by Mary Lovell
The Mitfords were notorious for mining their own lives when writing their novels, which caused a great deal of bad feeling between friends and within the family. The real problem, however, was that no one ever really knew what was fact and what was fiction. Was their father the tyrannical Uncle Matthew in The Pursuit of Love? Did Unity really release a pet snake into a 1920s debutante ball? In The Mitford Girls, Mary Lovell painstaking separates the myth from the mundane and presents an affectionate, gloves-off portrait of the Mitfords. Use this book to introduce yourself to the family before heading over to…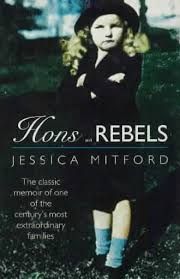 Hons and Rebels by Jessica Mitford
Another non-fiction title. Hons and Rebels was the only Mitford penned Mitford memoir, and Decca was the most interesting Mitford (yeah, I said it) so this is worth it for the curiosity value alone. This memoir offers a fascinating insight into the psychology of a woman who turned and ran at the first sign of Nazism in her two older sisters (and, for a while, both parents) when many of England's aristocratic elite were still rather fond of Hitler. In The Mitford Girls, Lovell points out that Nancy believed that Decca had been overly influenced by her style, attempting to recreate The Pursuit of Love for an American audience. So read it first and then follow it up with…
The Pursuit of Love and Love in a Cold Climate by Nancy Mitford
These are the Mitford novels that most people start with and are the reason for the momentous amounts of confusion swirling around the Mitford sisters. Who would have thought a pair of light-hearted novels about love and loss in early 20th century England could have sparked so much trouble?
Once you've read through these titles you'll be more than ready to face Diana Mosley, pick a favourite Mitford sister, (I wasn't joking about Decca, but feel free to disagree in the comments…) and own up to a fully blown fascination with this extraordinary family.
Save