Fiction
Reading Pathway: Ann Patchett
I was introduced to Ann Pachett, the lovely and enchanting authoress, through her best friend, the late Lucy Grealy. And it could not have been a better introduction, because who knows you better than your best friends? Ann (her writing is so familiar, I imagine we're on a chummy first-name basis) is a writer who perfectly captures the art of the good, old-fashioned, get-lost-in-it, novel. Nothing too fancy, extreme, or artsy (read: confusing), her novels star mostly regular folks who come into situations worthy of a good, long story. This is by no means a slight. I love novels, and Ann's are the cream of the crop. So if you're going to get to know Ann, I advise starting at the nonfiction, where she's as open and honest and sharing as any memoirist. And because you can then be dazzled by the fiction that comes from a mostly un-extraordinary life led by a down-home, talented woman.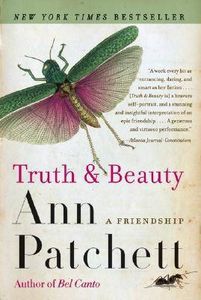 Truth & Beauty: A Friendship. Lucy and Ann met in college, were both writers, and fell in love in the way only best friends can. If we were putting this in YA novel/CW show terms: Lucy was the crazy, brilliant, misfit-mostly due to a childhood diagnosis of Ewing's sarcoma (cancer in her jaw), which left her in pain, subject to many surgeries, disfigured, and pretty much treated like Quasimodo throughout her early life. In contrast, Ann, at the time the 'lesser' writer, was the serene, supportive best friend who loved and always supported Lucy, no matter what. Grealy memorialized her own painful life through her highly acclaimed memoir, tellingly titled Autobiography of a Face. After her death, best friend Ann memorialized their friendship with Truth and Beauty, a lovingly written, heartbreakingly brutal book about loving the person we cannot save. (To be fair, the book is certainly not loved by everyone, as can be the case with a sensitive work of nonfiction.) Their friendship shaped young Ann and and her writing, and is a perfect start to knowing her as a writer. Yes, it's sad, but it's also a story of friends, and the world of writers: teaching, bad jobs, M.F.A. programs, critiquing, trying to get published & what happens when your dream comes true. And it's the story of being young and crazy and thinking the world will never end. But it does, and Lucy's life ended of an accidental drug overdose at age 39, while Ann transitioned from a mostly nonfiction magazine writer to become the fully-fledged novel-ess she is today, author of such books as: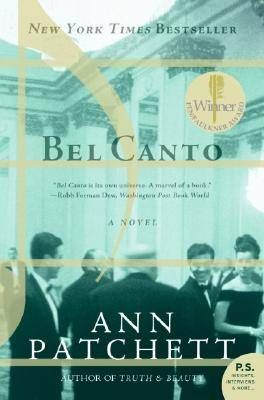 Bel Canto. I cannot, in good conscience, tell you what this striking, lyrical, haunting novel is about in full detail. But I can give you a teaser: a lavish birthday party is being held for a Japanese businessman at the home of a South American politician, with noted soprano Roxanne Cross providing the evening's entertainment. All is well, until a band of terrorists take the entire party hostage. And honestly, that's not giving anything away that you won't find on Amazon or the book jacket blurb. This is not a typical mystery or suspense novel: it's a love story on so many angles, with the primary mystery (who makes it out alive??) complicated by relationships, twists and turns in the hostage crisis, and a flash-forward that will most likely leave you in tears. Bel Canto translates in Italian to "beautiful singing", and Ann's novel can be described in many of the hallmarks of the bel canto style: an impeccable production; an agile, flexible technique capable of dispatching ornate embellishments; pleasing, well-focused; graceful phrasing rooted in a complete mastery. If you're in it for the fiction, read this book first. You'll get lost in the world of Ann and might not want to return.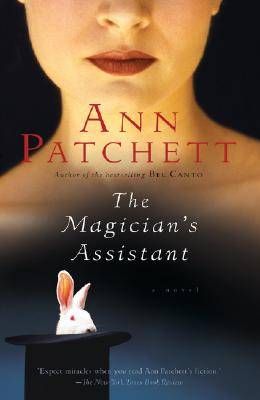 For my taste, nothing quite captures the magic of Bel Canto, but try out The Patron Saint of Liars or The Magician's Assistant next. Ann subscribes to the theory that most authors are retelling the same story: in her case, the story of a group of strangers stranded in a weird situation, and the drama that unfolds from there. She also, really interestingly, acknowledges that no fiction writer can ever truly distance herself from the nonfiction of real life: so you can always find touches of Ann, glimpses into her inner life, in most of her fiction. The Patron Saint is the story of of a young woman in a home for un-wed mothers in rural Kentucky. Primarily a stop-over till the baby is born and, usually, adopted out, heroine Rose instead finds an unlikely home away from home, as she tries to come to terms with her past, and her and the baby's future. If you're in the mood for something a little lighter, The Magician's Assistant should do the trick. Sabine is the titular young, beautiful assistant who loses her magician husband, and suddenly finds a whole new world waiting for her in the form of family, family secrets, and secret family. The assistant, so relegated to the background of illusion and tricks, is suddenly in the starring role of her own life. The Magician's Assistant is a worthy companion to anyone experiencing grief or loss, or just wants to feel like it.
This is the Story of a Happy Marriage. Is she a writer for women? Well, Ann got her start writing for Seventeen magazine, and does not hesitate to give that teenage dream glossy credit for honing her observational and editing skills. And the majority of her writing features women doing something, possibly mundane but totally relatable, a situation you can nod your head about and understand. But here's the thing: have you ever loved someone? Had a best friend (or a dog)? Lost a love of your life? Started from scratch? Pursued a dream? Yeah, so try out this collection of nonfiction writing, ranging from riots to travel to family, because you'll find something that clicks. (The books isn't an All-Purpose Gift Book for nothing.)To her everlasting credit, the woman who has been called a Pollyanna because of her penchant for writing about good, nice people (because that's such a bad thing?) writes refreshingly relatable nonfiction that, yes, may be on the safe side, but makes me feel warm and cozy and happy to be in a world where Ann's writing exists. And come on, my girl Ann opened an independent bookstore in her hometown of Nashville, TN, Parnassus Books – a decision she might be taking a tad too seriously, but, really, wouldn't you? It's kind of living the dream.
Through the years Ann has allowed me into her life through her writing, both fiction and non, and for that, I thank her.