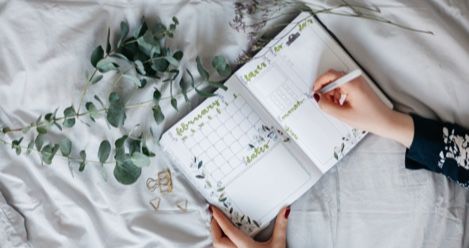 Book Fetish
7 Reading Logs to Help You Keep Track of ALL THE BOOKS
This content contains affiliate links. When you buy through these links, we may earn an affiliate commission.
If you find that you're reading ALL THE BOOKS but have trouble keeping track of what you've read, you may have considered a reading log. There's always Goodreads, of course (although I dread the day when the servers suddenly combust or something and all that data is lost forever), but can you really beat a good, old paper log? It's romantic, it's personal, and it'll be available for years to come when, no doubt, posterity will wonder what it is their ancestors (you!) read, and drool over the meticulous notes you took of the latest James Patterson. But where to start? There are so many reading logs out there! Here are a few to get you going in the right direction.
This log includes a space to list books with brief information about each title as well as individual pages for more detailed notes. With space to include the usual data (title, author, etc.), the log also prompts the reader for specific element ratings such as plot and character development. You can record favorite quotes and the format of the book. At the back of the log, find space for a TBR, a loaned-book tracker, and a curated list of the "top 100 voted fiction books." At 8×10, it's perhaps a bit bulky to take with you everywhere, but its antique bookshelf cover design will make it a beautiful addition to your personal library. 110 pages.
For fans of minimalist design, Rene J. Smith brings The Book Lover's Journal. At 4.5×7.5, it's fairly portable and includes an elastic to keep the book from opening (and therefore the pages from being destroyed). Readers can note their TBR along with a "reading wish list," books in their possession, information about book groups, and, of course, detailed information about individual books. In addition to the usual notes, write down how you found out about a given book and record any "noteworthy experiences" you had while reading it (what a fun way to look back on your life!). Diarists will also find a list of fiction and nonfiction considered "among the world's great books." 216 pages.
Get 'em started early with this reading log for kids. Perfect for keeping at the bedside at about 7×8.5, this friendly-looking journal will help kids get excited about reading and completing books. Find fun activities, a star-rating system that records both kid and parent opinions, a checkbox to indicate who did the reading, and space for notes about the book in question. This log is about as interactive as it gets, with a note at the beginning which encourages readers to "tear off the corner [of each page] 'meal' to feed the Bookworm. As you read more books, you'll be able to see the trail blazed by the Bookworm throughout the pages…" How fun is that? 112 pages.
Shameless plug! If you love our Read Harder challenge, why not get a hard copy log to go with it? With a colorful cover and elastic band to keep everything together, you'll love whipping this out to show off to friends. Find recommendations to go along with unique challenge prompts along with pages to record individual reading exploits. Determine three words to describe each book for a helpful recall strategy once you've tucked the book far into the corners of your mind. Rather than a star rating, Read Harder gives the option of a letter grade on the traditional A through F scale (minus E, of course). The log includes adorable illustrations with teal accents by Piet Aukeman and provides plenty of space for "notes, quotes, and other things to remember." Keep it on you at all times or proudly display it on your shelf or desk at about 5.5×8.5. 160 pages.
Record 120 books in this reader's log. At 8.5×11, this journal is a great addition to your desk. Grab the typical data about your reads with the fun addition of a prompt to describe the "book in one sentence." With practice over the 120 books, you'll be on your way to the elevator pitch book life in no time. Reviewers have commented on the book's high quality Readers will find a few pages at the start of the journal to list titles. Pages for individual books are helpfully numbered so you can know at a glance how many books you've read. 124 pages.
A compact journal at about 4×5, What I Read (Red) Mini Journal includes an elastic band for safekeeping. This adorable log makes up for lack of writing space with how darn cute it is. For readers who don't necessarily want to keep minutiae about each book, this bare-bones book journal is ideal. Along with the usual book-by-book log, this diary includes fun prompts to record things like the "first book" and "most inspiring book" you've read, making it fantastic for quick-reference recommendations. You can also respond to questions that inquire about your reading life in brief form. 128 pages.
At 5×8.25, this classic Moleskine design is sleek and functional. With ribbons to mark your place, an elastic band for safekeeping, and an alphabetic organization method, you'll always know exactly where you are with your list. This Passion Journal comes with stickers to help illustrate your bookish feels. Each page allows for details about the book including the language in which it was originally written, awards the book has won, and the standard title and author among other tidbits. Use the book's pocket for sticky notes, bookmarks, or other tools. 240 pages.
Of course, you might also design your own log or even do a mish-mash of the ones above to create something perfect for you. Try getting started with these bookish bullet journal spreads.