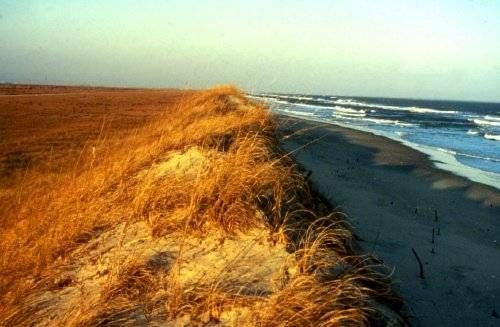 Awhile back, fellow Book Rioter Leslie and I were tossing book recommendations back and forth online when the topic of fiction in familiar places came up. Does reading a book set in a place you're familiar with — your current city, the state you grew up in, a place you use to vacation at as a kid — make the experience of reading the book better or worse? Does recognizing the scenery make you more critical of errors or charmed by the familiarity?
Leslie's Picks (the Outer Banks, New York City)
Novels set in the Outer Banks of North Carolina — I think this might be cheating a little bit, but this seems to be a genre all in itself. Nicholas Sparks has made a career out of it. When I was a kid, we spent most of our vacations on the Outer Banks, often in Hatteras or Ocracoke, but sometimes other parts as well. When I was a kid, I would devour novels and stories, some of them self-published or published by very small local presses, that were set on the islands. There's just something magical about reading a book set in the place you are visiting.
When I was putting together a list of possible books for this post, there was a novel that I kept thinking of but I couldn't remember the name. Some research turned up the novel Teetoncey by Theodore Taylor. It has a deliciously cheesy cover and I remember loving it as a child, but I haven't reread it since to give you an opinion as an adult.
In the meantime, I can recommend The Watery Part of the World by Michael Parker, which actually has a similar plot. If you have spent any time on the Outer Banks, you will recognize both the contemporary setting and the historical. For me, what I loved most about this magnificent novel was the setting. Yes, the language was beautiful and the story excellent and melancholy, but the way Parker describes the Outer Banks is just so perfect. I can't imagine a better reading experience than being there and reading The Watery Part of the World.
(Full disclosure: I work for the company that publishes The Watery Part of the World, but I read it before I was hired and I have been trying to get people to read it ever since. It was one of my favorite reads of 2011.)
Rules of Civility by Amor Towles — This was the first book that I read set in New York City after moving there. I was never one of those people who obsessed over the city and dreamed of living here. I never read books about New York and thought about what it might be like to live in a place like that or even imagined that that's where I'd end up. But here I am and I found myself nodding often when I was reading Rules of Civility, narrated by a New York native during the 1930s. This book so perfectly captures certain aspects of New York life that New York City often seemed like another character in the book. It's one of the things I loved most about reading Rules of Civility — seeing the streets and people I recognized, even though the time period is so different from ours.
Kim's Picks (Madison, Wisconsin and Rural Minnesota)
But Not for Long by Michelle Wildgen — I've actually written about But Not For Long here on Book Riot once before, on a list of books I recommended reading during a blizzard. The book is set in a slightly off-kilter version of Madison, Wisconsin, the town where I went to grad school. The story, which centers around three housemates living in a sustainable food co-op, takes place over three days, as a quiet apocalypse — blackouts, gas shortages, and other unnamed signs of the end times — threatens to overtake the city.
I think the familiar setting (along with a sort of end-of-the-world feeling in Madison in 2011 thanks to some political upheaval) made this book click for me even more than it might have otherwise. Wildgen really got both the particular hippie spirit of Madison, while twisting familiar people and places to fit her story.
Dakota: A Spiritual Geography by Kathleen Norris — This is my counter-example, a book where the book's setting made me actively dislike it, at least on a first reading. I first read Dakota — a "meditation on life in the Great Plains" — as a sophomore in college during a class on creative nonfiction. Our teacher picked the book, in part, because our small liberal arts college was located far out on the prairie near where the Great Plains begins.
I think my professor's point in choosing the book was to help us see how we could find rich stories in our everyday scenery, but reading a book this deeply poetic about a landscape as harsh as the prairie during February in Minnesota made us more miserable than inspired. The book was almost universally disliked by my classmates, even though we acknowledged it was a quality piece of writing. I've read some chapters from Dakota again in a different setting, and really loved it, so I'm mixed on this one.
If you want to try and find books to read set somewhere familiar to you, one website to try is Books Set In — https://www.bookssetin.com. The search function is a little slow, but it's a fun site to play around with.
What are you favorite books set in a familiar place?