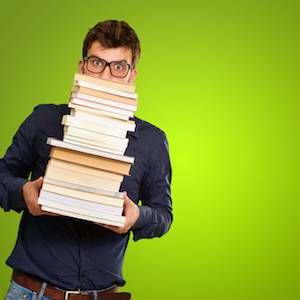 This content contains affiliate links. When you buy through these links, we may earn an affiliate commission.
This post is sponsored this week by Book Riot Live: the convention book lovers have always wanted. Two days of talks, discussion, panels, booths, interviews, and more. Find out more here, or click the image below.


____________________
You've got your tickets for Book Riot Live, and you've started perusing the programming, but you want to read up a bit before November. Where to start? I have some thoughts about that! You can read Part 1 here.
Publicist Gregory Henry: Welcome to Night Vale by Joseph Fink and Jeffrey Cranor
For lovers of the podcast and newbies alike, finally there is the Welcome to Night Vale novel! Follow the adventures of pawn-shop owner Jackie Fierro, PTA treasurer Diane Crayton, and Diane's son Josh as they seek to unravel the mysteries of King City and the man in the tan jacket. Hilarious terror sure to ensue.
Jill McDonough: Where You Live
A funny, tender, and genuinely funny poetry collection. In love-poems, conversations, intimate jokes, from a hundred parties, five prisons, and three beloved bars, McDonough helps you better see "Where You Live."
Laurie Halse Anderson: The Impossible Knife of Memory
Hayley Kincaid is trying (but mostly failing) to be an average teen. Between dealing with her father's PTSD, learning how to live in just one place, attending high school, and falling for a guy for the first time, it's tough to feel normal. This gorgeous novel looks hard at trauma, healing, and the power to change.
Ryan Chapman: Conversation Sparks
Ever wished you had a pocketful of trivia to pull out at parties? Never fear, Ryan Chapman is here — with Conversation Sparks. Over 350 fascinating, little-known facts, including: any month beginning on a Sunday will have a Friday the 13th; there are more cell phones in the world than toothbrushes; and now-retired Twinkie flavors (banana cream).
Sarah MacLean: A Rogue by Any Other Name
Kicking off the Rule of Scoundrels series, A Rogue by Any Other Name follows heroine Penelope Marbury: the perfect, proper lady who is adrift in disappointed love and boredom. Enter the Marquess of Bourne, a ruthless scoundrel and rogue who may finally have met his match.
Sarah McCarry: All Our Pretty Songs
Inspired by both the myth of Orpheus and the band Nirvana (classical and pop culture combo FTW!), All Our Pretty Songs follows lifelong friends Aurora and our unnamed narrator as they discover a world beyond our own — one that they might not be able to escape. Full of raw emotion and magic both, this is a story that goes far beyond romantic love.
Sona Charaipotra (with Dhonielle Clayton): Tiny Pretty Things
Three very different, very talented students at an exclusive ballet school in Manhattan find themselves locked in a competition for pre-eminence that spirals beyond garden-variety bullying. Gigi, Bette, and June discover sides to themselves and their classmates that they never could have predicted. Tense, fascinating, and excellently plotted.
____________________
Book Riot Live is coming! Join us for a two-day event full of books, authors, and an all around good time. It's the convention for book lovers that we've always wanted to attend. So we are doing it ourselves.