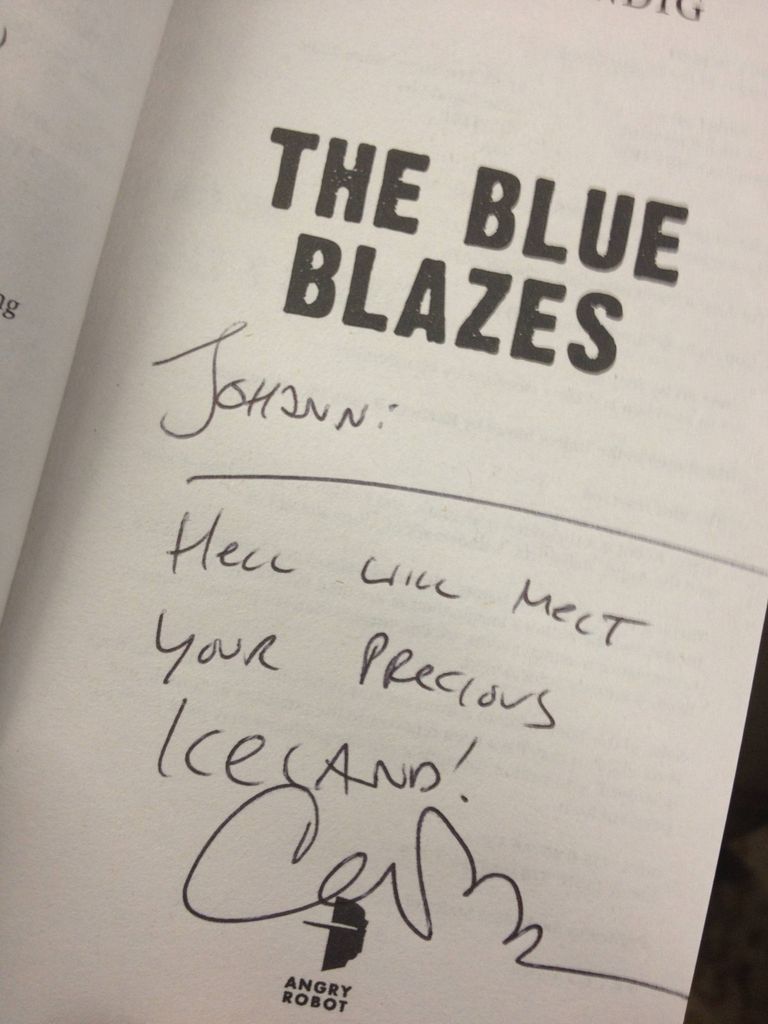 Fiction
Reading Globally: Book Riot and Chuck Wendig Take Iceland
Book Expo America took place more than two months ago. I did not write this post because I was waiting for the story to reach its conclusion. That happened a few weeks ago. I did not write it then because I got busy. Sorry. But it's a good story, worth telling. And there are pictures. So stick around.
One of the busiest authors at BEA had to have been Chuck Wendig. He had three scheduled signings that Saturday, one for each of the books that he has hitting shelves this year – Under the Empyrean Sky, Gods and Monsters, and Blue Blazes. Fellow Rioter Johann, who makes his home in Iceland, knew that several of us were going to be in the vicinity of these signings, and he asked, via Twitter, if Rebecca would score a signed copy of Blue Blazes for him. I saw the tweet, and told him I'd be glad to do it. I wasn't going to be there for the Saturday signings, but I already had plans to go to the Blue Blazes book launch that Friday evening.

Liberty and I left the Javits that evening, grabbed a cab to Brooklyn, and found ourselves outside of Singularity & Co, a science fiction bookstore. Once we were buzzed in, among the first to arrive, Liberty couldn't resist digging through the sale table, where she found a copy of a book called Bumsider. Instead of reading from Blue Blazes, Chuck read the jacket copy from that book. OF COURSE HE DID.
Then came the signing. This was the easy part. I bought two copies of the book, one for me and one for Johann. I stood in line. I got the books signed.
But then it got more complicated. I was going to either try to find a post office in a strange, unfamiliar city or I was going to have to cram the book into my already bursting-at-the-seams suitcase and lug it back home to Houston, where I would then go to a perfectly familiar post office and ship it to Iceland….when I had the spare cash to do so.
I was pondering this when I met Dave (@electricmeat), a friend of Chuck's who came out for the event. It turns out that Dave and his wife were planning a trip to Iceland just a few weeks later, and they'd be coming pretty close to Johann. I jokingly asked if he'd deliver the book, and he, quite seriously and with no hesitation, said yes.
After some twittering, everything was arranged. About a month later, this happened:
Sure, Johann could have gotten a copy of the book in Iceland (or shipped to him in Iceland, at the very least), but it wouldn't have that super-special inscription. And that's what made the whole thing worth it.
Actually, I haven't read the book yet. I'm basing my evaluation of Chuck Wendig's worthiness on his Twitter feed and his winning personality. If it turns out that I was wrong, I'm gonna demand a refund – for both books. And Dave's plane ticket.
For now, though, I'm happy to say that Chuck has conquered Iceland. And I'm honored to have played a small part.
_________________________
Sign up for our newsletter to have the best of Book Riot delivered straight to your inbox every two weeks. No spam. We promise.
To keep up with Book Riot on a daily basis, follow us on Twitter, like us on Facebook, and subscribe to the Book Riot podcast in iTunes or via RSS. So much bookish goodness–all day, every day.