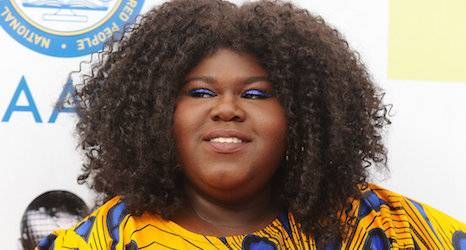 This content contains affiliate links. When you buy through these links, we may earn an affiliate commission.
If you haven't read Gabourey Sidibe's fabulous memoir This Is Just My Face: Try Not To Stare, you should remedy that. Doesn't matter whether you know her or not, it'll be like sitting down for a tea and chat with one of the funniest women you can imagine.
And also?
She's one of us.
Sidibe is a loud, proud book nerd, y'all. Books! Reading! She embraces those things and she's not afraid to talk about them.
As soon as I finished her memoir over a mocha in a local cafe, having stifled a lot of laughs, I knew it was time to flip through her social media for some good book recs. I wasn't disappointed.
Get your TBR ready. It's time to read with Sidibe.
@baratunde just got it this morning and I'm already at the White Student Union chapter. ✊🏿✊🏿✊🏿✊🏿 pic.twitter.com/Dd3CgK2Z4X

— Gabby Sidibe (@GabbySidibe) April 8, 2017
This is literally how I spent all of my teenage years. With my nose in a book. 📚📚📚 #BooksYo pic.twitter.com/YHjt7nQ7dw

— Gabby Sidibe (@GabbySidibe) October 13, 2016
Just started reading a new book that begins "I didn't stop giving hand jobs cuz I wasn't good it. I stopped cuz I was the best at it." 🔥📚🔥

— Gabby Sidibe (@GabbySidibe) November 29, 2016
If you read down that thread, you'll learn the book is Gillian Flynn's The Grownup.
Yo, I miss all the books I read as a kid. I'm about to buy mad "Fear Street" and "Clue" books on Amazon! Shout out to R.L. Stine! ☝🏿📚

— Gabby Sidibe (@GabbySidibe) April 13, 2016
New reading material! I'm obsessed with twins because I fear them. This book is filled with my nightmares. pic.twitter.com/RCTnejn2Lt

— Gabby Sidibe (@GabbySidibe) April 15, 2014
Congrats @UncleRUSH on your new book, #TheHappyVegan! get it now: https://t.co/ksK3lX7CbK

— Gabby Sidibe (@GabbySidibe) January 13, 2016
Want more of Gabourey's recommendations? Check out her "By The Book" feature in the New York Times.