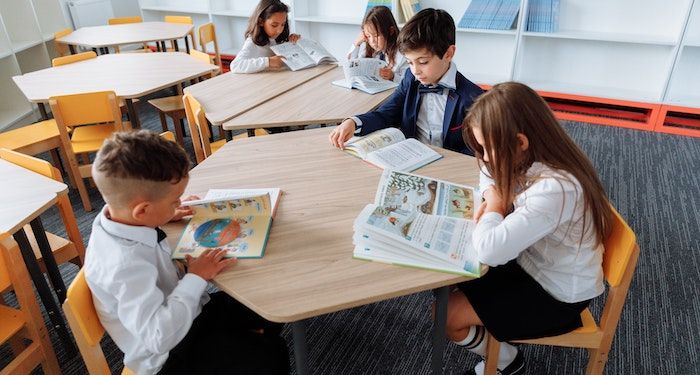 Libraries
Confessions of a School Librarian: I Read for Pleasure During My Teaching Time
I'm going to share a teaching hack with you that I have been using for a solid decade, well before I ever got my dream job as a librarian. It's one of the smartest things I've ever done, works amazingly for grades 1-5, and can completely change my mood and energy. It is so decadent that I sometimes don't want to admit that I do it, because it feels like something I should get in trouble for. I'm going to explain how I read for pleasure in front of kids during my teaching time.
When I read for pleasure during class time, students are not allowed to talk to me or ask for any help. I am reading silently (and so are they). It lasts anywhere from 15 to 30 minutes. And even the most difficult and draining classes can participate on some level. It is such a successful routine that often my hardest chore is convincing myself to indulge in the reading instead of using the time to finish a library task. Of course, this didn't happen overnight. Let me tell you how it started.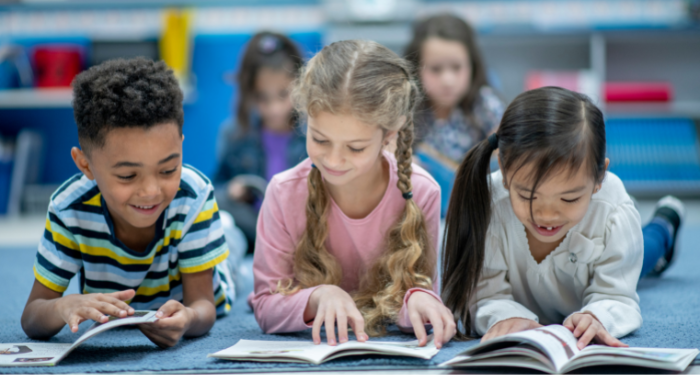 I began implementing silent reading time when I was a 1st grade teacher. First graders aren't ever silent, but I knew that they needed more time to browse our classroom library, and I needed time to regroup in the hectic moments when students returned from lunch. We started practicing silent reading as a way to bring down the energy and get back into a learning mindset. When I say practice, I mean it. It takes a long time to make this routine second nature. People, especially children, ask questions as a reflex. I would have my line ready to go: "I can't talk to you during reading time. Do your best and you can tell me when reading time is done." Most of the time, the impulse has passed by the end of reading time, but if the student returned, I would make sure to address their need. This made them trust that they really could stay silent during reading time and still be heard.
This was also a time when I was working hard to understand what I needed as a teacher, beyond the curriculum and the supplies I hustled so hard for. I reflected on what worked for me and read a lot of teacher development books. After a while, I started using this midday stop when the kids were reading to check in with one of my teaching books. The first book I remember deciding to read during the school day was Teach, Breathe, Learn by Meena Srinivasan. This was back in 2015, when books about teaching and mindfulness were in much shorter supply, and I loved reading the stories from Srinivasan's classroom and hearing the different routines that helped her stay calm. Every time silent reading ended and I put down my book, I noticed that I felt more equipped to approach my class with patience and compassion. It was a powerful midday reset.
When I moved to the library, there was a huge transition period. This was a dream job, and one I had boldly asked for with little to no ruminating on the change. I still maintain it was the best thing I ever did, but the first year was rough — largely because I had assumed it would not be. One saving grace? Returning to the silent reading time. I couldn't do it in every class. There wasn't enough time in a period. But I found little pockets, rotating classes that I covered, and I realized that whenever I could steal that time and teach the routine to even one class, it was benefiting everyone.
This only works if the time is sacred. The way I explain to students is this: you get to choose the place you sit. You get to choose what you read. I get to choose the volume. And the volume is silent. I provide tons of reading material: ebooks, magazines, the stacks. I provide ample seat choices and allow students to mark where they are going to sit on a chart, so there is no fighting over seats to distract. I then remind everyone that they have to be silent, put on some relaxing music, and let the magic begin.
Of course, there are roadblocks, and a huge amount of frontloading that goes into this work. Students need to understand that reading can be browsing, looking at pictures, and making your own story. Students need to understand that ebooks and audiobooks count. Students need to know where to find different kinds of books, and where to find all different kinds of seating. Students need to use shelf markers to return books to their correct spot at the end of reading time. And students need to understand that you are reading, too, and that you deserve to read uninterrupted.
What are the benefits? Endless. I am modeling reading for pleasure. Students see what I'm currently reading on a book stand right on the circulation desk. They watch how sometimes I finish an entire book, and sometimes I DNF when I'm not interested. At school, I always read something that is going to go in our library, and I'm constantly raising interest in new titles. Students get to flip through several books per session, developing their personal taste and seeing what the library has to offer. Best of all, for me? I get some reading in, and I notice how much better I feel after I've read a bit. Maybe some of my students are getting the same realization.
Hopefully, I've tempted you to at least consider reading for pleasure on company time. As librarians, our job is to teach and model the joy of reading, and this simple trick benefits everyone. Good luck!