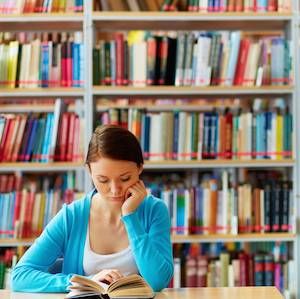 This content contains affiliate links. When you buy through these links, we may earn an affiliate commission.
While we at the Riot take some time off to rest and catch up on our reading, we're re-running some of our favorite posts from the last several months. Enjoy our highlight reel, and we'll be back with new stuff on Monday, January 5th.
This post originally ran July 29, 2014.
_________________________
It makes no sense to me now how a dedicated reader goes to college to study literature and does not do all the required reading. My decision to major in English was tortured, because the cost of my education weighed on me so heavily that I was sure I should choose something more practical, but when I finally decided to study what I loved, I still did not do all the required reading.
I had another no-more-practical major and a couple jobs and the growing distraction of the internet, but a lack of time is only the most convenient excuse. While I had always been a voracious reader independent of school, until very late in my college life, my motivations as a student were tied more closely to achievement than learning. Whether this was a result of a flaw in the educational system or in my personality, I wanted and got good grades, and that was how I measured my success in school.
What I was reading on my own was also very different from what I was reading in school. I was deep into popular fiction and would only pick up a classic out of a sense of obligation. I would suffer through the reading I had to do for literature classes, sometimes only enough so I could write the paper, and then I'd go back to reading a mystery. Some books did crossover, like Sense and Sensibility (my first Jane Austen), Kindred by Octavia Butler, and The Fire Next Time by James Baldwin, but there are too many books that make me feel like I'm lying when I say, "Oh, I read that in college."
Somewhat despite myself, my education in literature did take hold, and it has provided me with a solid foundation now that my interests have shifted enough that I'm excited to read all the books I was supposed to read in college. I have taken on the responsibility of filling in the gaps of my education, and now I'm grateful for my professors who, probably because they couldn't stand to teach The Great Gatsby again, introduced me to authors I might not have come across on my own.
There are two books sitting on my bookshelf that, more than any others, represent the regret I have for not dedicating more time to required reading when I was in college. The first is The Crying of Lot 49 by Thomas Pynchon. This is the book I most often imagine referencing at the fancy cocktail parties I do not attend, and for years I was embarrassed that I could hardly recall a word of it. So I picked it up last year and read it again. It was completely absurd, and I'm sure I'm going to have to read it every few years just to remember things like the IA.
The second book is The Sound and The Fury by William Faulkner, which I have been relieved to discover as an adult that everyone finds difficult. There are probably more of us who "read" it in college than read it in college. For now it still sits on my bookshelf untouched, and while I could probably drop enough names and plot points to make it sound like I'm very familiar with the text, that would make me feel like a fraud. Eventually I'm going to give it the attention it requires.
When I talk to college students now, it's hard not to push up my glasses and lecture them on the importance of doing the required reading while they still have the time and structure that college provides. But I try to remember that I came back to these books on my own and discovered that it's never too late to read the books you were supposed to read in college.
____________________
Follow us on Tumblr for for book recs, literary talk, and the occasional pic of a puppy reading.