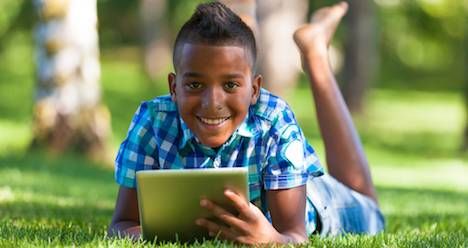 This content contains affiliate links. When you buy through these links, we may earn an affiliate commission.
No one seems to question the value of reading aloud to small children, but I've rarely seen anyone recommend reading to children who can, themselves, read. I am here to do that now.
I've written before about my son who will only read comic books and graphic novels. He is nearly eleven years old now, and it has gotten harder to not fret over this quirk of his, but I have struggled through. I still believe, absolutely, that reading is reading.
I have wondered, though, what book he would, eventually, cross over for.
My son, who is seven, is very very close to reading, but it just hasn't quite clicked for him yet. I am not worried, but he is a little worried, and very suspicious that everyone around him, all of us readers, is keeping the secret to reading from him. Most days, though, he will settle for a book read aloud. For a long time it was the same book, Roller Girl, over and over and over again until my husband and I were both tired of looking at it. Then he got a box set of the Bunnicula books for Christmas.
My husband is the children's preferred reader, because he does voices. I try not to be too jealous. Most days, I am grateful for the half hour break while he reads to them after dinner.
There are seven Bunnicula books. When my husband started reading the second book to the children, my older son asked if he could take the first to bed with him afterward. He has since read every book in the series as soon as they are done reading them together. All he needed was the voices my husband uses, fresh in his head, to replace the pictures he relies on in comics.
Since then, the same thing happened with the Netflix adaptation of A Series of Unfortunate Events, with Sam requesting the books as soon as we finished watching each double episode. I myself prefer to read a book after I've seen the adaptation, which is an unpopular choice, I know. But seeing its value for my son has reinforced this for me almost as much as seeing my husband read to him.
There are plenty of reasons to read to older children. It helps to keep up a close relationship between parent and child, even as the child naturally pulls away. But it can also foster a love of reading, and encourage older children to take leaps in their reading, in a way I wouldn't have predicted.