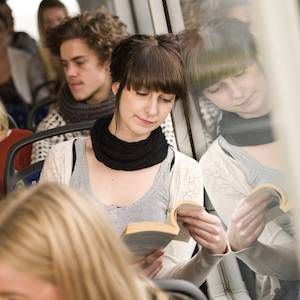 This content contains affiliate links. When you buy through these links, we may earn an affiliate commission.
Regina Nadelson said that the best parts of traveling are "the anticipation" and "the remembering" while actual travel has "more to do with losing your luggage." Reading about and preparing to visit a new destination is definitely one of the most fun parts of travel. There are so many possibilities, new sites, and adventures that thinking about what might happen is often much better than the realities of checking into a hotel, fighting other tourists to take a picture, and dealing with local transportation.
If preparation is part of the fun, though, where should you find good travel information? Travel guides are great for concentrated information and creating a game plan. Unfortunately, it's usually the same game plan as everyone else who owns your book. Travel guides also don't offer ideas about how a new culture and city will feel. That is when novels come in to play.
While I was in Madrid, I read Leaving the Atocha Station by Ben Lerner. Atocha is about a man who travels to Madrid on a scholarship, meets people, learns Spanish, and experiences the city's aftermath of the train bombings in 2004. I was only minimally aware that these bombings had even occurred before I came to Madrid. I was staying in a hotel a few blocks from the station which made reading the book a very vivid experience. I was able to picture the horror of waking up to the news of the bombings as well as the protests that occurred afterwards. It also led me to research more about the station and visit the memorial the city constructed out of texts from mourners. While I was able to read the historical information in a guide book, it made more of an impact when the information was presented within a narrative.
Of course, the downside of novels is that you have to take a narrator's story with a grain of salt. The narrator in "Atocha" often visited the drug dealers in Parque del Retiro, the large green space where people gather during the day. While I was there, I saw plenty of families picnicking, people exercising, and one entertaining rollerskate-dancer. I didn't see the shady characters from the book – at least no noticeable ones. I also met significantly fewer interesting people at wild parties than the narrator. Maybe I would have done better if I was in Madrid on a scholarship to write poetry. As with most travel, the expectations and the experiences don't always perfectly align.
The best approach seems to be a combination of travel guides, novels, and open-ended plans. A novel provides a nice backdrop for what you are about to see and experience. It usually has the local customs guide books omit, interesting local foods, and the underground meeting spots that might lead to unusual adventures. With that as a backdrop, you can pluck out some concentrated travel guide information and construct a unique experience that will lead to great travel stories.
How do you read to prepare for an upcoming trip? What are some of the best books that feature a city or place? I would love to hear suggestions and ideas so I can start planning my next trip!