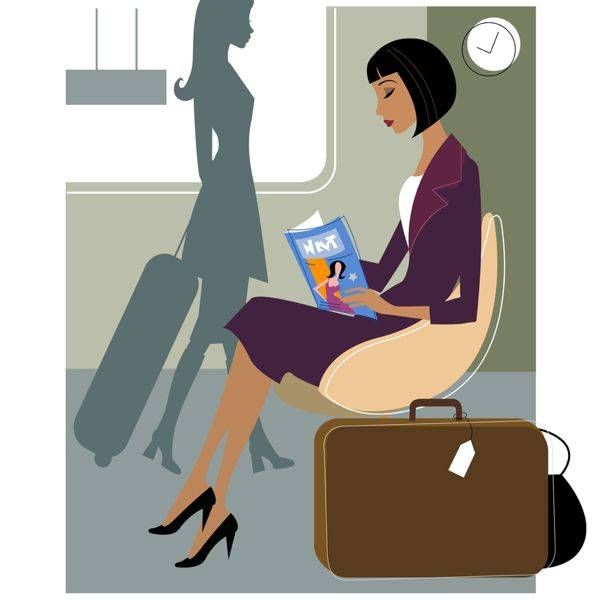 In a previous post, I asked for help with airplane reading recommendations. Thanks to all of you stepped in with great suggestions. Next time I'm stocking up my Nook to decide what to read — I'll be turning to this list for ideas.
Mystery came out as the big winner; followed closely by Fantasy. This makes sense to me — when trying to be distracted I, too, try to choose something completely different from real life. (This includes being distracted from being 35,000 feet in the air.) Thanks to all of you who contributed, and if you missed your chance but have some titles or authors you think should be on this list – be sure to let us know in the comment section!
Mystery
In the Woods by Tana French
The Secret History by Donna Tartt
The False Inspector Dew by Peter Lovesey
The Rosetti Letter by Christi Phillips
Likeness by Tana French
Sharp Objects by Gillian Flynn
The Scarpetta Series by Patricia Cornwell
The Jack Reacher Series by Lee Child
The Martin Beck Series by Maj Sjowall & Per Wahloo
***
Fantasy
The Hunger Games by Suzanne Collins *
11/22/63 by Stephen King
A Song of Fire and Ice Series by GRR Martin *
The Divergent Series by Veronica Roth
The Harry Potter Series by JK Rowling
The Gone Series by Michael Grant
(* = recommended by more than one person)
***
General Fiction
The Language of Flowers by Vanessa Diffenbaugh
Stay Tuned by Lauren Clark
The Empress of Ice Cream by Anthony Capella
Gone With the Wind by Margaret Mitchell
***
Non-Fiction
Bossypants by Tina Fey
Me Talk Pretty One Day by David Sedaris
The Monster of Florence by Douglas Preston & Mario Spezi
***
Authors
The following are authors (in general) that people recommended for making travel time "fly" by!
Ted Bell
Lee Child
Bernard Cornwell
Tana French
Alan Furst
____________________________
Wallace Yovetich reviews an eclectic mix of literature spanning from graphic novels to classic literature on her book blog, Unputdownables. Follow her on Twitter: @BookishWallace