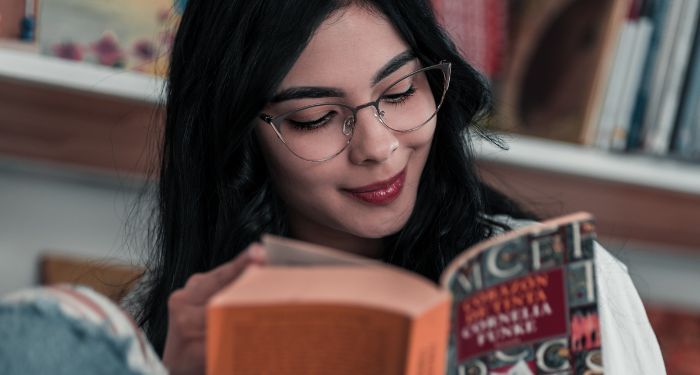 Lists
6 Readathons and Reading Challenges to Start Prepping for in 2023
This content contains affiliate links. When you buy through these links, we may earn an affiliate commission.
At the start of a new year, I'm always hopeful — nay, overzealous and unhinged — about how many books I can actually read in the whole year. But it's so much fun to flip the page, start brand-new, and dive right into the challenge! And when I get behind on my reading goals, reading challenges and readathons are a great way I make up some time and knock out a few of my reading goals. I also like to participate in readathons that will help expand my reading into more diverse and inclusive spaces. Focused readathons do just that — help readers spend time finding and reading books that broaden horizons and may not be at the top of bestseller lists but should be read widely all the same.
Readathons happen all year long and are hosted all across the internet, from influencers and bloggers to big pop culture sites, like Pop Sugar's annual reading challenge and Book Riot's own Read Harder challenge. But if you're looking for more readathons to try your hand at, there are plenty out there.
Here are six readathons happening throughout 2023 to help you tackle your toppling TBR piles and stretch your reading goals to branch you out of your comfort zones.
The Unread Shelf Project Readathon (Yearlong 2023)
Whitney from the Unread Shelf Project hosts this annual readathon to help and encourage readers to tackle their existing TBR piles at home without adding to the stack. Featuring beautiful printables, lists, and challenges, this readathon is perfect for readers who have a giant backlog of books and are ready to do something about it.
Anyone can participate at any time, and with no set limits on number of books, types of books, or hours needed to complete, this is a great challenge to jump in at any time to tackle whatever reading goals you may have.
Winter "All the Feels" Readathon (January 1–31)
The San Diego Public Library hosts this winter readathon, encouraging readers to experience emotions, sit with thoughts, and feel the feelings during this readathon. Big, sweeping romance books, nonfiction about stress and anxiety, and the books that make you sob are all great choices for this readathon, and the library encourages readers of all ages to participate. Not only can you participate by reading books and logging reading hours, but they also encourage activity time like expressing your feelings through art or taking a quiet walk to let your thoughts keep you company.
Some recommended adult books for this readathon are All the Feels by Olivia Dade, Awayland by Ramona Ausubel, An Ocean of Minutes by Thea Lim, and The Book of Moods by Lauren Martin. Recommended children's books include The Boy with Big Feelings by Britney Winn Lee and Your Name Is a Song by Jamilah Thompkins-Bigelow.
The Queer Lit Readathon (2023 Dates TBD)
Hosted by Rogan Shannon, this readathon currently has four sessions to read throughout the year — two weekends and two full weeks. Readers can participate however they like, but this readathon includes BINGO cards and challenges for readers to expand their horizons and branch out into new queer books, like reading a book featuring a trans femme character, a book about queer joy, or a genre mash-up that features queer characters.
The readathon's Instagram features queer book recommendations year-round, and recommended books for this readathon include Let's Talk About Love by Claire Kann, In Other Lands by Sarah Rees Brennan, and Juliet Takes a Breath by Gabby Rivera.
Disability Readathon (April 1–30)
The Disability Readathon, hosted by Erin Hawley and Anna Goldberg, challenges readers to pick up books by and about disabled people. Disabled people are underrepresented in literature, and this readathon aims to highlight those books and authors for more visibility and to show the intersectionality present in the disability community. They also want non-disabled readers to better understand how disability fits into their own lives and how to remove biases about disabled people.
The readathon runs through the month of April and features challenges and games along the way to keep readers motivated. Some recommendations for this readathon include Year of the Tiger by Alice Wong, Continuum by Chella Mann, Get a Life, Chloe Brown by Talia Hibbert, and Disfigured by Amanda Leduc.
Read Caribbean Books Readathon (June 1–30)
2023 will be the fifth year for the annual June Caribbean readathon, hosted by Cindy of Book of Cinz. This readathon encourages readers to pick up books about and by Caribbean authors all month long. Cindy also hosts a book club and is a prolific Bookstagrammer.
Some recommendations for Read Caribbean are These Ghosts Are Family by Maisy Card, Hungry Ghosts by Kevin Jared Hosein, and The Islands by Dionne Irving.
Book Riot's Read Harder Challenge (Yearlong 2023)
We can't talk about readathons without mentioning Book Riot's very own Read Harder challenge. Featuring 24 tasks that invite readers to expand their reading horizons and push their boundaries, this readathon lasts all year long and has previously featured challenges like reading a romance with a protagonist over age 40 or reading a new-to-you literary magazine.
There's even a Read Harder newsletter that will send you recommendations for each category to get you started on your readathon journey.
---
While you're prepping for all these upcoming readathons, check out these tips on how to hack readathons or invent your own readathon by using these weekly readathon prompts.