Uncategorized
Read This, Then That: TRACKED by Jenny Martin and Other Fantasy & Future Sports
This content contains affiliate links. When you buy through these links, we may earn an affiliate commission.
Back in January, I devoured Jenny Martin's debut novel, Tracked. I was lucky enough to get an ARC of this wonderfully exciting sci-fi adventure, and like I said in our roundup earlier this year, all I had to hear was the marketing pitch to need the book immediately.
A YA Fast and the Furious with a sci-fi twist? Oh. Hell. Yes.
Tracked introduces readers to Phoebe Van Zant, a teenager living on the faraway world of Castra, a planet controlled entirely by major corporate entities. She spends her days rally racing, following in the footsteps of her long-gone father, a legendary racer that vanished under strange circumstances. As the story progresses, Martin reveals more of the complicated future that mankind has found itself in, with humanity's history a secret, high-powered executives that declare how the world will run, and rebel forces trying to take down the wealthy. Some of them, with street racing.
Really, it has everything I love in a good YA novel, particularly a sci-fi book. Awesome world building, interesting characters, families with complicated, intertwining pasts… it's a little bit Star Wars, a lot The Fast and the Furious, and altogether awesome. I guess technically Star Wars + Fast and the Furious equals The Phantom Menace, what with that movie's podracing… but I won't make that comparison, because Tracked is better.
I'm eagerly awaiting the sequel, but for now, here are a few more books worth picking up after you've finished it, that will certainly appeal to Martin's new fans.
The Scorpio Races by Maggie Stiefvater: In Stiefvater's awesome stand alone, we're taken to an island where there are ravenous water-horses living in the ocean. They're carnivorous creatures, with vicious teeth, a thirst for blood, and a habit of killing people.
Now, there would probably be less deaths if it wasn't for the fact that at the start of every November, riders from the island attempt to mount the horses in The Scorpio Races. They just have to hang on long enough to hit the finish line, and then glory is theirs. They can ride year after year, winning huge sums of cash, securing a future of fame and fortune.
An exciting fantasy novel, and probably my favorite in Stiefvater's awesome YA catalog.
—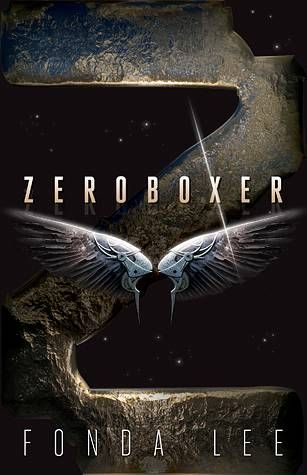 Zeroboxer by Fonda Lee: Lee's Zeroboxer is a newer release, published with Flux just this past April. Earth has fallen into the shadow of its more popular colonies, particularly Mars, which has been colonized. Enter Carr, an Earth-born (or Terran) zeroboxer that gets partnered with a Martian colonist as his marketing strategist.
Soon, he becomes a celebrity, and becomes a hero on Earth. And as tensions mount between Mars and Earth, he's thrust even further into the spotlight, forced to balance his fame, his past, and the romance blossoming between him and publicist, Risha.
Lots of interplanetary action in this one, plus an imaginative, intense sci-fi sport. Pick this debut up, it's a lot of fun.
—
Future Games by Paula Guran: Let's step away from novels for a second and scope out some short stories! In Guran's anthology, she explores sports in the future, and the people (or maybe aliens or machines!) that'll be involved in the games.
The epic anthology features short stories by handful of YA authors like Scott Westerfeld and Cory Doctorow, as well as Genevieve Williams, George R. R. Martin, and more.
The Hunger Games by Suzanne Collins: I mean, this one isn't exactly a fun sport for anyone involved, except maybe those career tributes. But it certainly fills that sci-fi / future sport niche.
You know what this one's about though. Let's be real.
—
What others book have you read that are full of fantasy or sci-fi sports? List 'em in the replies!
____________________
Book Riot Live is coming! Join us for a two-day event full of books, authors, and an all around good time. It's the convention for book lovers that we've always wanted to attend. So we are doing it ourselves.