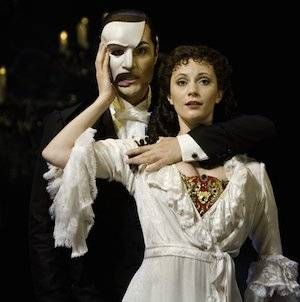 Lists
Read It Before You See It: Broadway Musicals Edition
This content contains affiliate links. When you buy through these links, we may earn an affiliate commission.
As you plan your fall trip to New York (real or imaginary), you had better make a trip through your favorite bookstore, physical or online. There are lots of choices available for the musical lover in the family, and a lot of them are even–gasp!–based on previously written material. Some of them are even based on novels! Some on this list are familiar to anyone who has been familiar with musical theater for the past, oh, couple decades. But there are some that might surprise from either angle: the theater person might not be aware of its source material, and the bookish person might just exclaim "there's a MUSICAL?!" Here are some of the shows on Broadway right now that have some worthwhile reading connected to them.
The Familiar
Wicked
When Gregory Maguire wrote a political satire about the Land of Oz and Elphaba the green girl, he probably had no idea there would be tweens singing at the tops of their lungs about defying gravity. The four books in The Wicked Years–just like the musical by Stephen Schwartz–are all either dearly loved or snarkily maligned. I will be the first to admit it: I adore the music, and the story of Wicked. I was not a fan of the book. I'm just not a fan of Gregory Maguire's storytelling; I've tried a few. But this is the kind of story you really have to try for yourself, in both contexts.
The Phantom of the Opera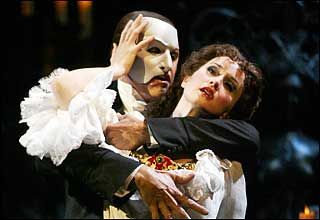 Everyone should read The Phantom of the Opera at least once. And see it. Whether you have to watch the film (a laudable effort by all, but still not the same) or get the chance to see it on stage, you should have the experience, just for pop culture's sake. Gaston Leroux's novel is definitely more horrifying than the musical, but the story is a lot more colorful.
(Note: if you do get the chance to see the current cast on Broadway and are not sure, go. If nothing else, Norm Lewis is an amazing singer and actor and at the top of my list of Baritones Old Enough To Be My Father Whose Babies I'd Still Have.)
Les Miserables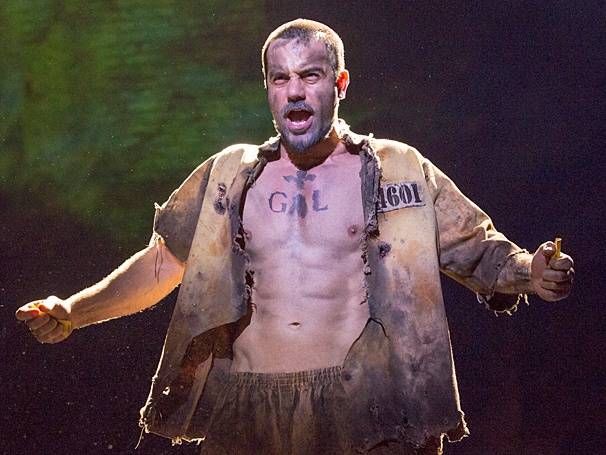 It takes a brave soul to read the entirety of Victor Hugo's Les Miserables. I am not a brave soul. But if you are, you should read this book. If you have read this intense literary brick and are looking to dip your feet into the expansive well of Musical Theater, this is your show. The epic musical numbers fit right in.
Cabaret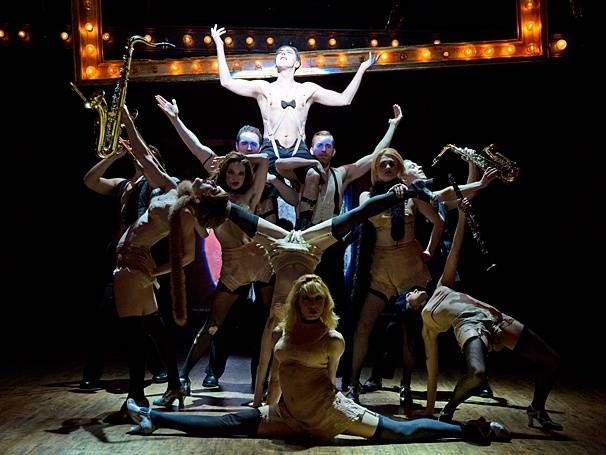 If you're interested in something a little less family friendly, go "hear the music play!" Based on the 1939 "fictionalized memoir" Goodbye to Berlin by Christopher Isherwood, Cabaret tells the story of Sally Bowles, a young English singer who performs at the Kit Kat Club, and several people with whom she interacts both at home and at work. There are lots of risque burlesque numbers in this one, and some other "adult themes," so I'm pretty serious about thinking really hard before bringing your kids or squeamish great aunt. Just remember, you're the one who has to answer all the questions.
…but did you know about…
Matilda
Fellow Rioter Rachel wrote about Matilda when it came out last year, but it's still going strong! Matilda The Musical is based on Roald Dahl's classic chapter book about a telekinetic girl who loves two things: books and her favorite teacher, Miss Honey. (You've probably seen the movie, starring Mara Wilson and Danny DeVito, at some point in your life.) The show, which originated in London and received several Olivier awards before coming to the states in search of a few Tonys, takes a colorful look into the Dahl story, and includes FOUR little girls who play Matilda. FOUR.
A Gentleman's Guide to Love and Murder
When a man sets off to murder nearly a dozen members of his family (all played by the same person, mind you), all kinds of comedy ensue in this new musical comedy. The 1907 novel Israel Rank: The Autobiography of a Criminal is just as comedic, but a little darker. This one, written in the era of Wilde and Bernard Shaw, relies more on that British Wit that some find delightful while others find it hardly palatable. If you're of the former camp, try this one on for size. For the time being, it's a bit easier to attain than tickets to the show.
50 Shades! The Musical
This musical came out as The Original Parody of Fifty Shades of Grey and has been raunchily hopping along ever since. This one, I think, is made for the lover and hater alike–you'll get very different things out of it, but you'll probably enjoy it just the same.
So while everyone else is heading in to see Film-to-Stage adaptations and musical revues with a storyline, (or any of the other fun, wacky, avant garde stuff you might find Off Broadway), grab one or two (or three or seven) books, take good notes, and be ready to make all those fun comparisons later!
If you like books, and you like cast recordings, check out some of these titles that, sadly, are no longer on Broadway…The full list of past musicals based on books would be endless, so I'm just going to give you a few of my faves:
Ragtime by E. L. Doctorow. Ragtime by Flaherty and Aherns.
The Vampire Lestat by Anne Rice. Lestat by Elton John and Bernie Taupin.
Legally Blonde by Amanda Brown. Legally Blonde by O'Keefe, Benjamin and Hach.
The Scarlet Pimpernel by Baroness Orczy. The Scarlet Pimpernel by Frank Wildhorn.
The Strange Case of Dr. Jekyll and Mr. Hyde by Robert Louis Stevenson. Jekyll and Hyde also by Frank Wildhorn.
Jane Eyre by Charlotte Bronte. Jane Eyre: The Musical by Paul Gordon.
Don Quixote by Cervantes. Man of La Mancha by Dale Wasserman (I suggest the 2002 Revival Cast recording. Mary Elizabeth Mastrantonio is not the greatest singer, but Brian Stokes Mitchell singing "The Impossible Dream" will make your life).
Other Things of Interest
If you're a fan of the David Levithan/John Green magnificence that is Will Grayson, Will Grayson, you should be made aware that "Hold Me Closer: The Tiny Cooper Story" will be published forreal forreal sometime in the near future. David Levithan, an avid musical lover, has confirmed it.
And of course, there's always this: