Lists
Read More Canadian Literature!: Genre Edition
Marge: It took the children forty minutes to find Canada on the map!
Homer: Oh, Marge. Anyone could miss Canada. All tucked away down there.
My specialty is Canadian Literature. When I talk to really well read people (including Canadians!), I am always amazed by how little they know about CanLit — everyone can name Margaret Atwood, of course, and The English Patient or Life of Pi often get mentioned. But there's an entire and ever-expanding world of literary and popular fiction under the ice, snow, and igloos. In this installment of Read More Canadian Literature!, I'm going to recommend a handful of excellent Canadian reads based on genres or areas of literature you might already love. Hopefully you'll find a new treasure! And if I've missed an important or outstanding CanLit text in these recommendations (and I surely have), please share them in the comments.
If you love Young Adult Literature, you should read the Alice series by Susan Juby. This trilogy is made up of three comic novels: Alice, I Think; Miss Smithers; and Alice MacLeod, Realist at Last. Alice MacLeod is a socially awkward teenager being raised by vegetarian hippes in the small and isolated town of Smithers, BC. Not content to fixate exclusively on boys, Juby's Alice has big plans for life — which would be easier to get underway had her therapist not recently gone crazy. My favourite thing about this series is that Juby imbues Alice with a fantastic, world-weary cynicism that remains underpinned by wonder-eyed innocence and joy. Alice's voice will last with you long after you finish the series.
If you love Graphic Literature, you should read Louis Riel: A Comic Strip Biography by Chester Brown and Tangles: A Story about Alzheimer's, My Mother, and Me by Sarah Leavitt. Chester Brown's biography of Metis resistance leader Louis Riel is a retelling of one of the most enduring stories in Canadian history, and Brown approaches it simultaneously from the perspective of historian (the text includes elaborate footnotes citing sources) and storyteller (he uses the footnotes to tell us when he drifts away from the historical record for the good of the plot). Painting Louis Riel sometimes as a comic book superhero and sometimes as a crazed lunatic, Brown's text is a startling discussion of the limits of freedom and the powerful reach of victor's history. In Tangles, Sarah Leavitt uses sometimes desperately sparse imagery to recount the moving and occasionally funny journey through Alzheimer's disease with her mother. Honest and disarming, her examination of her shifting notion of personhood in the face of her mother's developing disease is breathtakingly simple yet profound.
If you love White Male F*ck-Up Novels, you should read This All Happened by Michael Winter. Through the voice of his literary doppleganger Gabriel English, Michael Winter crafts, through a series of 365 journal entries, a year in the life of a guy wandering around trying to be an author, trying to be a husband, and trying to be a man. Set in the incomparable city of St. John's, Newfoundland, Gabe drifts and floats from disappointment to failure, relying on good friends and good food to help him survive. He's funny and ironic and disconnected from real life, but he's pondering the most important question: how do you know when it's time to walk away?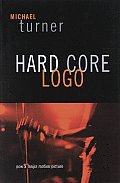 If you love Road Novels, you should read Hard Core Logo by Michael Turner. A novel-in-verse, and possibly the only book of poetry about punk rock to be made into a feature film, Hard Core Logo is an angry, passionate collection about a group of has-beens (or never-weres) trying to get the band back together. Touring Western Canada while barely veiling their hatred and resentment towards one another, this book deals in visceral terms with regret, failure, and how hard it can be to let go of something that once was great. This is also a perfect poetry book for people who think they don't like poetry; raucous and aggressive, with a clear line of plot to carry readers through, its power will surprise you.
If you love Historical Fiction, you should read The Book of Negroes / Someone Knows My Name by Lawrence Hill. Published in Canada and the UK as The Book of Negroes and Someone Knows My Name in the US, Australia, and New Zealand, Lawrence Hill's epic masterpiece traces the life of Aminata Diallo from her childhood in West Africa, to her slave ship journey, to her life as a slave in South Carolina — but Aminata's magnificent journey also takes her to Nova Scotia, Sierra Leone, and Britain. Sweeping in scope and magnificently executed, Hill's novel is a dramatic condemnation of man's inhumanity to man and simultaneously a celebration of individual will and the pursuit of a more equitable life. This is one of those rare novels that I will recommend to any serious reader, and I've yet to hear from anyone who didn't love it; for me, Aminata is one of the great transformational characters in contemporary literature.
Well, there you have my first recommendations for digging in to what contemporary Canadian Literature has to offer. What would you add to this list?