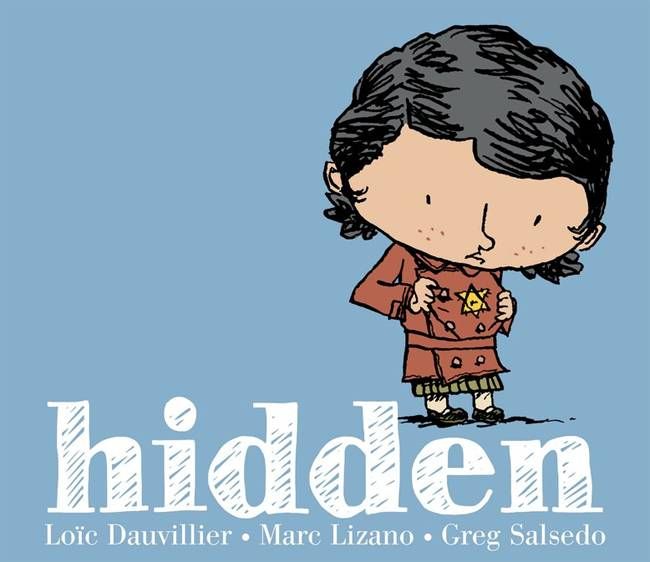 Children's
Read (Them) This, Then That – Hidden: A Child's Story of the Holocaust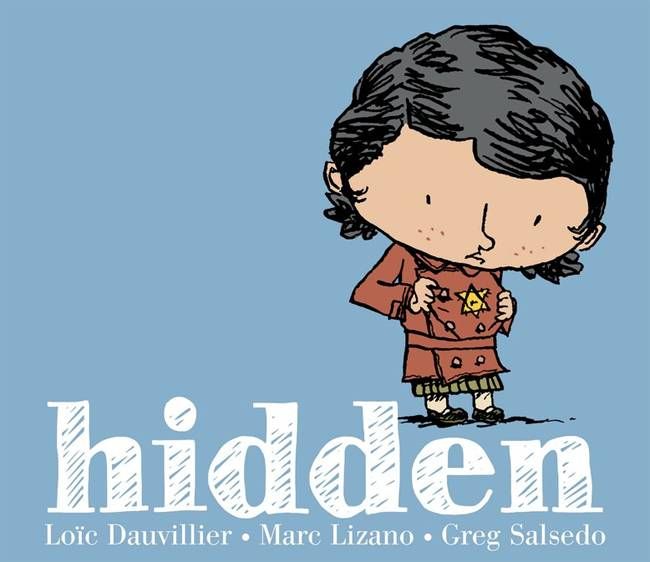 Lately I've been noticing a serious upswing in the amount of graphic novels I've read that just so happen to be non-fiction, or touch on serious moments in world history.
I mean, last year I was utterly captivated and moved by the National Book Award nominee Boxers & Saints, which inspired me to research and read up on an era of history I wasn't familiar with. Then there was Primates, a wonderful non-fiction book about Jane Goodall, Dian Fossey, and Biruté Galdikas. And just last week, I finished The Undertaking of Lily Chen by Danica Novgorodoff, which taught me about "ghost marriage" a piece of Chinese culture I had no idea about.
And surprisingly, all three of those books were published by First Second.
The latest in their growing catalog of non-fiction and historic fiction graphic novels, is Hidden: A Child's Story of the Holocaust by Loïc Dauvillier.
This hardcover, middle grade graphic novel showed up in my mailbox and was promptly read in under an hour. In Hidden, young readers are introduced to Dounia, a grandmother telling her granddaughter the story of growing up as a young Jewish girl in Paris during the Nazi occupation.
Hidden manages to touch on a very dark period of human history in an incredibly gentle way, showing that even during the darkest times there are still people out there that will face seemingly impossible challenges to do what's right.
With beautiful art and a moving story, I highly recommend picking it up when it hits bookshelves this April. A touching and captivating read, I cannot wait to get this book into the hands of my young nephew.
Which got me thinking, what other graphic novels are out there that manage to touch on world history, in a way that small children will be able to understand?
The Great American Dust Bowl by Don Brown: Like Hidden, The Great American Dust Bowl is a short, quick read (it's about 80 pages), and a perfect pick for reluctant middle grade readers.
Focusing on the event mentioned in the title, it's a little easier to get though than say, The Grapes of Wraith, which they will probably have to read come high school. Help them understand that era in history early this with one.
Storm in the Barn by Matt Phelan: This book came recommended by BookRiot's fabulous Jill Guccini. Another middle grade book about the Dust Bowl.
T-Minus: The Race to the Moon by Jim Ottaviani: When it comes to discussions involving outer space, there isn't much I have to explain when talking to my little nephew. Rocket! Moon! Astronaut! All of these things are super exciting, and in no way hard to grasp for a small child with a vivid imagination.
However, T-Minus explains the history behind the first moon landing, detailing the space race in a visual, detailed way… that perhaps my plastic spaceships and round effects do not.
Nathan Hale's Hazardous Tales by Nathan Hale: This series comes recommended by BookRiot's own Rita Mead. A series of graphic novels that touch on everything from Ironclad to the Donner Party.
So help me our Rioters. What other middle grade graphic novels are out there, that are great picks for younger readers? I've got some shopping to do.
____________________________
Sign up for our newsletter to have the best of Book Riot delivered straight to your inbox every week. No spam. We promise.

To keep up with Book Riot on a daily basis, follow us on Twitter, like us on Facebook, , and subscribe to the Book Riot podcast in iTunes or via RSS. So much bookish goodness–all day, every day.