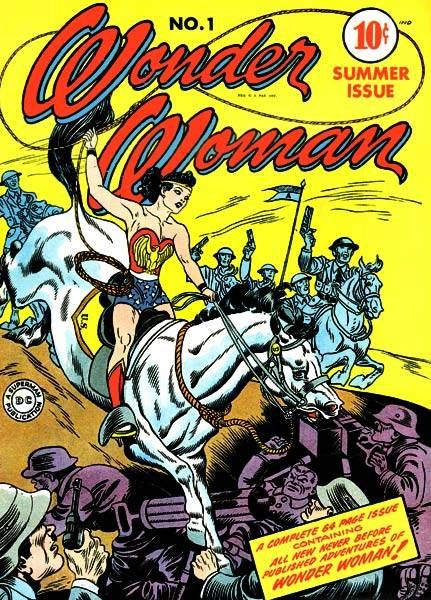 The Panels 2015 Read Harder Challenge consists of 26 challenge categories spanning the breadth and depth of all things that may be considered comics. Every week we'll give you reading recommendations from one of the categories.
The "Golden Age" of comics describes the beginning of American comics. This era gave birth to many of the most recognizable superheroes in existence: Superman, The Fantastic Four, Batman, Wonder Woman, and Captain America. It was a time when women and people of color struggled to even be seen, let alone meaningfully contribute in the workplace. Nevertheless, there were some gems that were published between 1938 and 1955.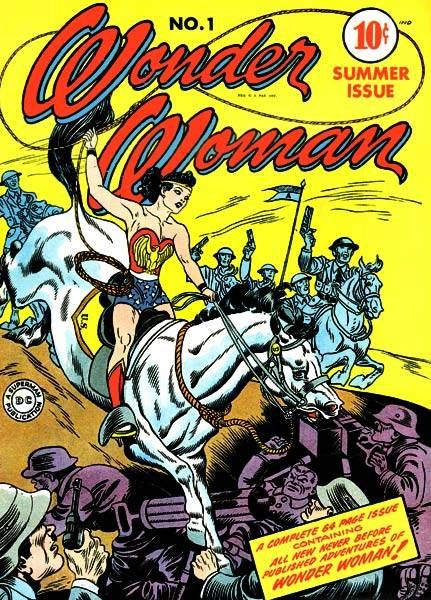 Wonder Woman by Robert Kanigher, Ross Andrew, and Mike Esposito; created by Elizabeth Holloway Marston: The first lady of comics got her start in the Golden Age, originally created by Elizabeth Holloway Marston, a psychologist. WW's early years were uneven and filled with storylines in which the male writers had no idea how to write a female lead, but this is where Wonder Woman got her start. — Chris Arnone
Miss Fury Sensational Sundays: 1941-1944 by Tarpe Mills; edited by Trina Robbins: Miss Fury isn't a household name now, but it was an adventure strip not only starring a woman, but written, drawn, and edited by women. Miss Fury actually predates Wonder Woman, though not by much. The storytelling is much more even than WW's and Tarpe Mills really knew how to write a female lead. — Chris Arnone
The Phantom Lady by Will Eisner, Jean Marie Stine, Jerry Iger, and Ruth Roche: The Phantom Lady is another female superhero that predates Wonder Woman and she was one of the earliest examples of the problem of the "male gaze" inn comics when Matt Baker redesigned her costume to be more revealing. Regardless, The Phantom Lady was written, drawn, and edited by a stable of serious talent back in the 1940s and the character has survived into the modern era. — Chris Arnone
The Green Turtle by Chu F. Hing was published by Blazing Comics in 1944. The Green Turtle is considered the first Asian American superhero since that was his creator's intent, but the publishers wouldn't go for it during WWII, so his face was never revealed. It's also a recurring situation throughout his comics that his origin story is left untold…conveniently interrupted before the hero can divulge it time and again. While the Green Turtle was without superpowers, he did fly the "Turtle Plane" and consistently had a shadowy turtle figure present in the background of his comics. Much was left unsaid and remains unknown about Green Turtle, but Gene Luen Yang and Sonny Liew created a back story for him in 2014's The Shadow Hero. — Andi Miller
Other Recommendations:
Detective Comics by Bob Kane and Bill Finger
Action Comics by Jerry Siegel and Joe Schuster
Fantastic Four by Stan Lee and Jack Kirby
Captain America by Joe Simon, Jack Kirby, Stan Lee, and Al Avison
__________________________
Do you talk all things comics on Tumblr? Follow us over there for all our comics Tumbling.