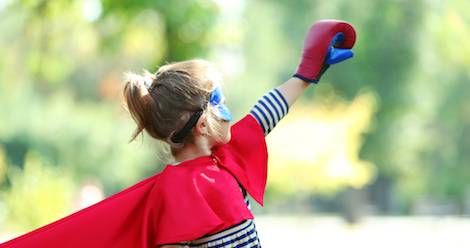 This content contains affiliate links. When you buy through these links, we may earn an affiliate commission.
A new year means a new Read Harder Challenge! I'm here to help you check off #18 on the list – read a superhero comic with a female lead – with some recommendations.
I had a clear idea of what I wanted this list to look like. I tried to offer alternatives that weren't just Marvel and DC, that included as many female creators as possible and also tried to have at least 50% of the list focus on characters of colour. It was harder to include women of colour as creators since there are so few of them on female led superhero titles and almost non-existent on female superheroes of colour.
Not everything made it on this list but if you have suggestions, drop them in the comments!
The Adventures of Superhero Girl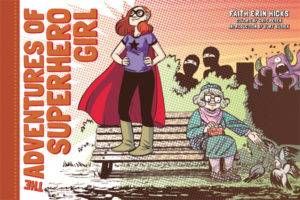 by Faith Erin Hicks
"What if you can leap tall buildings and defeat alien monsters with your bare hands, but you buy your capes at secondhand stores, and have a weakness for kittens, and a snarky comment from Skeptical Guy can ruin a whole afternoon? Cartoonist Faith Erin Hicks brings her skills in character design and sharp, charming humor to the trials and tribulations of a young, superhero battling monsters both supernatural and mundane in an all-too-ordinary world."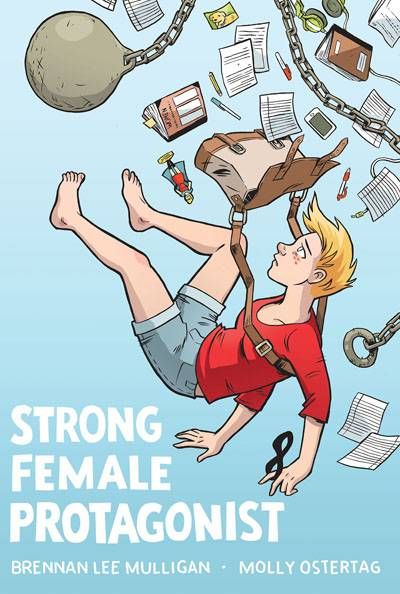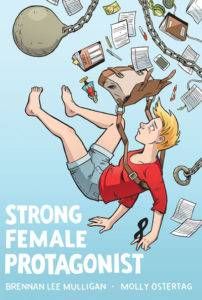 Strong Female Protagonist by Brennan Lee Mulligan and Molly Ostertag
"With superstrength and invulnerability, Alison Green used to be one of the most powerful superheroes around. Fighting crime with other teenagers under the alter ego Mega Girl was fun — until an encounter with Menace, her mind-reading arch enemy, showed her evidence of a sinister conspiracy, and suddenly battling giant robots didn't seem so important. Now Alison is going to college and trying to find ways to help the world while still getting to class on time. It's impossible to escape the past, however, and everyone has their own idea of what it means to be a hero…."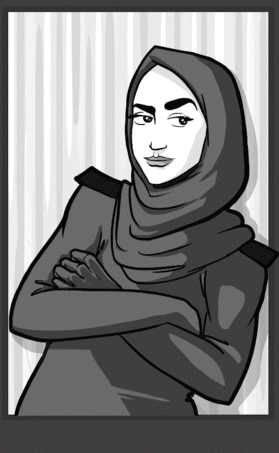 Qahera by Deena Mohamed
"Qahera is a female visibly muslim superhero who combats misogyny and islamophobia amongst other things."
It's a webcomic drawn by an Egyptian artist and it was mention in my Eid post too. Given the current attack on women's right and rampant Islamophobia, I thought it was important to include this comic. You can check out her work here.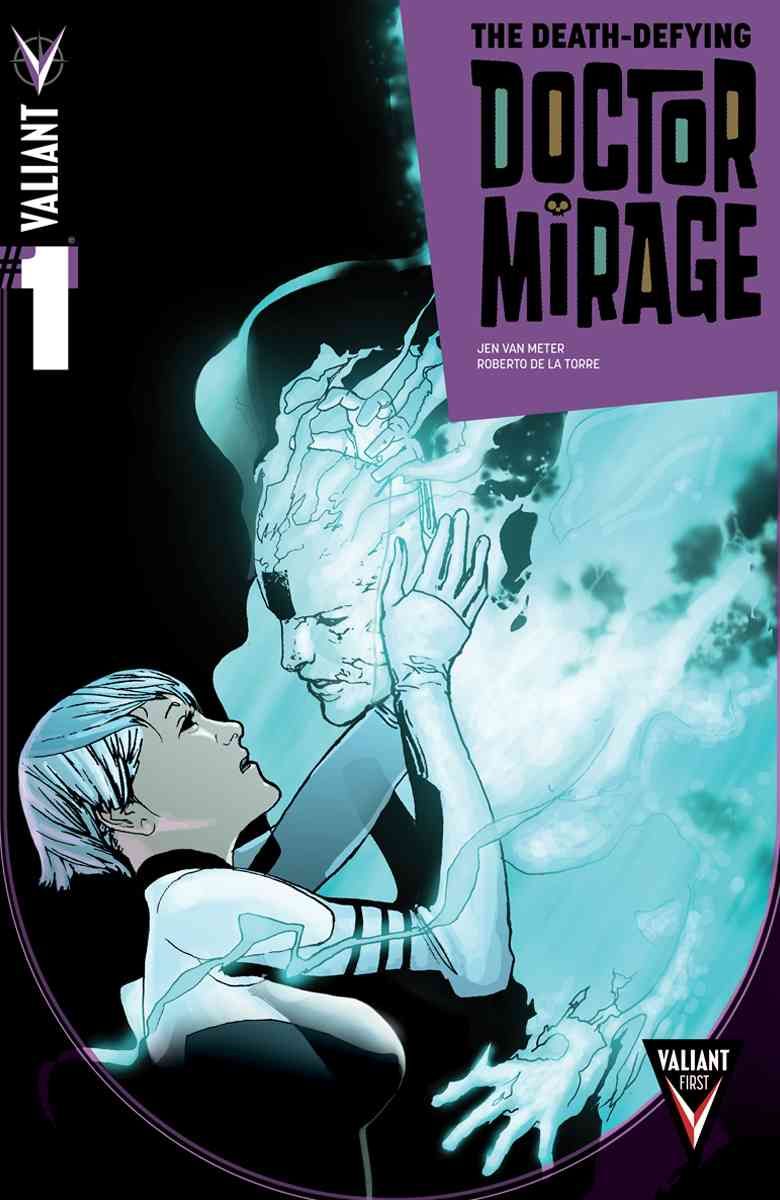 The Death-Defying Doctor Mirage by Jen Van Meter and Roberto de la Torre
"Doctor Mirage talks to the dead…but the only spirit Shan Fong can't find is that of her late husband, Hwen. Instead, America's favorite semi-retired paranormal investigator is haunted and raw, using her gift to solve homicides and bring peace to the recently bereaved. But when a big-time occultist with a classified military past hires her for a special job, Shan discovers a lead that might close the greatest mystery she's ever tackled – how to get Hwen back. Now, Doctor Mirage must enter the undiscovered country and cross all the realms of the underworld, if she has any hope of rescuing the man she loves…or be forever lost beyond the earthly plane."
This is a contained story but if you'd like more, The Death-Defying Doctor Mirage Volume 2: Second Lives takes up where the first left off.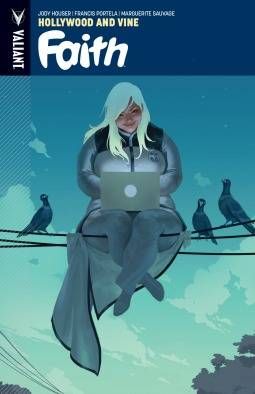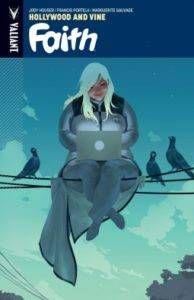 Faith Volume 1: Hollywood and Vine by Jody Houser, Pere Perez, and Marguerite Sauvage
"Orphaned at a young age, Faith Herbert – a psionically gifted "psiot" discovered by the Harbinger Foundation – has always aspired to greatness. But now this once-ordinary teenager is taking control of her destiny and becoming the hard-hitting hero she's always known she can be – complete with a mild-mannered secret identity, unsuspecting colleagues, and a day job as a reporter that routinely throws her into harm's way! Well, at least she thought it would… When she's not typing up listicles about cat videos, Faith makes a secret transformation to patrol the night as the City of Angels' own leading superhero – the sky-soaring Zephyr!"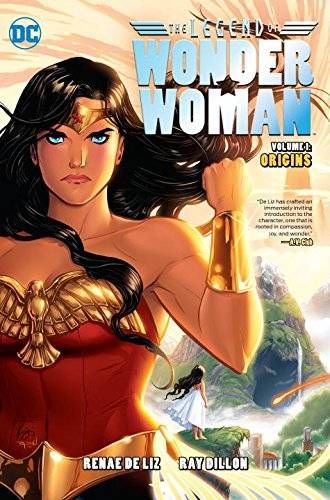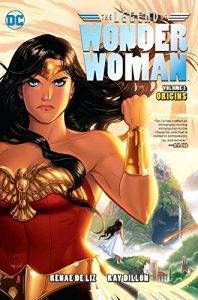 The Legend of Wonder Woman Vol. 1: Origins by Renae De Liz and Ray Dillon
"On the hidden island of Themyscira, the Amazons, led by Queen Hippolyta, live in a kingdom of peace, protected by the gods. But the balance is upset when Hippolyta is granted what no immortal may have: a child, given life from the clay of the island. She is the princess Diana, who alone can sense the evil that is infesting the Amazon's home.
But when a man from the outside world is brought to Themyscira as part of a conspiracy to overthrow its queen, Diana will risk everything to save his innocent life…and lose everything in the process. Soon, the Amazon princess finds herself in a world she never knew existed—America, a land of untold wonders that also finds itself threatened by a great war abroad.
In order to get back home, Diana and her new friends Steve Trevor and Etta Candy must head into the war zone and find the Nazi agent known as the Duke of Deception, who wields a powerful artifact that belongs to Hippolyta. And in order to defeat this powerful enemy, the princess of peace must become the hero she was meant to be. She must become Wonder Woman!"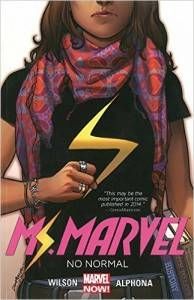 Ms. Marvel Volume 1: No Normal by G. Willow Wilson and Adrian Alphona
"Marvel Comics presents the all-new Ms. Marvel, the groundbreaking heroine that has become an international sensation! Kamala Khan is an ordinary girl from Jersey City – until she is suddenly empowered with extraordinary gifts. But who truly is the all-new Ms. Marvel? Teenager? Muslim? Inhuman? Find out as she takes the Marvel Universe by storm! As Kamala discovers the dangers of her newfound powers, she unlocks a secret behind them as well. Is Kamala ready to wield these immense new gifts? Or will the weight of the legacy before her be too much to handle? Kamala has no idea either. But she's comin' for you, New York!"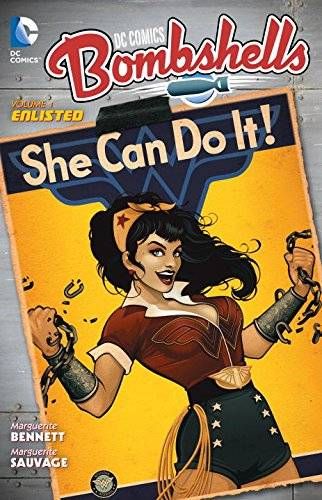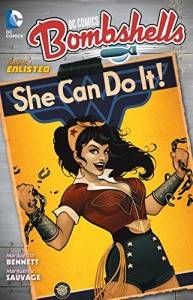 DC Comics: Bombshells Vol. 1: Enlisted by Marguerite Bennett, Laura Braga, Ming Doyle, and Marguerite Sauvage
"As Word War II rages across Europe, the Allied forces issue a call to arms for the greatest heroines the world has ever known: THE BOMBSHELLS!
Kate Kane, the all-American Batwoman; Diana of Themyscira, warrior Princess of the Amazons; Kara Starikov and K, defenders of Mother Russia; and Mera, royal daughter of the legendary Atlantis! With aid from their allies at home and abroad, these mighty women will turn the tide of war and defend those inviolable rights of Truth, Justice and Freedom."
Moon Girl and Devil Dinosaur Vol. 1: BFF by Brandon Montclare, Amy Reeder, and Natacha Bustos
"Lunella Lafayette is a preteen genius who wants to change the world, but lives in fear of the Inhuman genes inside her! Now, Lunella's life is turned upside down when a red-scaled beast is teleported from the prehistoric past to a far-flung future we call…today! Together they're the most Marvelous Team-Up of all — Moon Girl and Devil Dinosaur! But will they be BFFs forever, or just until DD's dinner time? And Lunella soon learns that there are other problems with having a titanic T-Rex as a pet in the modern-day Marvel Universe. School, for one. Monster hunters are another — especially when they're the Totally Awesome Hulk! Then there's the fact that everyone's favorite dino didn't journey through time alone. Beware the prehistoric savages known as the Killer-Folk — New York City's deadliest tourists!"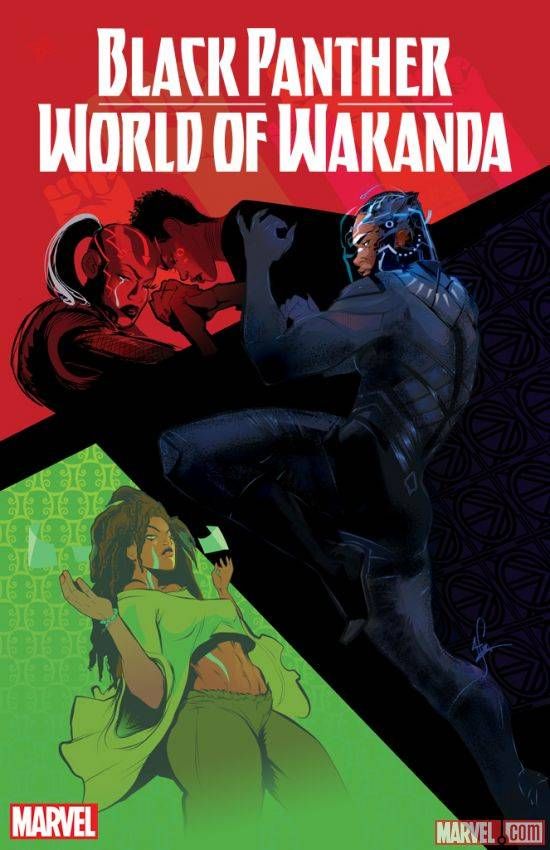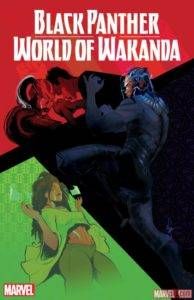 Black Panther: World of Wakanda by Ta-Nehisi Coates, Roxane Gay, Yona Harvey, Alitha Martinez, and Afua Richardson
"Writer Roxane Gay (Bad Feminst, Hunger) spins a Wakandan love story — its tenderness matched only by its brutality. You know them now as The Midnight Angels, but in this story they are just Ayo and Aneka, young women recruited to become Dora Milaje, an elite task force trained to protect the crown at all costs. What happens when your nation needs your hearts and minds, but you already gave them to each other? Illustrated by industry veteran Alitha E. Martinez (Iron Man, Black Panther). And in a special backup story, acclaimed poet Yona Harvey (Hemming the Water) explores the true origins of The People's mysterious leader Zenzi. Black Panther thinks he knows who Zenzi is and how she got her powers, but he only knows part of the story… Illustrated by rising star Afua Richardson (Genius)."
If you're not a fan of digital issues, the first collected volume is out in June.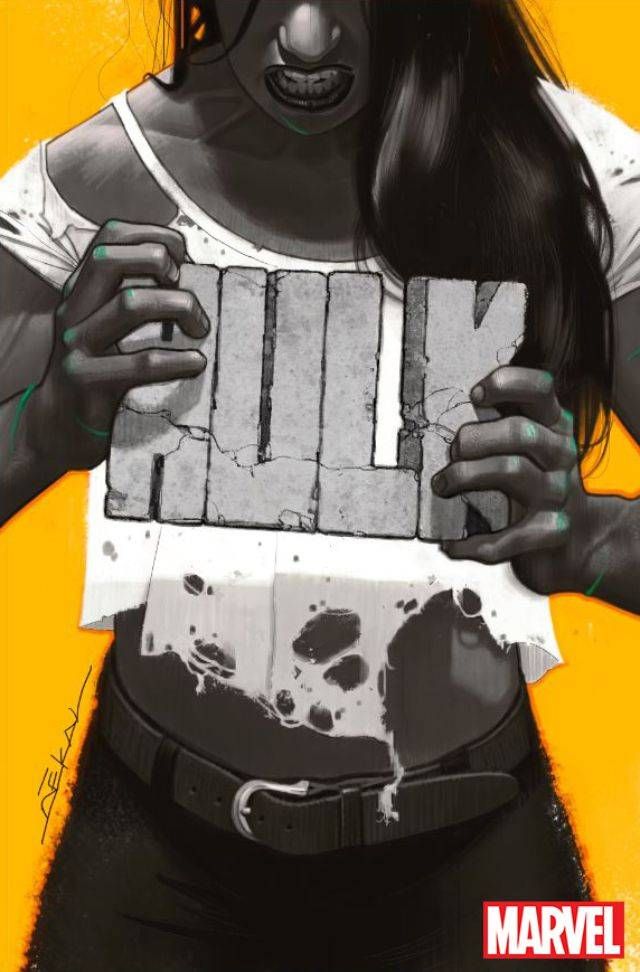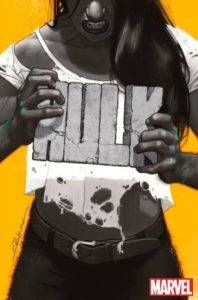 Hulk by Mariko Tamaki, and Nico Leon
"Jennifer Walters has survived the Civil War…barely…and having risen from the rubble, she re-enters the world a different kind of hero. Fueled by a quiet rage, she is determined to move forward, to go on with her life, but the pain of the past and all she's lost is always there – an undercurrent, a pulse, waiting to quicken and trigger Jen's transformation into the one thing she doesn't have control over…"
If you're not a fan of digital issues, the first collected volume is out in July.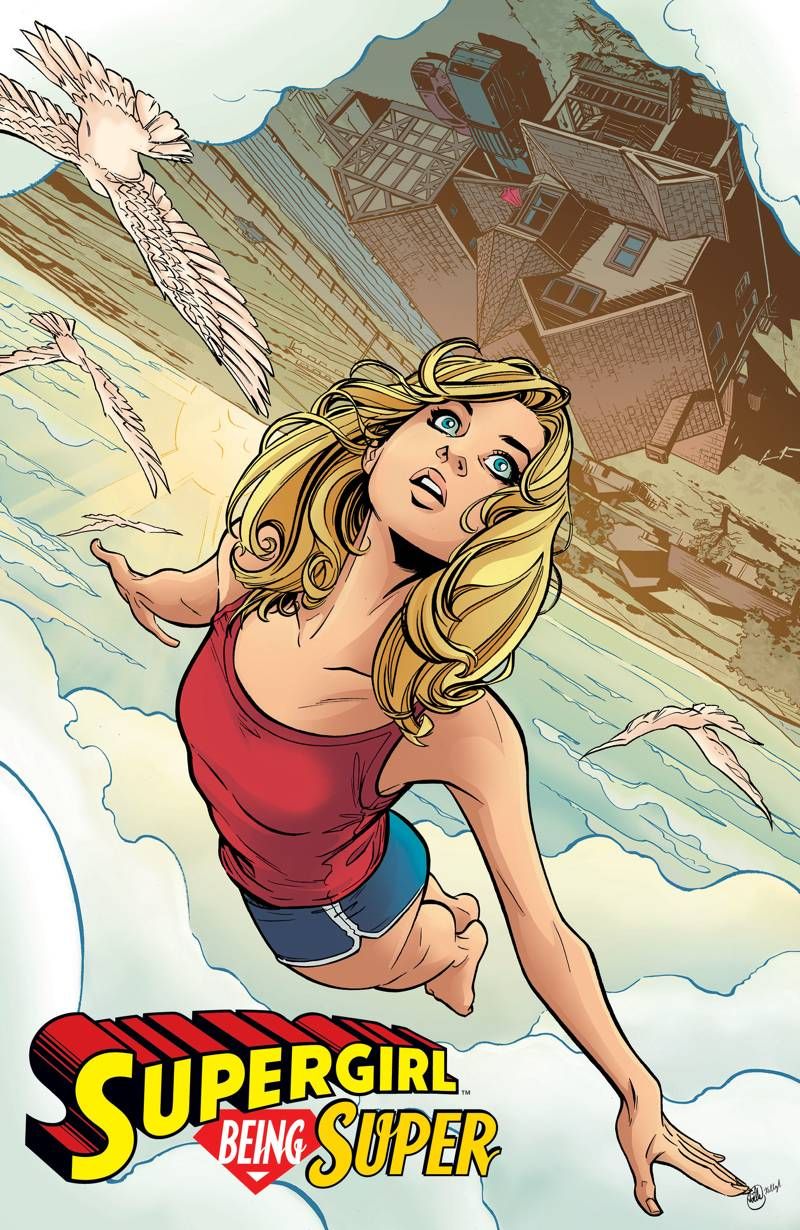 Supergirl: Being Super by Mariko Tamaki, and Joelle Jones
"Flying and crushing coal into diamonds may come easy, but try popping a Kryptonian zit! Caldecott Honor-winning and Eisner Award-winning writer Mariko Tamaki (This One Summer) teams with Eisner Award-nominated artist Joëlle Jones (Lady Killer) for a coming-of-age tale like you've never seen before. But while growing pains shake up Kara's world, a deadly earthquake rocks the small town of Midvale beneath her feet! The Girl of Steel has a choice: let her world die, or overcome her adolescent insecurities and be super!"
Spider-Woman Vol. 2: New Duds by Dennis Hopeless, Natacha Bustos, and Javier Rodriguez
"With SPIDER-VERSE in the rear-view, Jessica strikes out to make a new life for herself. But she's not going to do it alone, as she's joined by new SPIDER-WOMAN supporting cast-mate and classic Marvel character Ben Urich!"
But Ardo, this says volume 2? It does! Think of volume 2 as the unofficial volume 1. It's a great place to start for new readers and it's a great comic. If you do decide to continue reading, here is the order to do it in: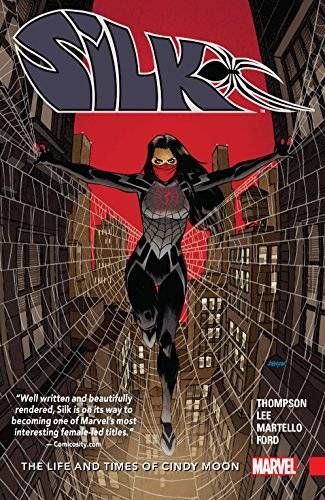 Silk Vol. 0: The Life and Times of Cindy Moon by Robbie Thompson, Tana Ford, Stacey Lee, and Annapaola Martello
"Cindy Moon exploded out of her bunker and into the Marvel Universe when we first learned that she had been bitten by the same radioactive spider from the first arc of AMAZING SPIDER-MAN. She then went on to save Peter Parker's life (more than once!) and traverse the Spider-Verse alongside Spider-Woman. Now, as SILK, Cindy is on her own in New York City, searching for her past, defining her own future, and webbing up wrong-doers along the way!"