This content contains affiliate links. When you buy through these links, we may earn an affiliate commission.
The 2019 Read Harder Challenge is sponsored by the Read Harder Journal. Get the full list of tasks here.
Created by Book Riot, this smartly designed reading log consists of entry pages to record stats, impressions, and reviews of each book you read. Evenly interspersed among these entry pages are 12 challenges inspired by Book Riot's annual Read Harder initiative, which began in 2015 to encourage readers to pick up passed-over books, try out new genres, and choose titles from a wider range of voices and perspectives. Indulge your inner book nerd and read a book about books, get a new perspective on current events by reading a book written by an immigrant, find a hidden gem by reading a book published by an independent press, and so much more. Each challenge includes an inspiring quotation, an explanation of why the challenge will prove to be rewarding, and five book recommendations that fulfill the challenge.
---
You may be a reader who stays far away from true crime because you very much are happy to avoid gruesome murders and real life serial killers, but true crime goes far beyond the violent—it just doesn't seem that way because of the obsession with serial killers. But there are some truly fantastic nonviolent true crime books that fall into one or all of the categories of fascinating, interesting, page-turners, and bananapants. In the last couple years I've become obsessed with these nonfiction books and would like publishing to continue feeding my new obsession. Until then, here are great ones for you to read that fulfill the Read Harder challenge of a book of nonviolent true crime.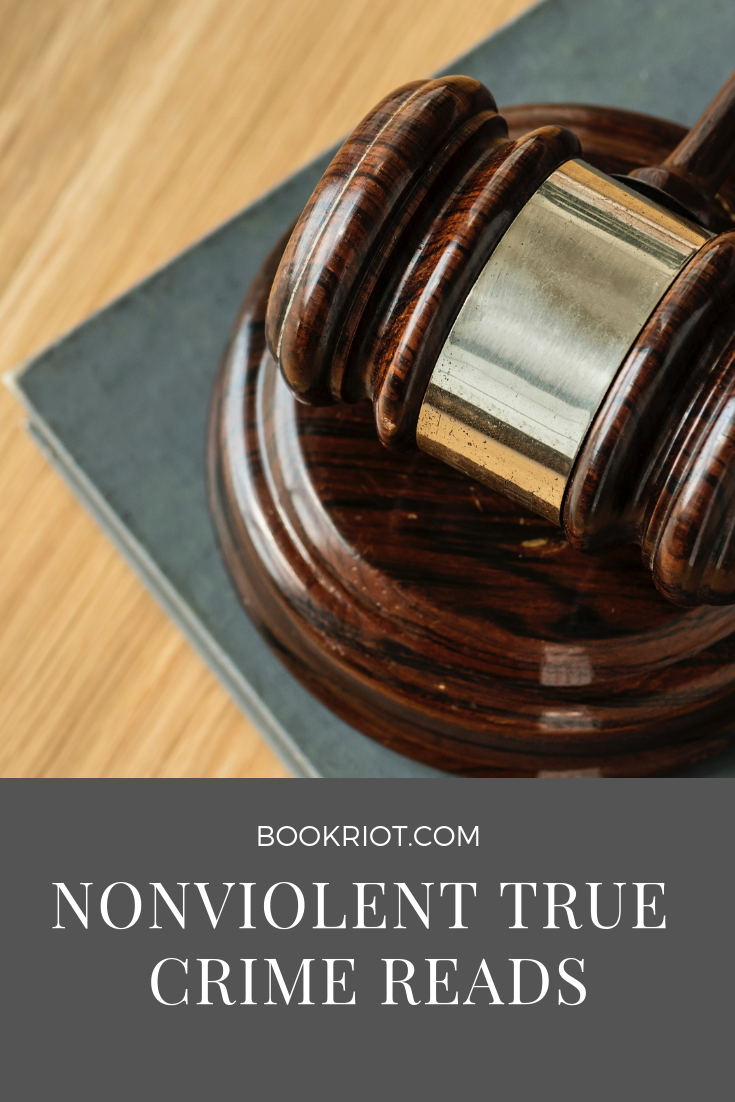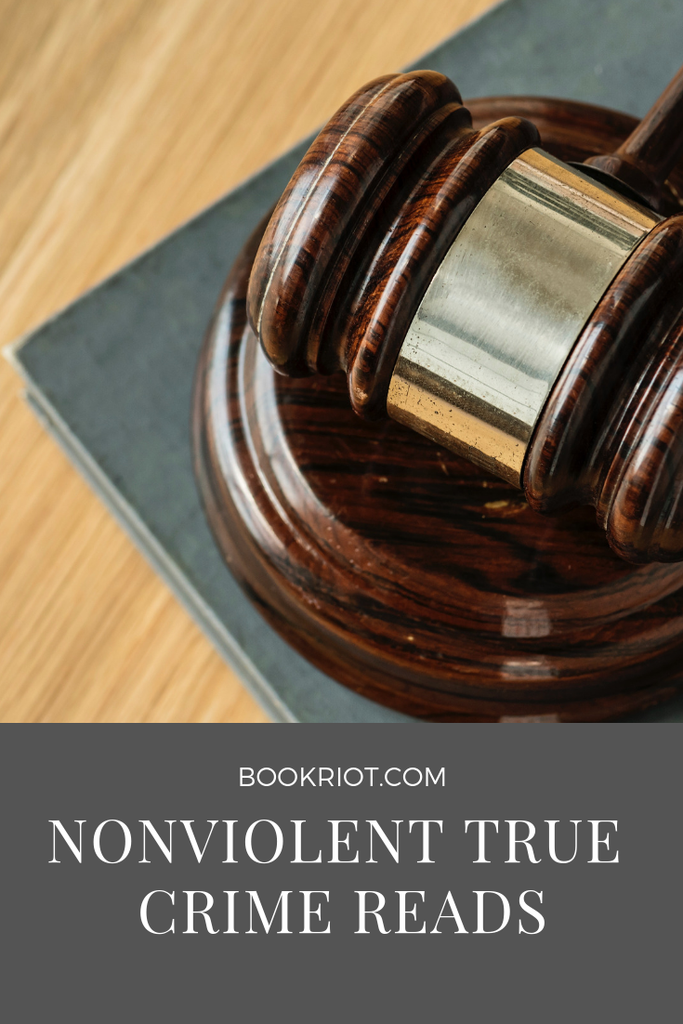 This is exactly what the title promises and it reads like a spy novel—minus the outlandish fiction. Brian Regan spent his life feeling as if he had to prove his intelligence, so when he became miserable in his personal life he decided to save himself by concocting a plot you'd only see in a spy movie. The book not only gives you a look at Regan's upbringing and life, but it also follows how FBI Special Agent Steven Carr found the traitor—so, unlike fiction, you follow the true process the FBI has to go through when they suspect a traitor amongst them. I especially enjoyed the bits about the history of codes and the puzzle solving.
You probably just had a thought about how uninteresting reading about bird feathers is but let me just tell you this book is a page-turner! I felt like I'd already read 10 books worth of information and adventure just with the beginning of the book—a museum heist by a 20-year-old flutist, and historical expeditions with everything from thieving ants, to Charles Darwin, and blackmail! And that is literally just the opening. That museum heist, which emptied out drawers for hundreds of bird specimens, got the attention of Kirk Wallace Johnson, who wanted to know why in the world would someone steal so many bird feathers from a museum?! The story is fascinating, slightly bananapants, and it has plot twists! The exploration of obsession and man's destructive need to conquer and own nature certainly had me hooked.
This one is full on bananapants! And even if you know the story from following the headlines, the book goes fully into the deception of this company; even while knowing the outcome, you're still racing to the end unable to believe everything happening. Like The Feather Thief and The Dinosaur Artist this is one of those enthralling reads that even if you don't think you're interested in the topic you'll find yourself unable to put it down because of the shocking things, behaviors, and people it follows. Elizabeth Holmes ran a medical technology startup, Theranos, with an innovative blood testing machine that was going to change so much in medicine. Except shortcuts, toxic work environment, lies, manipulations—and so much wtf—was Holmes's demise. To the extent that many questioned if she's in fact a sociopath. Seriously this book made me say "holy shirtballs" so many times! (TW suicide)
I kept calling this book, accidentally, "The Dinosaur Hunters," because it felt a lot like people who hunt for dinosaur bones to put them together and sell them for ridiculous amounts of money. The problem is, who actually owns these bones? Do they belong to governments, museums, natural historians, or is it a finders-keepers kind of situation? Like when a Florida man sold a Tyrannosaurus skeleton in a New York auction for a million dollars, the Mongolian government was alerted and an international "custody fight" began. For me, the most interesting aspect of this book were all the fascinating, larger-than-life people—there's even a Leonardo DiCaprio appearance, because of course he'd want a full size dinosaur skeleton in his home. So let's think about this for a second: people will pay a million dollars for a dinosaur skeleton and have a room in their home big enough to have a dinosaur skeleton!
My current read, as I write this, is about what many think of when they hear white collar crime: the shady world of Wall Street. This book isn't as bananapants as some of the others, at least halfway through, but it takes you into the world of Wall Street, traders, hedge funds, the FBI's seven-year investigation into fraud and insider trading, and the obsession with wealth and the power that comes with it. This definitely follows some people who, like the other books, read larger than life but it also made me gasp out loud at a lot of the wealth. I mean imagine your Ferrari getting wrecked and your response basically being "eh, I'll drive the other Ferrari." (TW suicide mentions)
And because I really am obsessed with these nonviolent true crime reads, here is my lineup for what I'm super excited to read next:
This hits my other favorite type of true crime read which is true crime memoir. Abby Ellin discovered that her fiancé was not who she thought he was, and of course she isn't the first woman to be conned by him, nor is he the only deceiver around. Ellin doesn't just tell her story, she also explores how seemingly self-aware people can end up being deceived and looks into the art and science of lying.
This one takes us back into Wall Street, but it's like Crazy Rich Asians pulled off an outrageous heist. Literally Jho Low pulled off one of the biggest financial heists in history through fraud and ridiculous amounts of gall. Throw in celebrities, the global market, politics, and obscene amounts of money and of course this is going to be bananapants.