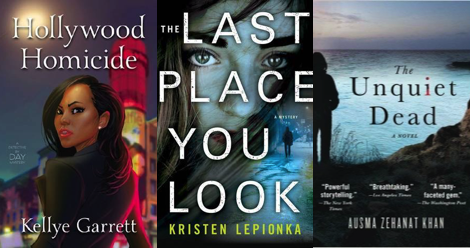 This content contains affiliate links. When you buy through these links, we may earn an affiliate commission.
This year's Read Harder challenged is presented by Libby.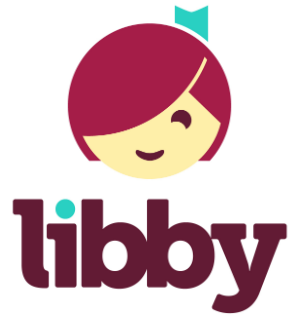 Meet Libby. The one-tap reading app from OverDrive. By downloading Libby to your smartphone, you can access thousands of eBooks and audiobooks from your library for free anytime and anywhere. You'll find titles in all genres, ranging from bestsellers, classics, nonfiction, comics and much more. Libby works on Apple and Android devices and is compatible with Kindle. All you need is a library card but you can sample any book in the library collection without one. In select locations, Libby will even get your library card for you instantly. Learn more at https://meet.libbyapp.com/. Happy Reading.
---
If you think of the mysteries you've read or those you always see advertised—on front tables of bookstores, reviewed the most, finalist for awards—you'll probably see that most aren't written by LGBTQ+ authors or people of color. Which is probably why if you think about the majority of the POC/LGBTQ+ characters found in the pages of mystery novels you'll see they're stereotypical, dead, written for "bad guy" purposes, or the recipients of hate/racism/homophobia. Even now with more mysteries written by LGBTQ+ authors and authors of color being published it's still rare to see them get publicity money put behind their books, and Hollywood rarely comes knocking for adaptations—plus, it's still only a drop in the bucket.
Once I realized how publishing often only pushes forward the same voices, while holding back others, I actively made it a priority to find mysteries written by marginalized voices. My mystery reading life immensely improved. I've found so many great authors which led me to more great authors—my death won't be a mystery because it'll just be She died under the weight of her ridiculous TBR pile.
Whether you're here for the Read Harder challenge or have noticed your mystery reading isn't very inclusive I've put together a list of great reads hitting lots of sub-genres and reading tastes.
(If you avoid mystery reading because of violence stick with the Cozy section and/or if you're a fan of historical fiction read Radha Vatsal's A Front Page Affair.)
Cozy Mysteries/ Amateur Sleuths: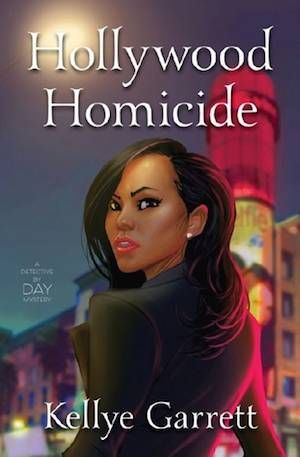 Hollywood Homicide (Detective by Day #1) by Kellye Garrett: Dayna Anderson has quit acting, is broke, and in need of money to save her parents house which is why she decides to solve a hit-and-run offering reward money. Being an amateur sleuth she thinks everyone did it—which is exactly how I imagine most amateur sleuths to actually be as opposed to their idea of being like Veronica Mars right out the gate.
Goldie Vance Vol 1 by Hope Larson, Brittney Williams: Goldie works at a Florida resort as a valet but really she's constantly solving mysteries because she wants the in-house detective's job. Fun, smart, and a joy to read.
Murder in G Major (Gethsemane Brown Mysteries #1) by Alexia Gordon: American musician staying at an Irish cottage is begged by the cottage's ghost to solve his murder and clear his name. An entertaining and funny series.
Nikki Baker's Virginia Kelly mystery series appears to be out of print but worth buying used, if you can, since the character is known as the first black female sleuth in lesbian fiction.
Private Investigators / Ex-Cop:
The Last Place You Look by (Roxane Weary #1) by Kristen Lepionka: A PI mystery that builds into a thriller ending. Weary is a hot mess PI dealing with the death of her father, family issues, an unhealthy relationship with her ex-girlfriend, currently sleeping with a man she should not be sleeping with, and taking on a case of a man on death row whose sister believes him to be innocent.
IQ (IQ #1) by Joe Ide: The novel jumps between Isaiah Quintabe's childhood and his current life as a private detective in East Long Beach taking the cases the LAPD haven't solved for whatever his clients can afford (chickens included)—until he takes a case for money involving a rap mogul whose life is in danger. Great series with fantastic characters.
A Negro and an Ofay (The Tales of Elliot Caprice) by Danny Gardner: As a biracial man Caprice must navigate racism and colorism in 1952 and finds himself in a desegregated jail cell beneath the St. Louis County Courthouse– just one of his problems. No longer with the Chicago PD he returns home to Illinois to face all the problems he's avoided since leaving and takes a job with an attorney in order to find someone needed for a will.
Procedurals:
The Unquiet Dead (Rachel Getty & Esa Khattak #1) by Ausma Zehanat Khan: A fantastic series written with kindness and care that features two Canadian detectives but takes you around the world exploring important social issues. The series begins with Getty and Khattak, who generally handle minority sensitive cases, being tasked with looking into a man's fall from a cliff…
Blind Goddess (Hanne Wilhelmsen #1) by Anne Holt, Tom Geddes (Translation): A dark Scandinavian series starring Hanne Wilhelmsen, a lesbian cop in Oslo, Norway. The series begins with Detective Wilhelmsen working with a lawyer with the Special Branch of the Oslo police to figure out who murdered a drug dealer and why a man covered in blood isn't talking.
Land of Shadows (Detective Elouise Norton #1) by Rachel Howzell Hall: L.A. detective Elouise "Lou" Norton is solving two cases: the current one, with a new partner, of a murdered girl at a construction site, and the one from her childhood when her sister disappeared leaving behind only a shoe. Lou is a perfectly snarky detective who while rich now came from the struggling community many of her victim's now live in.
Historical Fiction Mysteries: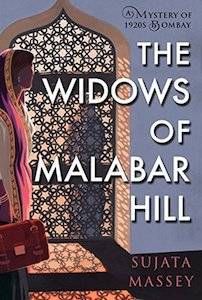 The Widows of Malabar Hill (Perveen Mistry, #1) by Sujata Massey: In early 1920s Bombay, Perveen is a solicitor working with her father when a case regarding signatures from widows bothers her. Soon Perveen finds herself caught in the mystery of what is actually happening in the house the widows and their children live in… Fantastic new series part of my favorite sub-sub-genre I refer to as Nevertheless, She Persisted Mysteries.
A Rising Man (Sam Wyndham #1) by Abir Mukherjee: Wyndham has left Scotland Yard and moved to British ruled Calcutta in 1919 where he is tasked with solving the murder of a British official. His job is made harder by his opium addiction, and the many rules/laws against Indians that he doesn't understand. A great new series.
A Study in Scarlet Women (Lady Sherlock, #1) by Sherry Thomas: My favorite Sherlock! A brilliantly thought out and executed gender swapped Sherlock Holmes with a leading lady willing to blowup her life to ensure she doesn't live a life she doesn't want. I want this series to go on forever.
Deborah Powell's Hollis Carpenter Mystery series seems to be out of print but is set in the 1930s starring a lesbian crime reporter for the Houston Times.
YA: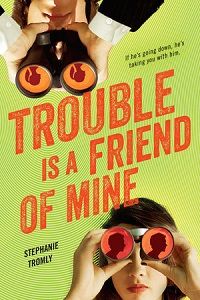 Trouble Is a Friend of Mine (Trouble #1) by Stephanie Tromly: A great series for fans of Veronica Mars. Poor Zoey just wants to survive being the new girl in town/school but soon finds herself trying to survive Digby who while trying to find out what happened to his missing sister has dragged Zoey into illegal-ish activity and dangerous situations. Fun, entertaining, great series with witty, sharp dialogue.
Overturned by Lamar Giles: Nikki Tate's father is exonerated from killing his best friend and released from jail. Something that should leave his daughter thrilled considering she now has her father back and won't need to be running the family casino, but he's not acting right and why would someone have set him up to begin with…Nikki Tate is an awesome character and I loved feeling like I was at the poker tables with her.
Far From You by Tess Sharpe: A layered story with addiction, murder, and mystery that is perfect for readers who love an "unlikable" girl. Released from rehab after her best friend's believed overdose, Sophie is now out to track the real murderer…
Lawyer: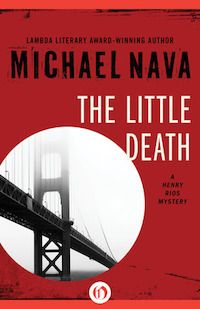 The Little Death (Henry Rios Mystery #1) by Michael Nava: Alcoholic public defender Henry Rios is the only one to suspect foul play when the black-sheep of a wealthy San Fransisco family dies of a drug overdose. You don't see many—any?—gay Latino protagonist in this genre.
Forty Acres by Dwayne Alexander Smith: A suspenseful social thriller, perfect for fans of Get Out, that places the reader in super uncomfortable territory as a black lawyer accepts a trip with prominent rich black men which soon seem to be a part of a secret society…
Black Water Rising (Jay Porter #1) by Attica Locke: Lawyer Jay Porter is just trying to get by with his small practice in 1981 Houston, Texas, having left his past behind. But what was supposed to be a nice night out with his wife ends up sucking Porter into a murder investigation…
Literary Mystery:
Long Black Veil by Jennifer Finney Boylan: Twenty years ago a group of friends toured the abandoned Eastern State Penitentiary after Casey and Wailer's wedding. Present day, Wailer's body is finally found and the only friend that can help clear Casey's name can only do so to great detriment to her own life…
Murder on the Red River by Marcie Rendon: Set in 1970s Fargo, North Dakota, a slow-burn character focused mystery. Renee "Cash" Blackbear and the Sheriff connected to her since a childhood accident that took her away from her reservation both find themselves staring at a dead body…
Orient by Christopher Bollen: Orient Long Island is an isolated small town with the culture clash of the locals and the new arrivals of rich Manhattans. When a caretaker is found dead at sea and an animal carcass, rumored to be from a research lab, is also discovered tensions start to rise. Is it one of the new "transplants" that no one knows much about?…
The Secret History of Las Vegas by Chris Abani: A fantastic mix of lit fic, mystery, crime, and horror—and by horror I mean the kind that reminds you just how truly evil humanity can be. Conjoined twins, Fire and Water, are accused of murder when they're found bathing near a barrel filled with blood. Sunil, a doctor specializing in sociopaths, is tasked with evaluating the twins. But he doesn't really think they are sociopaths…
And Some More Reads from Outside of the U.S.: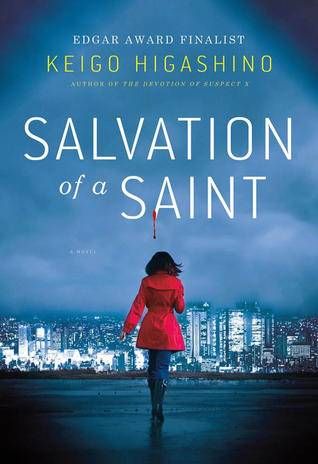 For a puzzle mystery where police need the help of a physics professor: Salvation of a Saint (Detective Galileo #5) by Keigo Higashino, Alexander O. Smith.
A good procedural series set in Ghana: Kwei Quartey's Darko Dawson series.
Or maybe you want a detective solving crimes in Cuba: Leonardo Padura's Mario Conde series (translated by Peter Bush). (You can currently see the four-part adaptation on Netflix: Four Seasons in Havana).
If you're looking for a M/M romance mystery starring a rookie PI on the case of a missing groom in France: Amuse Bouche (A Russell Quant Mystery #1) by Anthony Bidulka.
How about Filipino Jesuit Priest leads in this dark novel where the mystery has to be solved minus all the fancy CSI gadgets and labs: Smaller and Smaller Circles by F.H. Batacan.
I hope that this list will be a starting point rather than a one time read, and if you're a fan of mystery/thrillers you can count on there being inclusive reads in the Unusual Suspects mystery newsletter.