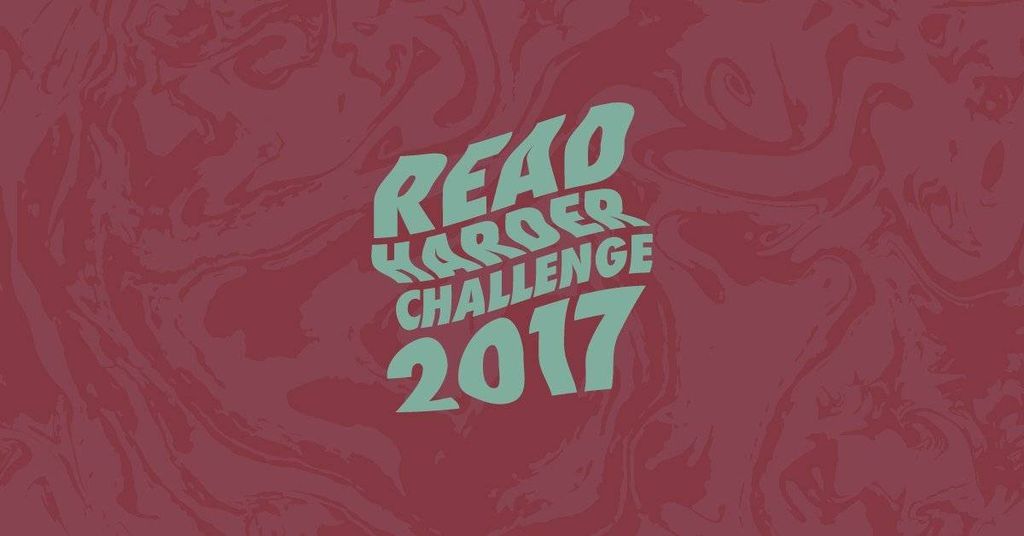 This content contains affiliate links. When you buy through these links, we may earn an affiliate commission.
Whether you're a comics die-hard or just looking for somewhere to start, these suggestions for the Read Harder 2017 Challenge is a way to mix things up. We've put together a list of great comics, manga, and graphic novels to fulfill the entire challenge.
A book about sports.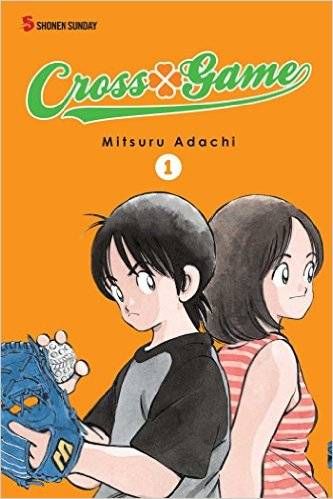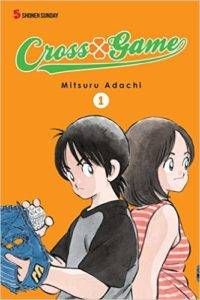 Cross Game by Mitsuru Adachi – "Cross Game is a moving drama that is heartfelt and true, yet in the brilliant hands of manga artist Mitsuru Adachi, delightfully flows with a light and amusing touch. The series centers around a boy named Ko, the family of four sisters who live down the street and the game of baseball."
Alternate: The Terrible and Wonderful Reasons Why I Run Long Distances by The Oatmeal

Read a debut novel.
Black Panther: A Nation Under Our Feet by Ta Nehisi Coates, Brian Stelfreeze – "MacArthur Genius and National Book Award-winning writer T-Nehisi Coates takes the helm, confronting T'Challa with a dramatic upheaval in Wakanda. When a superhuman terrorist group that calls itself The People sparks a violent uprising, the land famed for its incredible technology and proud warrior traditions will be thrown into turmoil."
Alternate: The Facts of Life by Paula Knight
Read a book about books.
The Unwritten by Mike Carey, Peter Gross – "Tom Taylor's life was screwed from go. His father created the Tommy Taylor fantasy series, boy-wizard novels with popularity on par with Harry Potter. The problem is Dad modeled the fictional epic so closely to Tom's real life that fans are constantly comparing him to his counterpart. In the final novel, it's even implied that the fictional Tommy will crossover into the real world, giving delusional fans more excuses to harass Tom."
Alternate: Night Bookmobile by Audrey Niffenegger
Read a book set in Central or South America by a Central or South American author.
The Eternaut by Héctor Germán Oesterheld, Francisco Solano López – "Published in an Argentinian newspaper from 1957 to 1959 … One night in Buenos Aires, Juan Salvo is playing poker with his buddies when snow starts falling. But it's not just a weather anomaly, it's the deadly first wave of an alien invasion. The political subtext, made more poignant by the knowledge that Oesterheld agitated against the Argentinean government and was "disappeared" in 1977, is so smoothly embedded in the plot that it slides right past most readers while still resonating once the true masterminds are revealed."
Alternate: Macanudo #1 Hardcover by Liniers, Mara Faye Lethem (Translator)
Read a book by an immigrant or with a central immigration narrative.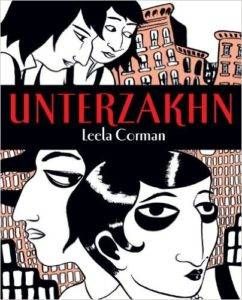 Unterzakhn by Leela Corman -"For six-year-old Esther and Fanya, the teeming streets of New York's Lower East Side circa 1910 are both a fascinating playground and a place where life's lessons are learned quickly and often cruelly. In drawings that capture both the tumult and the telling details of that street life, Unterzakhn (Yiddish for "Underthings") tells the story of these sisters: as wide-eyed little girls absorbing the sights and sounds of a neighborhood of struggling immigrants; as teenagers taking their own tentative steps into the wider world (Esther working for a woman who runs both a burlesque theater and a whorehouse, Fanya for an obstetrician who also performs illegal abortions); and, finally, as adults battling for their own piece of the "golden land," where the difference between just barely surviving and triumphantly succeeding involves, for each of them, painful decisions that will have unavoidably tragic repercussions."
Alternate: Vietnamerica: A Family's Journey by GB Tran
Read an all-ages comic.
Gotham Academy Vol. 1: Welcome to Gotham Academy by Becky Cloonan, Brenden Fletcher, Karl Kerschl – "Okay, so Gotham Academy isn't like other schools. But Olive Silverlock isn't like other students. After a mysterious incident over summer break, she's back at school with a bad case of amnesia, an even worse attitude… and an unexplained fear of bats. Olive's supposed to show new student Maps Mizoguchi the ropes. Problem: Maps is kid sister of Kyle, Olive's ex. Then there's the ghost haunting the campus…the secret society conducting bizarre rituals…and Bruce Wayne, the weirdo billionaire who funds the Academy – and may know the secret to Olive's big mystery."
Alternate: Sailor Moon 1 by Naoko Takeuchi
Read a book published between 1900 and 1950.
The Spirit by Will Eisner – One of Eisner's original game-changers, The Spirit follows criminologist Denny Colt. After being presumed dead, Denny returns to fight crime as the mysterious figure The Spirit. The heavy inks and indefatigable protagonist amazingly seem to prophecy the film noir movement that was still several years away. "Over the twelve years of its initial publication, this legendary strip revolutionized the cartooning medium, establishing new methods of storytelling, developing new depths of characterization, and demonstrating to readers everywhere that comics could truly be an art form."
Alternate: Batman: The War Years 1939-1945 by Roy Thomas
Read a travel memoir.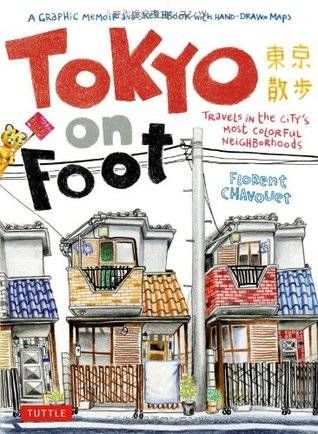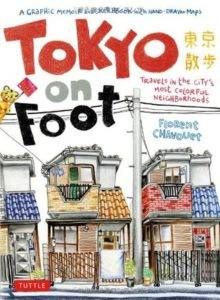 Tokyo on Foot: Travels in the City's Most Colorful Neighborhoods by Florent Chavouet – "Florent Chavouet, a young graphic artist, spent six months exploring Tokyo while his girlfriend interned at a company there. Each day he would set forth with a pouch full of color pencils and a sketchpad, and visit different neighborhoods. This stunning book records the city that he got to know during his adventures. It isn't the Tokyo of packaged tours and glossy guidebooks, but a grittier, vibrant place, full of ordinary people going about their daily lives and the scenes and activities that unfold on the streets of a bustling metropolis."
Alternate: French Milk by Lucy Knisley
Read a book you've read before.
If you've picked up graphic novels a little later I recommend rereading your very first – it's amazing how different it is when you aren't adjusting to a format. But if you're just starting the journey into comics and graphic novels, an adaptation may be just the thing. A Wrinkle in Time is one many of you could revisit via the graphic novel adapted by Hope Larson. This childhood classic went a long time before someone was brave enough to tackle it in this format, but the results are worth it. This is a story so imaginative that seeing it through someone else's lense is fascinating.
Alternate: The Graphic Canon, Vol. 1: From the Epic of Gilgamesh to Shakespeare to Dangerous Liaisons by Russ Kick
Read a book that is set within 100 miles of your location. For this one I'm recommending that you talk to your local comic shop! Many brick and mortar comic shops, especially if they aren't national chains, keep lovely little sections of local comics and zines. These are usually small and a little DIY which gives them an intensely intimate feeling. This is a great way to discover something new and support artists in your community.
Read a book that is set more than 5000 miles from your location.
Captain Raptor and the Space Pirates by Kevin O'Malley, Patrick O'Brien – Planet Jurrasica is almost certainly 5000 miles from most of us. Plus this book is a RIOT of pure joy.
Alternate: Bitch Planet Vol 1 Extraordinary Machine by Kelly Sue DeConnick, Valentine De Landro, Robert Wilson IV
Read a fantasy novel.

Monstress by Marjorie Liu, Sana Takeda – "Set in an alternate matriarchal 1900's Asia, in a richly imagined world of art deco-inflected steampunk, MONSTRESS tells the story of a teenage girl who is struggling to survive the trauma of war, and who shares a mysterious psychic link with a monster of tremendous power, a connection that will transform them both and make them the target of both human and otherworldly powers."
Alternate: Rat Queens Volume 1: Sass & Sorcery Kurtis J. Wiebe, Laura Tavishati, Roc Upchurch, Fiona Staples
Read a nonfiction book about technology.
Trinity: A Graphic History of the First Atomic Bomb by Jonathan Fetter-Vorm – "Trinity, the debut graphic book by Jonathan Fetter-Vorm, depicts the dramatic history of the race to build and the decision to drop the first atomic bomb in World War Two. This sweeping historical narrative traces the spark of invention from the laboratories of nineteenth-century Europe to the massive industrial and scientific efforts of the Manhattan Project, and even transports the reader into a nuclear reaction―into the splitting atoms themselves."
Alternate: Reinventing Comics: How Imagination and Technology Are Revolutionizing an Art Form by Scott McCloud
Read a book about war.
The Photographer: Into War-torn Afghanistan with Doctors Without Borders by Emmanuel Guibert – "In 1986, Afghanistan was torn apart by a war with the Soviet Union. This graphic novel/photo-journal is a record of one reporter's arduous and dangerous journey through Afghanistan accompanying the Doctors Without Borders. Didier Lefèvre's photography, paired with the art of Emmanuel Guibert, tells the powerful story of a mission undertaken by men and women dedicated to mending the wounds of war."
Alternate: Saga by Brian K Vaughn
Read a YA or middle grade novel by an author who identifies as LGBTQ+.
Patsy Walker, A.K.A Hellcat! Vol 1 by Kate Leth, Brittney Williams – "Patsy Walker has managed to escape her past, her enemies and Hell itself (literally) – but nothing compares to job hunting in New York City! Between trying to make rent and dodging bullets, Patsy barely has time to deal with her mother's exploitative romance comics about Patsy's past resurfacing, much less how they start to interfere with her work and dating life."
Alternate: Water Baby by Sophie Campbell (published as Ross Campbell)
Read a book that has been banned or frequently challenged in your country.

Fun Home: A Family Tragicomic by Allison Bechdel – "Meet Alison's father, a historic preservation expert and obsessive restorer of the family's Victorian home, a third-generation funeral home director, a high school English teacher, an icily distant parent, and a closeted homosexual who, as it turns out, is involved with his male students and a family babysitter. Through narrative that is alternately heartbreaking and fiercely funny, we are drawn into a daughter's complex yearning for her father."
Alternate: Maus by Art Spiegelman
Read a classic by an author of color.
Persepolis by Marjorie Satrapi – "Persepolis is the story of Satrapi's unforgettable childhood and coming of age within a large and loving family in Tehran during the Islamic Revolution; of the contradictions between private life and public life in a country plagued by political upheaval; of her high school years in Vienna facing the trials of adolescence far from her family; of her homecoming–both sweet and terrible; and, finally, of her self-imposed exile from her beloved homeland. "
Alternate: Maggie the Mechanic (Love & Rockets) by Jamie Hernandez
Read a superhero comic with a female lead.
X-23, Vol. 1: The Killing Dream by Marjorie Liu, Alina Urusov – "Government-controlled killing machine. Child of the streets. X-Man. X-23 has lived many lives, but none of them have ever felt right. She knows she's a killer, but she's not sure she can be anything else. The X-Men offer her a home and help facing her demons, but she's done being someone's project. She wants to be her own woman, and she'll do it on her own terms."
Alternate: Strong Female Protagonist, Book One by Brennan Lee Mulligan, Molly Ostertag
Read a book in which a character of color goes on a spiritual journey. (From Daniel Jose Older)
March: Book One by John Lewis, Andrew Aydin, Nate Powell – March is a vivid first-hand account of John Lewis' lifelong struggle for civil and human rights, meditating in the modern age on the distance traveled since the days of Jim Crow and segregation. Rooted in Lewis' personal story, it also reflects on the highs and lows of the broader civil rights movement. Book One spans John Lewis' youth in rural Alabama, his life-changing meeting with Martin Luther King, Jr., the birth of the Nashville Student Movement, and their battle to tear down segregation through nonviolent lunch counter sit-ins, building to a stunning climax on the steps of City Hall.
Alternate: Skim by Mariko Tamaki, Jillian Tamaki
Read an LGBTQ+ romance novel. (From Sarah Maclean)

Sunstone by Stjepan Šejić – "Two women deal with modern themes of sex, relationships, and fetishism in this erotic romantic comedy. So beware all who enter, because, to quote a few hundred thousand readers on DeviantArt: "I'm not into BDSM…but this story…I get it.""
Alternate: Beyond: the Queer Sci-Fi & Fantasy Comic Anthology by Sfé R. Monster (Editor)

Read a book published by a micropress. (FROM ROXANE GAY)
Ink for Beginners: A Comic Guide to Getting Tattooed by Kate Leth (Retrofit Comics) – "Kate Leth brings you advice (and a few horror stories) culled from both her own experience getting over 30 tattoos and interviews with a few dozen tattoo artists. Ink for Beginners touches on all sorts of tattoo topics, like choosing designs, booking consultations, aftercare, tipping policies, how to prepare for your appointment, and even where it hurts most to get a tattoo."
Alternate: Check out The Tiny Report for a list of more comic micropresses.
Read a collection of stories by a woman. (FROM CELESTE NG)
Hark a Vagrant by Kate Beaton – "An uproarious romp through history and literature seen through the sharp, contemporary lens of New Yorker cartoonist and comics-sensation Kate Beaton. No era or tome emerges unscathed as Beaton rightly skewers the Western world's revolutionaries, leaders, sycophants, and suffragists while equally honing her wit on the hapless heroes, heroines, and villains of the best-loved fiction."
Alternate: Hyperbole and a Half: Unfortunate Situations, Flawed Coping Mechanisms, Mayhem, and Other Things That Happened by Ally Brosch
Read a collection of poetry in translation on a theme other than love. (FROM AUSMA ZEHANAT KHAN)
Graphic Poetry by Paula Carson (Foreword) – "Graphic Poetry is a book of modern poetry from contemporary writers around the world. Leading international designers, illustrators and image makers accepted the challenge of creating a visual response to these poems, their ideas running through the book in a series of double page spreads. With its diverse mix of styles and ideas, Graphic Poetry is a unique volume, which will delight both the eye and the mind."
Alternate: ODY-C Vol. 1: Off to Far Ithica by Matt Fraction, Christian Ward
Read a book wherein all point-of-view characters are people of color. (FROM JACQUELINE KOYANAGI)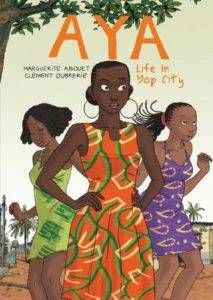 Aya: Life in Yop City by Marguerite Abouet, Clément Oubrerie, Helge Dascher (Translator) – "Ivory Coast, 1978. It's a golden time, and the nation, too-an oasis of affluence and stability in West Africa-seems fueled by something wondrous. Aya is loosely based upon Marguerite Abouet's youth in Yop City."
Alternate: Turning Japanese by MariNaomi