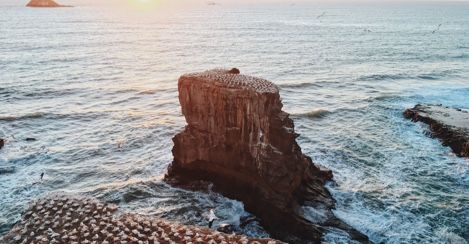 Read Harder
Read Harder: An #OwnVoices Book Set in Oceania
This content contains affiliate links. When you buy through these links, we may earn an affiliate commission.
The 2019 Read Harder Challenge is sponsored by the Read Harder Journal. Get the full list of tasks here.
Created by Book Riot, this smartly designed reading log consists of entry pages to record stats, impressions, and reviews of each book you read. Evenly interspersed among these entry pages are 12 challenges inspired by Book Riot's annual Read Harder initiative, which began in 2015 to encourage readers to pick up passed-over books, try out new genres, and choose titles from a wider range of voices and perspectives. Indulge your inner book nerd and read a book about books, get a new perspective on current events by reading a book written by an immigrant, find a hidden gem by reading a book published by an independent press, and so much more. Each challenge includes an inspiring quotation, an explanation of why the challenge will prove to be rewarding, and five book recommendations that fulfill the challenge.
---
This Read Harder task takes us on a journey to the South Pacific, a somewhat isolated area with two largish countries ("large" is very, very relative here) and a number of smaller island nations that have their own wonderful and colourful histories, geographies, and cultures. There are a lot more books coming out of Australia and New Zealand than the other South Pacific islands (and more books coming out of Australia than New Zealand, for that matter), but I've tried to include books from a range of Oceanic countries. The #ownvoices part of the task meant that the authors here are all indigenous authors.
Australia
This is an anthology of stories compiled by Anita Heiss, one of Australia's most well-known Indigenous writers and literary champions. The stories are from high-profile Aboriginal authors and identities in Australia and offer a glimpse into their lives and experiences.
Taboo by Kim Scott (fiction)
A novel set in the present day about a group of Noongar people who revisit a taboo site. A story about telling the truths in Australian history, and about despair and destruction, renewal and hope.
Mullumbimby by Melissa Lucashenko (fiction)
The winner of the fiction category of the Queensland Literary Awards in 2013 (as well as numerous other literary accolades in Australia), this is a novel about romantic love and cultural warfare.
Stan Grant is one of Australia's leading journalists and this book is an account of his life and experiences he faced as an Aboriginal Australian as well as a look at deeper issues around colonialism and oppression.
New Zealand
A novel that was adapted into a movie in 2003, it is about Kahu, an eight-year-old Maori girl who craves the attention of her great-grandfather, who has no attention for her because he is blinded by tradition and wishes for a male heir. A story of love, destiny, and whales, this is a quick but sweeping read.
Chappy by Patricia Grace (fiction)
The story of a young man sent to live with his Maori grandmother and his discovery of his family history. This book is set not just in New Zealand but incorporates elements from multiple places across the Pacific (Hawaii and Japan), which makes it seem particularly fitting for this task.
Dark Jelly by Alice Tawhai (short stories)
Alice Tawhai is a short fiction writer whose stories have been published in literary journals in Australia and New Zealand. This is her third short story collection and concentrates on exploring the theme of darkness.
Indonesia
Saman by Ayu Utami (fiction)
A novel set in Indonesia about the lives of four sexually liberated friends. Utami was one of the first Indonesian female writers to explicitly discuss sexuality and sparked a new era of Indonesian literature.
Fiji
Broken Waves by Brij Lal (nonfiction, history)
This is a title from the Pacific Islands Monograph Series; it is a history of a country that is shaped by the author's own life history and experiences as an Indo-Fijian (Lal is one of the few historians from Fiji). This book is more academic than the others on this list and is a detailed examination of Fiji's colonial history.
Tonga
A satirical look at contemporary South Pacific island life that is set on the fictional island of Tikong, about what happens when development arrives and threatens the traditional way of life.