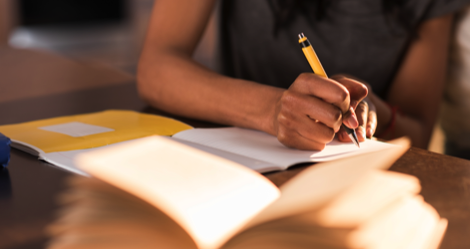 Read Harder
Read Harder 2019: An Epistolary Novel or Collection of Letters
This content contains affiliate links. When you buy through these links, we may earn an affiliate commission.
The 2019 Read Harder Challenge is sponsored by the Read Harder Journal. Get the full list of tasks here.
Created by Book Riot, this smartly designed reading log consists of entry pages to record stats, impressions, and reviews of each book you read. Evenly interspersed among these entry pages are 12 challenges inspired by Book Riot's annual Read Harder initiative, which began in 2015 to encourage readers to pick up passed-over books, try out new genres, and choose titles from a wider range of voices and perspectives. Indulge your inner book nerd and read a book about books, get a new perspective on current events by reading a book written by an immigrant, find a hidden gem by reading a book published by an independent press, and so much more. Each challenge includes an inspiring quotation, an explanation of why the challenge will prove to be rewarding, and five book recommendations that fulfill the challenge.
---
Epistolary
adjective
(of a literary work) in the form of letters.
"An epistolary novel is a novel written as a series of documents. The usual form is letters, although diary entries, newspaper clippings and other documents are sometimes used. Recently, electronic "documents" such as recordings and radio, blogs, and e-mails have also come into use. The word epistolary is derived from Latin from the Greek word ἐπιστολή epistolē, meaning a letter (see epistle)." —Wikipedia
I jumped at the chance to write a book list for this Read Harder task, because I love epistolary novels and I love reading letters between real people! I've grouped suggestions by type of collection, with fiction down at the bottom. Feel free to skip down, but you may be surprised by how lovely it is to read a real person's letters.
Collections
Letters are typically on the short side, and as with any short work sometimes the best way to enjoy them is in collected form, so as to sample writing styles and subject matter.
This book is written in the form of letters to children about the many wonders of reading. Featuring letters by such influential people as Shonda Rhimes, Yo-Yo Ma, Jacqueline Woodson, and Neil Gaiman.
If you've seen the Letters of Note website, you know what to expect from this book—interesting letters, often to or from famous people, that add a little something to our understanding of history and the world.
I've included this book because it is a very different subject than most of the books on this list, and this challenge is all about going outside your comfort zone. In this text, 35 pharmacists offer advice to people just starting out in the field.
These books use letters and diaries to paint a picture of the history of these two cities. I am curious whether the majority of the material comes from the big names listed in promotional materials, or whether there will indeed be a more authentic story told by letters from native folks, poor folks, and other vital voices. (For example, James Baldwin is not listed on the New York Diaries description; is this because his family won't release his letters—they won't—or was he overlooked? That said, Cesar Chavez is the second name on the Dear Los Angeles description, which is right and correct.)
Letters Between Two People
Reading letters between two people creates a narrative, often one curated by the letter-writers, that tells you their story. Here are a few I have either read and loved myself, or would like to read.
I bought this book because James Wright was my uncle, but I'm recommending it because it is a gut-punch of a volume of letters, exchanged between two poets who begin formal and admiringly and quickly become friendly and intimate (in a nonsexual manner), sharing stories of both their work and their lives. The book was edited by my aunt after my uncle's sudden death less than 18 months after the first letter was sent.
This just looks downright interesting, if a little literary dude for me.
You may wish to read this alone, near a fainting couch.
Read these letters, then watch the movie, Vita and Virginia (when it is available; distributors please hurry).
Empty Without You: the Intimate Letters of Eleanor Roosevelt and Lorena Hickock
Although this is described as documenting the "friendship" between the first lady and Hickock, these are definitely love letters. In fact, Hickock's daughter burned several of the letters after her death because Roosevelt was "indiscreet," i.e. explicitly sexual, in them.
Famous People's Letters
Most of the letters above are by famous people, but sometimes the best through line in a collection of letters is a single author. Here are a few collections of letters from one person to assorted others. You can find collections like this for many people—if you have a favorite, try googling their name + letters and see what you find. I myself have a stack of books found that way, including The Letters of Dorothy L. Sayers, Selected Letters of Dashiell Hammett, and more.
These letters reveal both the history of apartheid and the character of the man.
I haven't yet brought myself to read these, as it feels invasive—Plath did not agree to their publication, and is still better known for her death than she is for her incredible work. And yet…I want to know everything about her that I can.
I don't think I need to explain why I one-clicked this book when I found out it exists.
Fiction
I'm guessing this is what you're here for. I am still waiting for the epistolary novel to truly take off, but there are some excellent options out there. A note: it is harder to find epistolary novels by non-white authors. As best I can tell, they are just not being published. The form seems more popular in England than in the USA, and overall is just not very popular. A pity.
Dracula by Bram Stoker
Though not the first epistolary novel, this may be the most famous. It uses letters, diaries, newspaper clippings, and more to piece together the story of the infamous vampire. (People often think of Frankenstein by Mary Shelley when they think of Dracula, and it is arguably epistolary, as the framing device is a series of letters and the main story is ostensibly being relayed to the letter writer.)
I recommend this book because it is a classic and vital text, but I do so with the caveat that Alice Walker is canceled. The book's official description: "This is the story of two sisters—one a missionary in Africa and the other a child wife living in the South—who sustain their loyalty to and trust in each other across time, distance, and silence."
This is my personal favorite. It tells the story of one woman, beginning at age 9, through the letters she sends. Based loosely on the author's grandmother's life, it begins at the turn of the (20th) century and if you can stand to read about a wealthy white woman in Texas, it is excellent. (This book was adapted as a one-woman play in the 1980s, which was in turn adapted as a TV movie starring Sally Field in the 1990s.)
This book is half epistolary, half narrative. The narrative tells the story of two high school seniors who dream of getting out of their small town, and the letters tell the story of one of the boys on death row later. Bryan handles the subject with tremendous care. Have a tissue handy.
A Note on Diaries
Diaries are a form of epistolary storytelling, and a totally valid one! You may be interested in real life diaries, such as Anne Frank's Diary of a Young Girl. In my teens I was absolutely obsessed with The Diary of Anais Nin. Or perhaps you'd enjoy fictional diaries; there is an entire industry built around children's books in diary format: Diary of a Wimpy Kid, Dork Diaries, Jedi Academy…and so many more.