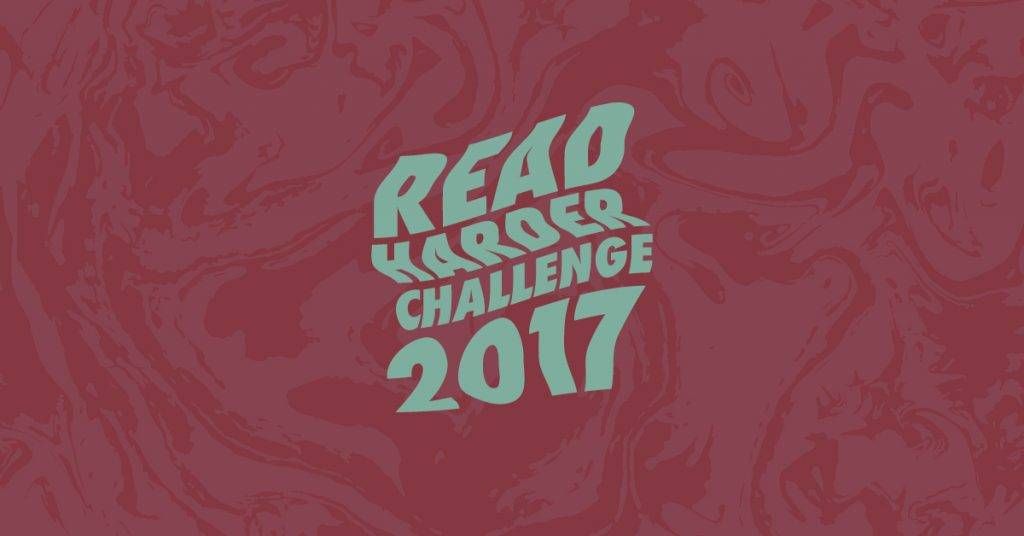 Read Harder
Read Harder: 11 Books By or About Immigrants and Immigration
This content contains affiliate links. When you buy through these links, we may earn an affiliate commission.
I'm here to help make completing this year's Read Harder Challenge just a little bit easier. Number 5 on the list, asking you to "read a book by an immigrant or with a central immigration narrative" is especially relevant in our current political climate. Since we recently ran a fantastic list of books by and about Latino Immigrants very recently, I'm going to concentrate my efforts of immigrants from others parts of the world. This list has novels, a couple of memoirs, and a graphic memoir – hopefully, a little something for everyone.
FICTION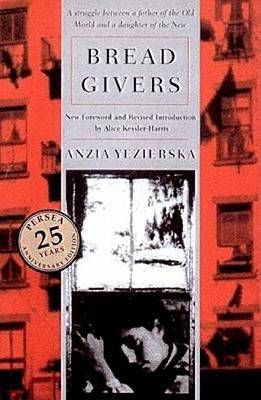 Bread Givers by Anzia Yezierska
This masterwork of American immigrant literature is set in the 1920s on the Lower East Side of Manhattan and tells the story of Sara Smolinsky, the youngest daughter of an Orthodox rabbi, who rebels against her father's rigid conception of Jewish womanhood. Sarah's struggle towards independence and self-fulfillment resonates with a passion all can share.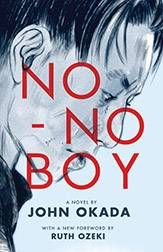 No-No Boy by John Okada
No-No Boy tells the story of Ichiro Yamada, a fictional version of the real-life "no-no boys." Yamada answered "no" twice in a compulsory government questionnaire as to whether he would serve in the armed forces and swear loyalty to the United States. Unwilling to pledge himself to the country that interned him and his family, Ichiro earns two years in prison and the hostility of his family and community when he returns home to Seattle.
The Kite Runner by Khaled Hosseini
The unforgettable, heartbreaking story of the unlikely friendship between a wealthy boy and the son of his father's servant, caught in the tragic sweep of history, The Kite Runner transports readers to Afghanistan at a tense and crucial moment of change and destruction. A powerful story of friendship, it is also about the power of reading, the price of betrayal, and the possibility of redemption; and an exploration of the power of fathers over sons—their love, their sacrifices, their lies.
Americanah by Chimamanda Ngozi Adichie
Ifemelu and Obinze are young and in love when they depart military-ruled Nigeria for the West. Beautiful, self-assured Ifemelu heads for America, where despite her academic success, she is forced to grapple with what it means to be black for the first time. Quiet, thoughtful Obinze had hoped to join her, but with post-9/11 America closed to him, he instead plunges into a dangerous, undocumented life in London. Fifteen years later, they reunite in a newly democratic Nigeria, and reignite their passion—for each other and for their homeland.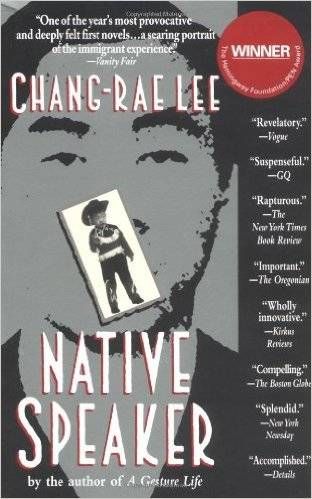 Native Speaker by Chang-rae Lee
Park's harsh Korean upbringing has taught him to hide his emotions, to remember everything he learns, and most of all to feel an overwhelming sense of alienation. In other words, it has shaped him as a natural spy.
But the very attributes that help him to excel in his profession put a strain on his marriage to his American wife and stand in the way of his coming to terms with his young son's death. When he is assigned to spy on a rising Korean-American politician, his very identity is tested, and he must figure out who he is amid not only the conflicts within himself but also within the ethnic and political tensions of the New York City streets.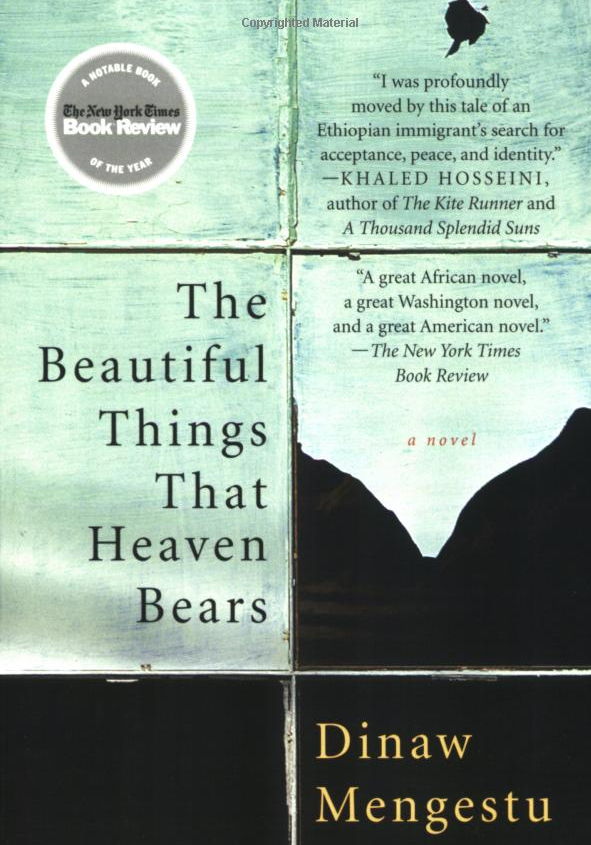 The Beautiful Things that Heaven Bears by Dinaw Mengestu
Seventeen years ago, Sepha Stephanos fled the Ethiopian Revolution for a new start in the United States. Now he finds himself running a failing grocery store in a poor African-American section of Washington, D.C., his only companions two fellow African immigrants who share his bitter nostalgia and longing for his home continent. Years ago and worlds away Sepha could never have imagined a life of such isolation. As his environment begins to change, hope comes in the form of a friendship with new neighbors Judith and Naomi, a white woman and her biracial daughter. But when a series of racial incidents disturbs the community, Sepha may lose everything all over again.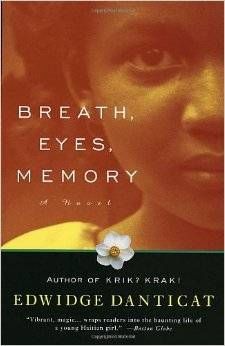 Breath, Eyes, Memory by Edwidge Dandicat
At the age of twelve, Sophie Caco is sent from her impoverished Haitian village to New York to be reunited with a mother she barely remembers. There she discovers secrets that no child should ever know, and a legacy of shame that can be healed only when she returns to Haiti—to the women who first reared her. What ensues is a passionate journey through a landscape charged with the supernatural and scarred by political violence.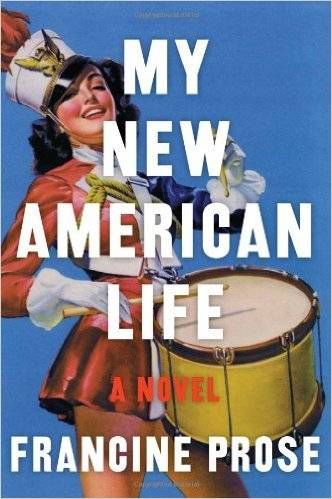 My New American Life by Francine Prose
Lula is a 26-year-old Albanian working an undemanding au pair gig in New Jersey. Her employer, Stanley, is a forlorn Wall Street exec recently abandoned by his mentally disturbed wife. He asks only that Lula see to the simple needs of his son, Zeke, a disaffected high school senior. Soon, Stanley and one of his friends, a high-profile immigration lawyer, are taken with the tale-telling, mildly exotic Lula (who speaks English flawlessly) and get to work on securing her citizenship. Lula's gig is cushy if dull, a condition relieved when three Albanian criminals, led by the charming Alvo, arrive at Stanley's house with a quiet demand that Lula harbor a gun for them.
NON-FICTION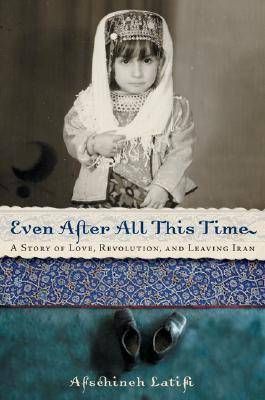 Even After All This Time: A Story of Love, Revolution, and Leaving Iran by Afschineh Latifi
Growing up in Tehran in the 1970s, Afschineh Latifi and her sister and two brothers enjoyed a life of luxury and privilege. Their father, a self–made man, had worked his way up from nothing to become a colonel in the Shah's army, and their mother, a woman of equally modest roots, had made a career for herself as a respected schoolteacher. But in February, 1979, Colonel Latifi was arrested by members of the newly installed Khomeini regime, and publicly pilloried as an "Enemy of God." Some months later, after having been shunted from one prison cell to another, and without benefit of a legitimate trial, Colonel Latifi was summarily executed. Fearing for the safety of her children, Mrs. Latifi made a wrenching decision: to send her daughters, ages ten and eleven, to the west, splitting up the family until they could safely reunite. Out on their own, Afschineh and her sister, Afsaneh, were forced to become strong young women before they'd even had a childhood.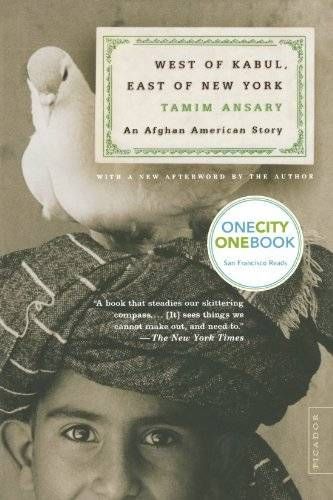 West of Kabul, East of New York: An Afghan American Story by Tamim Ansary
Shortly after militant Islamic terrorists destroyed the World Trade Center, Tamim Ansary of San Francisco sent an e-mail to twenty friends, telling how the threatened U.S. reprisals against Afghanistan looked to him as an Afghan American. The message spread, and in a few days it had reached, and affected, millions of people-Afghans and Americans, soldiers and pacifists, conservative Christians and talk-show hosts; for the message, written in twenty minutes, was one Ansary had been writing all his life.
West of Kabul, East of New York is an urgent communiqué by an American with "an Afghan soul still inside me," who has lived in the very different worlds of Islam and the secular West. The son of an Afghan man and the first American woman to live as an Afghan, Ansary grew up in the intimate world of Afghan family life, one never seen by outsiders. No sooner had he emigrated to San Francisco than he was drawn into the community of Afghan expatriates sustained by the dream of returning to their country -and then drawn back to the Islamic world himself to discover the nascent phenomenon of militant religious fundamentalism.
Vietnamerica: A Family's Journey by GB Tran
Born and raised in South Carolina as a son of immigrants, he knew that his parents had fled Vietnam during the fall of Saigon. But even as they struggled to adapt to life in America, they preferred to forget the past–and to focus on their children's future. It was only in his late twenties that GB began to learn their extraordinary story. When his last surviving grandparents die within months of each other, GB visits Vietnam for the first time and begins to learn the tragic history of his family, and of the homeland they left behind.
In this family saga played out in the shadow of history, GB uncovers the root of his father's remoteness and why his mother had remained in an often fractious marriage; why his grandfather had abandoned his own family to fight for the Viet Cong; why his grandmother had had an affair with a French soldier. GB learns that his parents had taken harrowing flight from Saigon during the final hours of the war not because they thought America was better but because they were afraid of what would happen if they stayed. They entered America–a foreign land they couldn't even imagine–where family connections dissolved and shared history was lost within a span of a single generation.