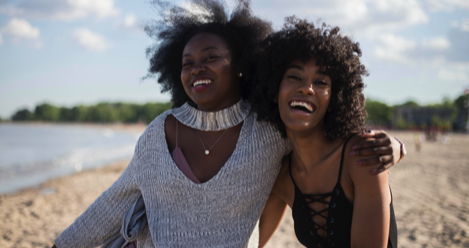 Lists
What Should I Read for Galentine's Day?
This content contains affiliate links. When you buy through these links, we may earn an affiliate commission.
So we all know about Valentine's Day, but its importance has been diminished by the holiday coined by Parks and Rec's Leslie Knope. She says, by way of explanation:
"Oh, it's only the best day of the year. Every February 13th, my lady friends and I leave our husbands and our boyfriends at home, and we just come and kick it, breakfast-style. Ladies celebrating ladies. It's like Lilith Fair, minus the angst. Plus frittatas."
So regardless of your romantic relationship standing, you get Galentine's Day, a day of solidarity, women celebrating women. The texts in this post aim to make you feel the way Beyoncé and her girls look in that 7/11 video—empowered, fashionable, and fun:
Listen, I LOVE going out. But most of the time, the funnest part of going out is getting ready together with your girlfriends. If you live alone, however, or with a S.O. who's not girly, or not about glamour, or your girls are just busy, Dita Von Teese's Guide to Eccentric Glamour will keep you company.
One of my favorite lines is when she tells her friend she can't go out that night because she's "practicing her hair."
She talks about Old Hollywood's glamour and how you can achieve their looks, even on a budget. Because listen, of course not all of our worth is in our appearance. OF COURSE NOT. That doesn't mean it's not still fun to look good, though, if that's what you want to do. And if you don't want to, girl, then, DON'T.
If you want a taste of Sam Irby's writing, check out her blog—my favorite blog ever—called BitchesGottaEat. In case the content is not made clear by the title, Sam Irby's nonfiction is about the horrors of online dating, the Sisyphean process of dating NOW, and how it's kind of awesome to just, you know, not…date.
She says:
"I don't know what an attractive personality is. I like charisma and charm, but what I really need to find is someone who doesn't get on my nerves but is also minimally annoyed by all the irritating things about me. That is my basic understanding of relationships at this point in life: that it all comes down to finding someone too lazy to cheat and who doesn't want to stab her ears out every time I speak."
Luna Luna Literary Magazine
Luna Luna Magazine says it's about "literature, intersectional feminism, storytelling, identity, and witchcraft"—but you don't have to be a witch to enjoy it or participate in it! The magazine and community surrounding it are supportive of women, and it's such an interesting, fairytale-like space to peruse that you could spend hours sifting through all the magic there.
This collection of essays details a woman's life in Atlanta. It's definitely a regional delight, but still a delight. The title, for example. In Atlanta there's a walk called the Asshole Stroll, which is when a pedestrian purposefully takes his time crossing the street deliberately not at a crosswalk. It's a spiteful jaywalk. An Asshole Stroll. And the pedestrian makes eye contact with you, the driver, as he does it.
Hollis does not see the pedestrian. He jumps out of the way and calls her a bleachy-haired honky bitch. (Gillespie's stand-up is just as funny and poignant. I got to see her perform once but was too star-struck to be like YOU'RE MY FAVORITE I LOVE YOU, although now I surely wish that I had.)
This one is fun because it can be both honest and fun, and that's why it makes the list.
This poem will break your heart, but it's empowering, too: it's exactly what the title says it is. If, when you hear it, it sounds familiar, it's because Beyoncé used Warsan Shire's poems in her album Lemonade.
So, this book is a cookbook, but only in the sense that it has recipes in it—and all the recipes are good, and worth trying. What makes it interesting and relevant to Galentine's Day is that this book also shows how to entertain and what to expect when, say, you have an uninvited house guest, you're hosting a wake, or even what to bring as a hostess gift. This book is not only helpful to prepare for Galentine's Day, but it's also a great Galentine's Day gift.
If you don't already know, Amy Sedaris is a nut—and her TV show At Home with Amy Sedaris was based off this book!
Alright, goddesses, I hope you liked my suggestions for Galentine's Day readings, and I hope they help you celebrate with a bigass womanly yawp!