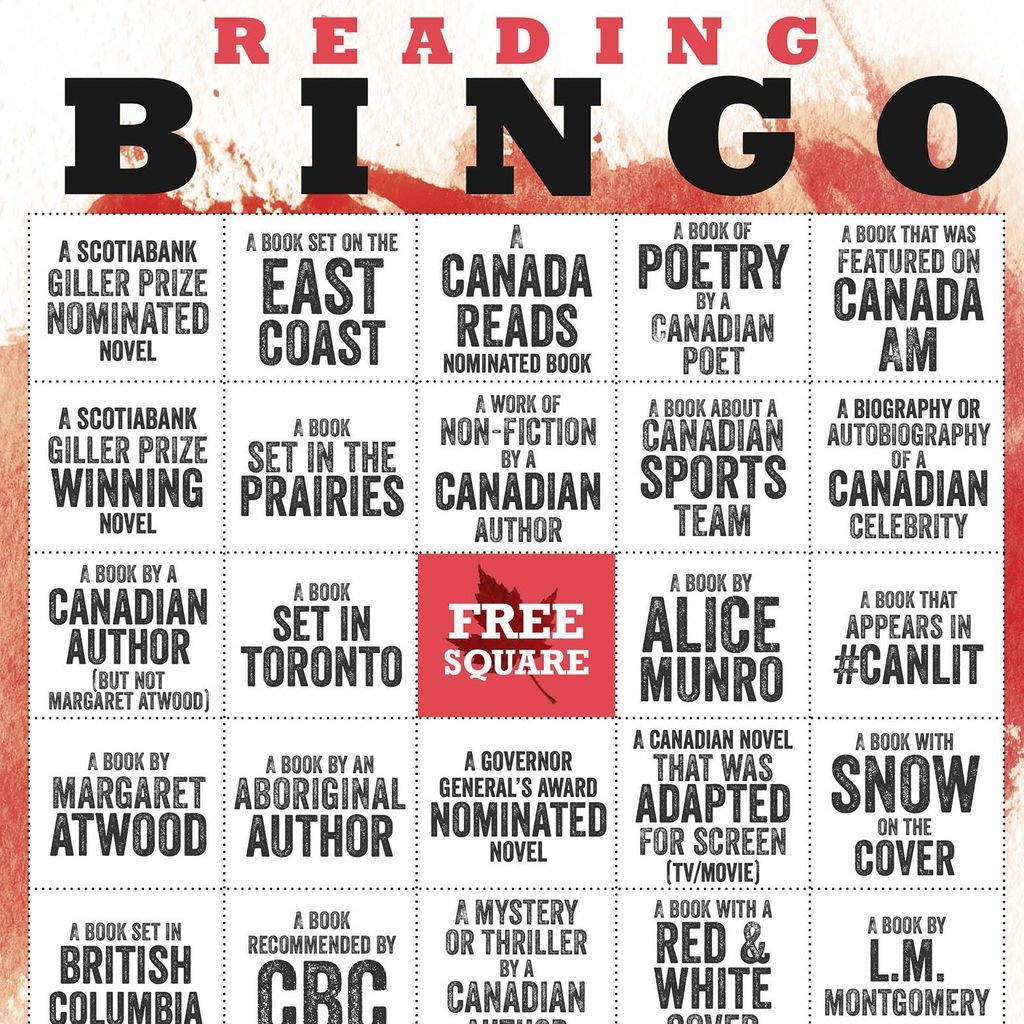 Lists
Read More Canadian Literature!: Bingo Edition
This content contains affiliate links. When you buy through these links, we may earn an affiliate commission.
So, I've written posts in the past about reading more Canadian Literature (because your neighbours to the north are very literary people), and I recently came across Random House Canada's Reading Bingo for 2015, which is all about CanLit! So I thought I'd give you some suggestions for filling your bingo card, if you'd like to take this challenge on for your Reading Life in 2015.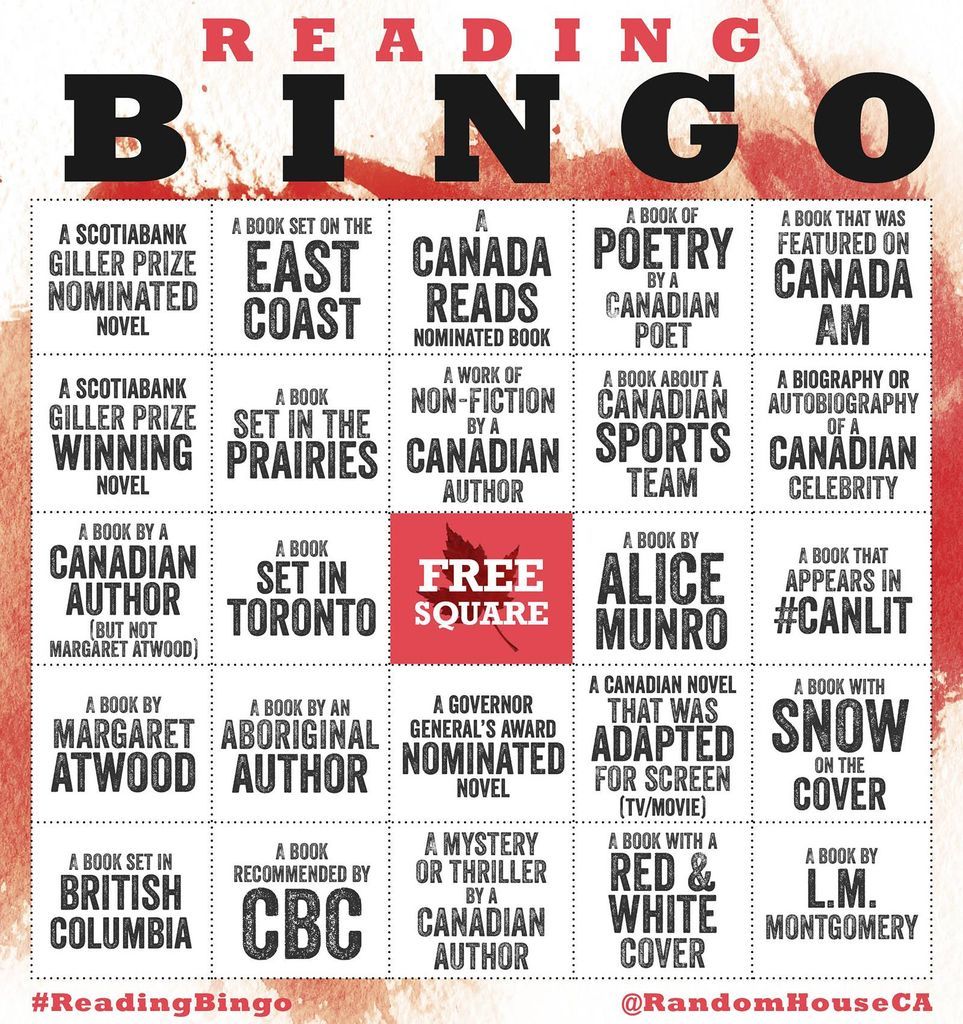 Here's your first line:
A Scotiabank Giller Prize Nominated Novel:
It is a crime that the 2014 Giller Prize didn't go to Miriam Toews for her amazing, heartbreaking novel All My Puny Sorrows about two sisters, depression, and suicide. I talked more about this novel in a previous post, but you don't even have to take my word for it because Liberty says it's great, too.
A Book Set on the East Coast:
What can I suggest here but the Riot Read selection for January, Sweetland by Michael Crummey (see, give me time and I can convert everyone to a CanLit lover). This exquisite novel takes place in Newfoundland and tells the story of Moses Sweetland, a man who is asked to give up the only home he's ever known. And it's amazing. Ah-mah-zing.
A Canada Reads-Nominated Book:
Ok, it got voted off way too early, but my personal Great Canadian Graphic Novel, Essex County by Jeff Lemire, is probably my favourite book ever nominated for Canada's national book club. (You can see this year's nominees here.)
A Book of Poetry by a Canadian Poet:
George Elliot Clarke's Execution Poems is a very accessible narrative poetry collection about George and Rue Hamilton, cousins of the poet who were hanged for murder in Fredericton, New Brunswick in 1949. It's a collection that will force you to confront difficult notions of racism and the roots of crime.
A Book That Was Featured on CanadaAM:
Bone and Bread by Saleema Nawaz. This is all about navigating the trials of a troubled family plagued by secrets and unhappiness while being mixed race in a primarily Hasidic neighbourhood in Montreal.
And some more suggestions:
A Book Set on the Prairies:
This is a bit of a cheat because it's only half set on the Prairies, but Otto and Etta and Russell and James by Emma Hooper is my weepy must-read of 2015. Etta has never seen the ocean and she wants to, so she decides to walk to Halifax from Saskatchewan. The catch? She's 82.
A Work of Non-Fiction by a Canadian Author:
Irving vs. Irving by Jacques Poitras is a fascinating book for any news junkie, media criticism addict, or business aficionado: what happens when one family is able to control a captive market? That's the reality in New Brunswick, where the Irving family is hugely successful and hugely controversial.
A Book by Alice Munro:
Oh, Book Riot has you covered on this one. Check out our Reading Pathway for Alice Munro here.
A Book by Margaret Atwood:
And how about a Reading Pathway for Margaret Atwood by yours truly.
A Book by an Aboriginal Author:
Thomas King penned a funny and challenging primer on the experiences and history of First Nations in North American society called The Inconvenient Indian. It should be required reading for being in North America, frankly.
A Canadian Novel That Was Adapted for the Screen:
Lawrence Hill's The Book of Negroes is a sweeping epic about slavery and freedom and the promises we make each other about race and expectation. If you're in Canada, CBC is airing the adaptation right now; in the US, BET will be airing it in February.
A Book Set in British Columbia:
I have to stump for my beloved Douglas Coupland here and recommend his Hey Nostradamus!, all about the ramifications of a school shooting in suburban Vancouver. How those involved recover — and how long it takes — allows for a beautiful exploration of loss and humanity.
A Book by L.M. Montgomery:
Ok, you're totally expecting me to say Anne of Green Gables or my beloved Anne's House of Dreams, but a more interesting choice is the recently uncovered Book #9, The Blythes Are Quotes. Montgomery suffered from depression in the final years of her life, and this novel was written in the throws of that — in fact, it was delivered to her publisher the day of her suicide. It's dark and strange and powerful and will subvert your expectations of Montgomery.
____________________
Want more bookish goodness, news, posts about special book deals, and the occasional puppy reading pic? Follow us on Facebook: