After New York Comic Con this year, the folks over at First Second found themselves with an awesome reason to celebrate. Their recent release, Boxers & Saints by the incredible Gene Luen Yang, had been nominated for a National Book Award in Young People's Literature, becoming the second graphic novel in the history of the awards to be selected as a finalist.
I was lucky enough to snag a copy of the Yang's latest work at NYCC. It's a two volume novel (more on that in a minute) that tells two stories that run parallel, both focusing on a particular era of modern Chinese history; The Boxer Rebellion (1899 – 1901).
Yang tells the story of The Boxer Rebellion from two sides of the conflict. One (Boxers) introduces you to a young boy named Bao, who joins the uprising against the Western conflict. The other (Saints), tells the story of a young girl taken by Christian missionaries, and struggles with choosing between her faith and her friends.
It's one of those haunting stories that sticks with you, with memorable characters and heartbreaking stories. Aimed at young adults, it's absolutely one of those books that manages to cross over, not only teaching lessons about humility and humanity, but dishing out a powerful human history lesson. I didn't know that much about the Boxer Rebellion, and this book inspired me to do some extra reading. Gene Luen Yang, if that's what you're trying to inspire young people to do… bravo. Your mission is going to be successful.
Oh, and can we talk about how this two volume novel is put together? Boxers & Saints is absolutely one of those you just need to own. You see the set, and you just need to have it on your bookshelf. Because seriously, the packaging is just… well here, look.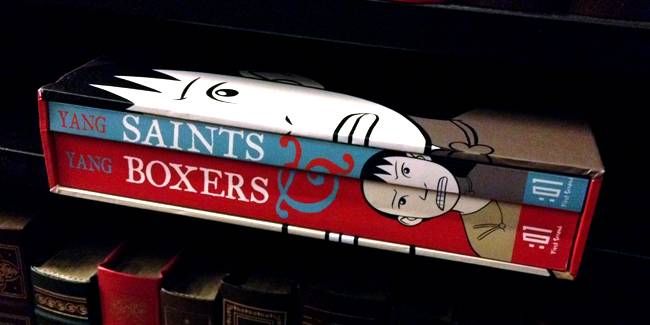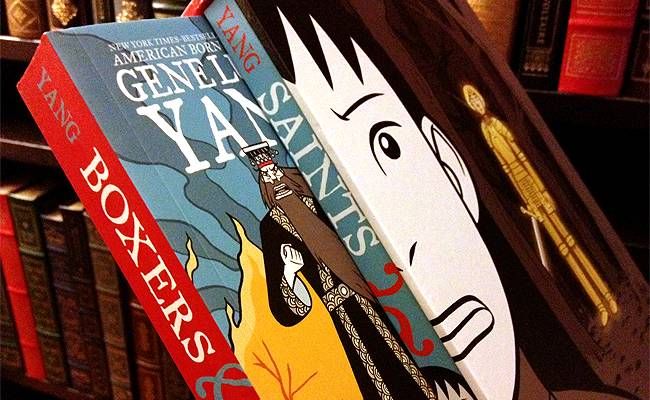 All in all, Boxers & Saints is a book you should definitely pick up. Not only to read (possibly while crying at certain points) and adore, but to proudly display and show off.
And when you're done, or maybe even before you pick it up, there are plenty of other great reads by Gene Luen Yang to pick up.
American Born Chinese: Remember when I said Boxers & Saints was the second graphic novel ever nominated for a National Book Award? Well, the first one was American Born Chinese. And with good cause.
Like Boxers & Saints, American Born Chinese teaches valuable lessons, to young and mature readers alike. There's messages about friendship, racism, and struggling with identity. It's a powerful book, that somehow manages to take three stories and have them converge into one wonderful, hilarious, heartfelt narrative.
And best of all, it's one of those books that you can finish in a day, maybe on your lunch break or late at night before bed. It's a page turner. Don't expect to stop until you are done.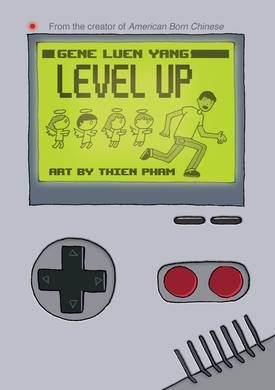 LEVEL UP: As someone who loves using video games as an escape, and occasionally loses track of days (also weekends) at a time playing them, I absolutely adored Level Up.
It's a seemingly normal story. Guy tries to live up to his parents' expectations, struggles with school, life, work, etc… and then suddenly, things get a little surreal (which seems to be a thing in Yang's work). A couple little angels zip down and take control of his life, and as you can imagine, stuff gets complicated.
It's another quick read, and it's also another one of those books you just want to own. It's shaped like a Gameboy, you guys! A Gameboy! Now that's a fun way to get young readers picking up your book.
Have any of you read any other books by Gene Luen Yang? I mean, he does pen those Avatar The Last Airbender books. Tell us your recommendations!