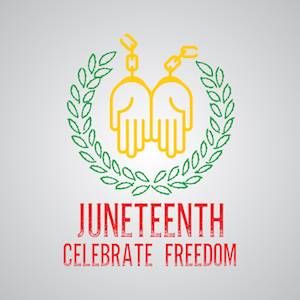 Lists
What to Read on the 150th Anniversary of Juneteenth
This content contains affiliate links. When you buy through these links, we may earn an affiliate commission.
Juneteenth is an (unofficial) American holiday that is poorly recognized across the United States. Honestly, I wouldn't know much about it either, if my mother didn't use its name all the time for a very obvious reason: it's my birthday.
So when I was aware enough to understand that it wasn't just a shortening of the day of my birth, I went exploring the history.
Juneteenth, or Freedom Day, or Emancipation Day (not to be confused with the April holiday in Washington, DC), is celebrated as the day the final group of slaves in the American South heard and applied the contents of Lincoln's Emancipation Proclamation. On June 19th, 1865, Union Troops rode into Galveston, Texas as part of the final Union effort to end the Civil War in the Western territories. There, representatives of the over 250,000 men, women, and children still enslaved in Texas heard their total emancipation granted them by the President of the United States. This proclamation, General Order No. 3, decreed to them "an absolute equality of personal rights and rights of property between former masters and slaves" and encouraged them to remain in their homes and work for wages until such true equality of men might be reached (which, of course, was not to happen in Lincoln's lifetime, or any of theirs). The day was celebrated heavily in the earliest days of American Reconstruction, but fell to next-to-nothing in the days of Jim Crow. In the days of the Great Migration, a holiday that was almost exclusively southern was spread across the nation, and in the wake of the Civil Rights movement of the 1950s and 1960s, the day reemerged as a day of recognition and celebration of the African American experience.
While the subject matter is almost peripheral in mainstream American culture, there are a few choice books that touch on the subject of Juneteenth. No matter what your preferred book type, you can probably find one. There might only be one, but there will be one.
Juneteenth by Ralph Ellison
Ralph Ellison's unfinished follow-up to Invisible Man, which he worked on for 40 years and never actually completed, speaks more to the sentiment of Juneteenth than the day. This brief portion of the several thousand page manuscript Ellison left behind, which reads like a Jazz-y Ulysses, considers the social and political constructs of a time beyond the end of slavery in which the black man is yet to be free. But the title isn't just a contemplation–there is actually a Juneteenth Celebration.
Come Juneteenth by Ann Rinaldi
To some, Ann Rinaldi is the queen of the teen historical. In Come Juneteenth, she tells the story of Sis Goose, a young girl who lives with her family in Texas. It doesn't matter that she is brown and her family is not; they are a part of her. But when the announcement of the Emancipation Proclamation leads to thousands of free blacks in the state of Texas, it is kept from her and the others who live on their farm. When Sis Goose learns of it, she takes her fate into her own hands–but even that does not always make things better.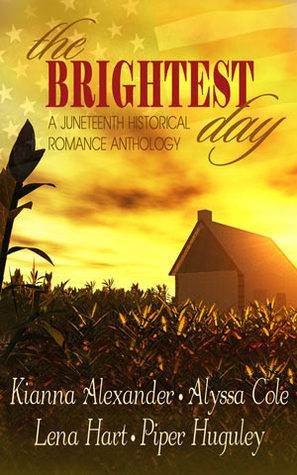 The Brightest Day: A Juneteenth Historical Romance Anthology
Featuring novellas by Lena Hart, Kianna Alexander, Piper Huguley, and Alyssa Cole (some of the heaviest of hitters in historical romance featuring African American protagonists) and a foreword by Beverly Jenkins (the heaviest of heavies), this is an exciting collection. Four stories, each of which takes place at a different period in American History, extoll the brighter side of this day. Featuring strong women from all walks of life, these novellas celebrate Juneteenth while giving us something even better to celebrate: love.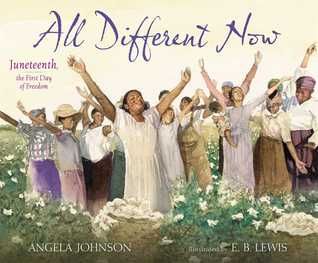 All Different Now: Juneteenth, The First Day of Freedom by Angela Johnson and E. B. Lewis
While most of us might know Angela Johnson as a teen author, this book was superficially meant for children. We all know what that means: between and behind the curiosity and wonder of the young narrator of this beautifully illustrated story, we see the workings of a deeper one.
*.*.*
There is not yet a comprehensive narrative of Juneteenth written for the adult reader–at least that I can find. But if you have any interest in learning more about the day, or the ways and places in which it can be celebrated, check out the Juneteenth World Wide Celebration website.
____________________
Get a box of YA books and bookish goodies in the mail every quarter with our new YA Quarterly Box! Sign up here.