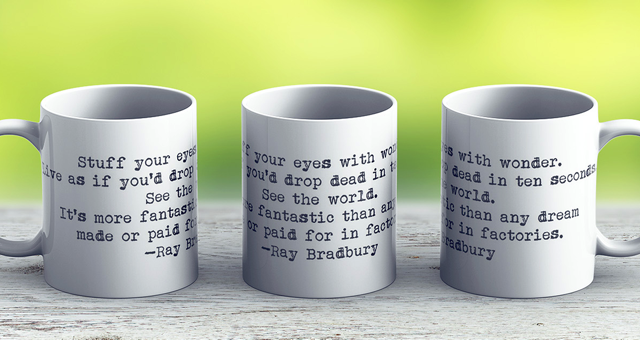 Book Fetish
A Few Too Many Spacey And Inspiring Ray Bradbury Mugs
This content contains affiliate links. When you buy through these links, we may earn an affiliate commission.
Confession: I'm not that into Farenheit 451. Books about books just don't do it for me. But then I read The Martian Chronicles, and it didn't matter anymore, because this became my favorite book of all time, and I was an instant Ray Bradbury loyalist for life.
I had never ready a novel built of interwoven short stories before, and the structure of Martian Chronicles bent my mind in new, satisfying ways. From the recreation of a foreboding Poe classic, to an alien ghost connecting its new inhabitants to the planet's majestic past, to the inevitable, heartbreaking violence that starts it all, each story brings something fresh, while building on an assessment of humanity that is simultaneously condemning, wistful, nostalgic, and full of heart.
And I knew I had to read more Bradbury.
As my obsession evolved and I became an author myself, I discovered Bradbury's attitude as a writer, too, and it has wholly shaped how I approach my craft.
He approached writing with an attitude of joy for the sheer act of creation. He believed we all had creative genius in us, and that success in publishing came down to persistence and a willingness to take the rejections and failures along the way, because this is exactly what leads to eventual success.
For someone who doesn't like to count on the luck of being the 1% who gets that early career lucky break as an instant bestseller, this attitude resonated so deeply it has become part of who I am beyond my writing, too.
When Ray Bradbury passed away in 2012, he left behind a legacy of 27 novels, more than 600 short stories, an HBO anthology series, and a lot more.
So why not celebrate an American legend's work by gifting yourself one of these 16 Ray Bradbury mugs:
Floral Writing Quote Mug
This pretty floral mug with one of Bradbury's most wonderful and famous quotes painted onto it is sure to keep you inspired. If it also inspires you to put something extra in your coffee, so be it.
Reading Quote Mug
Start your day with this little dose of Bradbury at his most cynical: "You don't have to burn books to destroy a culture, you just have to get people to stop reading them."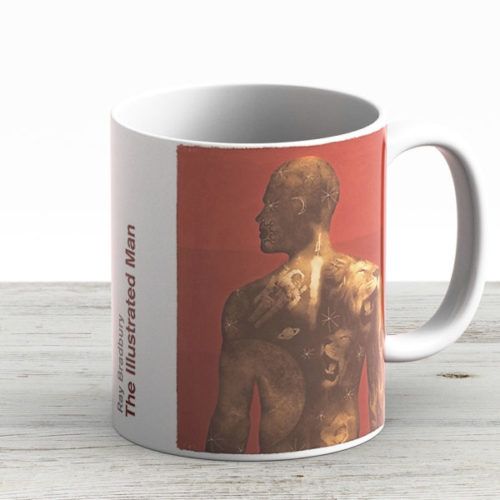 A gorgeous mug wrap of a classic cover for The Illustrated Man.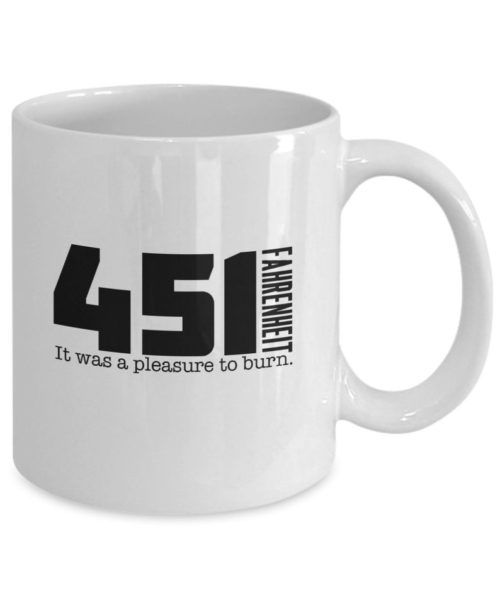 A favorite quote from a favorite Bradbury classic. But sip with caution, because you know what's not a pleasure? Burning your tongue.
"Wonder" Quote Mug
Wake up each morning to some of Bradbury's most inspiring sentiments to make you want to leap out of bed and embrace your day.
Bradbury Portrait Mug
Start your day with Ray Bradbury's face.
"Jump" Quote Mug
Please don't take this one too literally. You (probably) do not have actual wings. Drink that first coffee first and give yourself time to reconsider.
"Impossible Universe" Mug
This quote may be too heavy for first thing in the morning; save for rainy day afternoon tea.
Bradbury on Mars Mug
This mug bears an illustration of Bradbury exactly where he belongs—on Mars.
A very retro cover design mug for one of Bradbury's most classic novels.
Guy Montag Mug
Show your support for everyone's favorite Fireman.
The boys of Green Town have seen things. Weird things. Dark things. You don't want to mess with anyone who survived all that.
Fahrenheit 451 Penguin Classic Mug
Nostalgic celebration of a renowned classic. Complete with penguin.
"Pleasure to Burn" Mug
When a quote is this spine-tingling, sometimes you need more than one mug for it.
Fireman Mug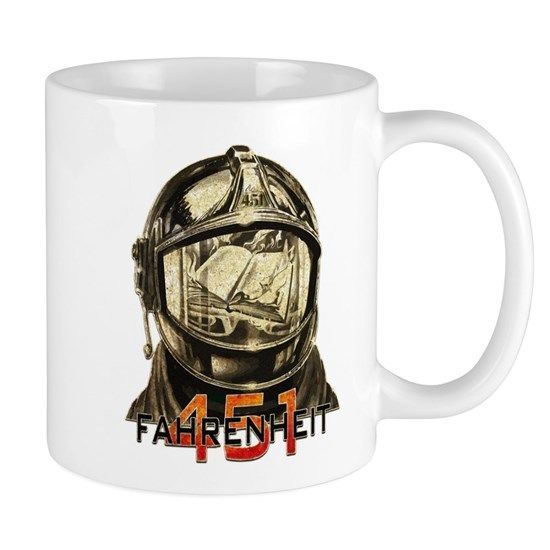 A gorgeously retro illustration from Farenheit 451.
Fire Squad Mug
Support for the local fire squad.