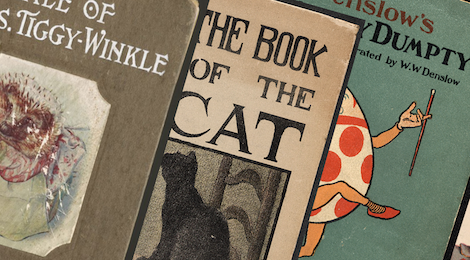 Critical Linking
Rare Children's Books Digitized by the Library of Congress: Critical Linking, May 9, 2019
Sponsored by the audiobook edition of The Guest Book by Sarah Blake.

---
In the early 20th century, Franklin K. Matthiews, the librarian of the Boy Scouts of America, embarked on a nation-wide tour to advocate for better standards in children's literature. At the time, relatively few kids' books were published each year—in part because printing color illustrations was expensive—but Matthiews was a firm believer in the importance of children's literacy. His advocacy led to the launch of Children's Book Week in 1919, an annual celebration of books for little ones.
The initiative still takes place today, and in honor of its 100th anniversary last week, the Library of Congress digitized a collection of dozens of children's books published prior to 1924, reports Perri Klass of the New York Times. Some of the newly digitized stories are classics that will likely be familiar to modern readers—like an 1888 copy of Rip Van Winkle or a 1911 edition of The Secret Garden—while others have not stood the test of time quite as well. Before The Cat in the Hat, for instance, there was The Cat's Party, an 1871 picture book about festive felines.
Festive felines! This is really cool.

---
May kicks off with the 15th annual PEN World Voices Festival, when international authors take over New York for a week of panels and events, and ends with the announcement of the 2019 Man Booker International Prize. In celebration of a month replete with world literature, Vulture has a publisher's thoughts on the "3 percent problem" of translated literature; an encounter with one of today's most exciting young novelists; and, below, a roundup of 15 great translated books published in the last five years.
---
The Locus Science Fiction Foundation has announced the top ten finalists in each category of the 2019 Locus Awards. Tickets are available now.
Winners will be announced during the Locus Awards Weekend in Seattle WA, June 28-30, 2019; Connie Willis will MC the awards ceremony. Additional weekend events include author readings; a kickoff Clarion West party honoring first week instructor Elizabeth Hand, Clarion West supporters, awards weekend ticket holders, and special guests; panels with leading authors; an autograph session with books available for sale thanks to University Book Store; and a lunch banquet with the annual Hawaiian shirt contest, all followed by a Locus party on Saturday night.
*Adds even MORE books to the TBR*